In a digital world, it can be hard to make real connections. Analog marketing is taking it old-school to bring back some important marketing techniques that may have been left behind.
We talk a lot about relationship marketing here. We believe that by being focused on building relationships with people online through social media you can create a tribe of people dedicated to your brand. Everyone knows online communication has exploded in the last decade. Social media and other forums allow people across the world to get to know each other. But before we focused on internet marketing, there was another focus.
Analog marketing is what we did before the digital age, almost 20 years ago. Its goal was to build relationships in real life. Whether it was something as simple as attending Chamber of Commerce meetings or sending out a card, analog marketing was a more personalized, individual approach, which relied on getting out and meeting people.
It's a lost art. Because it's so easy to focus on digital, we have gotten far away from the old methods of real connection in favor of bulk emails and social media blasts.
But, we think it's time for analog marketing to make a comeback.
Analog marketing hinges on getting to know the individual and building a relationship with them. It could be as simple as meeting them for coffee, sending a personalized note, or hanging out at a baseball game.
Small gestures that build relationships
Analog marketing relies on small, meaningful gestures that help people get to know you and remember you. It takes more thought, and really shows people you care.
Things like:
A personalized, individually-sent card
Sugarwish candies
Customized bobbleheads
Thank you gifts
You can use analog marketing to build relationships with clients and with other professionals in your industry. When you attend functions and conferences, set a goal to meet five to eight new friends. Learn about them and their interests, invite them to hang out and make an impression. Then, share them you care and remember them by dropping a note or doing something you know they will appreciate.
Do:
Be focused on the person
Build real friendship
Be genuine in your interactions

Respond to people on social like you would in person
Don't:
Be focused on selling
Automate all communications
Only hand out business cards when networking
Online marketing hasn't replaced analog, in fact, it's made it easier
Just because people have started using digital connections in favor of real, tangible ones, doesn't mean analog is obsolete. Quite the contrary, both analog and digital can be paired to create the ultimate relationship building tool.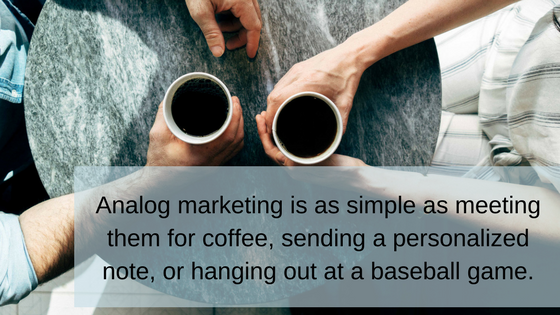 It's easier to accomplish analog marketing than it ever was before. Twenty years ago you had to guess what someone's interests were. Now you can find out much quicker through social media.
With more and more people connecting on social media and online forums, analog marketing is gaining traction. Places like Facebook Groups are hubs for people of like-minded interest making real connections and sharing great information.
We can make friends with people we've never even met in real life.
The key to analog marketing is to use social media to enhance what you know about a person and then continue building the relationship with real, tangible items or in-person hangouts.
---
What analog techniques do you use for your marketing and how does it help build relationships? Let us know your tips and tricks down in the comments!
We talked about this during our #TrainingTuesday live stream this week with special guest star Demian Ross. Check it out!