If you're a social media marketer, chances are you're always looking for new ways to stay ahead of the curve and stay inspired.
One of our favorite ways to do that is by listening to podcasts. Podcasts are a fantastic way to learn; whether in the car, folding laundry at home, or even in the shower, putting a podcast on is a great way to be an active learner.
Why We Love Podcasts:
Podcasts are a great way to stay up-to-date on the latest marketing trends, learn from industry leaders, and get inspired by fresh ideas. Plus, they're a fun and convenient way to consume content on the go.
Another reason why we love podcasts? >> They can offer insights and perspectives that you might not be able to find elsewhere.
Listening to experts in your industry can help you learn more about your craft and get creative ideas by hearing success stories, tactics, and tools. Some of our best ideas for client campaigns have come directly from listening to a podcast!
The Top Podcasts To Listen To In 2023:
Hosted By: Erik Fisher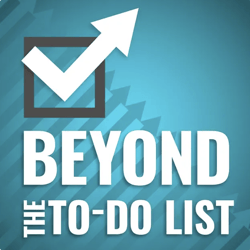 Description: Overwhelmed by all the hats you wear in life? Listen in as Erik Fisher talks with productivity experts as they share how they implement practical productivity strategies in their personal and professional lives. We explore all aspects of productivity and the true end goal of productivity: living a meaningful life.
Why You Should Listen: We swear we're not biased (okay, maybe a little because he happens to be a NOW teammate,) when we say this podcast is a must-listen. It's helpful, uplifting, real, and genuine. Erik's friendly personality shines through and his helpful tips and actionable advice keep you coming back for more.
Episodes To Check Out:
Podcast Title:

Akimbo
Hosted By: Seth Godin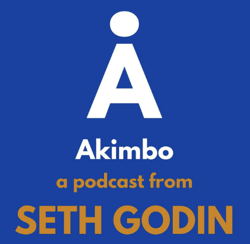 Description: Akimbo is an ancient word, from the bend in the river or the bend in an archer's bow. It's become a symbol of strength, a posture of possibility, the idea that when we stand tall, arms bent, looking right at it, we can make a difference. Akimbo's a podcast about our culture and how we can change it. About seeing what's happening and choosing to do something. The culture is real, but it can be changed. You can bend it.
Why You Should Listen: Seth's superpower is getting people to think differently and challenge their beliefs. This podcast will have you thinking more broadly about everything and inspire you to step into your power with each episode.
Episodes To Check Out:
Problems

: This episode is all about how life is about interesting problems and ignoring sunk costs so that we can work on what truly matters. Seth challenges us to think about not just who we ask for advice from, but what our biggest problem is. The point: if it has a solution, go solve it. If it doesn't have a solution, accept that it's here to stay and think about what you're going to do

I See You

: This episode will inspire you to find unique and creative ways to make others feel seen. It's one of the most inspiring episodes on the podcast because it talks about what we truly crave as humans, employees, and customers - we want to be seen.
Hosted By: John J. Wall and Christopher S. Penn

Description: Marketing Over Coffee is a marketing podcast, audio on demand that covers both classic and new marketing. Your hosts, John J. Wall and Christopher S. Penn record the show every week and publish the show on Thursday mornings. You can download the shows and listen to them whenever you want – in your office, on your commute, where and whenever is convenient for you. Each show is about 20 minutes long and is filled with the kinds of marketing tips and tricks that you can only get from casual conversations outside of the office.
Why You Should Listen: With tons of expert guests and a digestible length of 20-minute long episodes, this podcast is perfect for getting inspired and increasing your knowledge about high-level marketing concepts, quickly.
Episodes To Check Out:
Simon Sinek

: This podcast episode will inspire you to think big picture about your WHY - the meaning behind your work and how you show up. It's inspiring, motivating, and extremely thought-provoking, making it a must-listen episode.

Seth Godin

: If there's one person that will inspire you to show up authentically, make a ruckus and pursue big ideas, it's Seth Godin. This podcast will have you thinking differently about how you can make a mark on the world, and we recommend listening to it ASAP!
Hosted By: Anna Hrach, Daniel Lemin, and Erika Lovegreen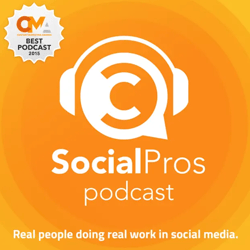 Description: Social Pros shines the spotlight on social media practitioners, people doing the real work for companies. Each episode includes insights from a leading social media strategist plus current trends and ideas in the social media industry, discussed and ratified or debunked by Anna Hrach and Daniel Lemin of Convince & Convert and Erika Lovegreen of ICUC. Finally, each episode ends with The Big Two where our guest gives us their rapid-fire answers to two important questions.
Why You Should Listen: This is an action-oriented podcast showcasing examples of real people doing marketing work. Each episode will leave you with a specific insight you can apply to be savvier on social media.
Episodes To Check Out:
Hosted By: Molly Pittman, Ezra Firestone, John Grimshaw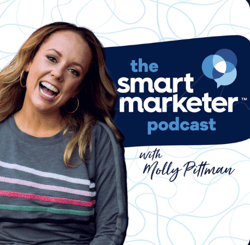 Description: Join hosts Molly Pittman, Ezra Firestone, and John Grimshaw as they share their proven paths to success (for your business, brand, and personal life). These Veteran marketers and educators have taught thousands of business owners how to build, manage, and scale successful companies (while growing their own multi-million dollar brands). This weekly podcast will blend tactical marketing tips and strategies with helpful insight and personal stories. This podcast will help you 'Serve the world unselfishly and profit.'
Why You Should Listen: We love how this podcast can get into the technicalities of things. Past episodes have been about ad strategies, email marketing, and such, making this a great podcast for account managers seeking action-oriented advice from experts.
Episodes To Check Out:
Hosted By: Jen Cole and Megan Powers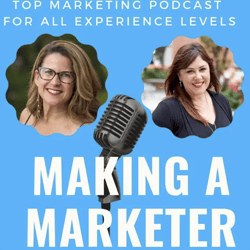 Description: The Making a Marketer podcast covers strategy & tactics for all experience levels, from events to social media, and everything in between. We have top industry marketing experts on our shows, and we have a great time!
Why You Should Listen: We love how much energy and enthusiasm Jen and Megan bring to their podcast. Not only do they feature expert guests, but they dive into topics that truly matter and have a unique way of getting their guests to open up and be more personal, which we love.
Episodes To Check Out:
Hosted By: Joe Pulizzi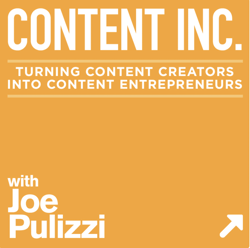 Description: The Content Inc. podcast is for entrepreneurs and startups who want to be big - not by creating and selling more products and services - but by developing a loyal audience through remarkable content. Every Monday you get five minutes of wisdom on how you, the content entrepreneur, can build and grow your content business into a content empire.
Why You Should Listen: If you want to get actionable advice on how creators are creating content and monetizing, you will love this show. A ton of value is shared in each episode and the topics range across platforms!
Episodes To Check Out:
Hosted By: Omar Zenhom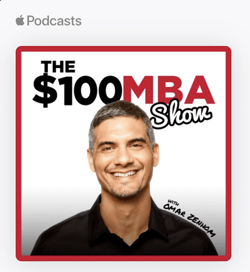 Description: Awarded Best of iTunes, The $100 MBA Show is a podcast where you get better at business with our practical business lessons for the real world. These no-fluff episodes are packed with only the pure business-building training you want.
Why You Should Listen: This podcast gets right to the point, sharing extremely actionable tips and specific tactics and lessons that you can use to drive your business forward.
Episodes To Check Out:
Hosted By: Adam Grant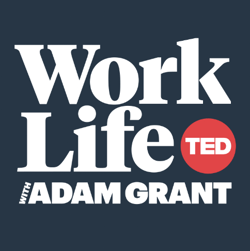 Description: Organizational psychologist Adam Grant takes you inside the minds of some of the world's most unusual professionals to explore the science of making work not suck. From learning how to love criticism to harnessing the power of frustration, one thing's for sure: You'll never see your job the same way again.
Why You Should Listen: This podcast will get you thinking differently about everything, which we love. It is inspirational, fast-moving, and incredibly helpful for those looking to broaden their perspectives on life and business.
Episodes To Check Out:
Hosted By: Nick Loper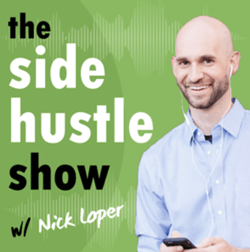 Description: The Side Hustle Show is a top-rated podcast featuring the ideas, actions, and results you need to start and grow a successful business. Put a little hustle in your earbuds as I extract actionable tips and business strategies from successful entrepreneurs.
Why You Should Listen: This weekly podcast delivers great value in business ideas, actionable advice, side hustle opportunities, and ideas for making more money!
Episodes To Check Out:
Hosted By: Todd Henry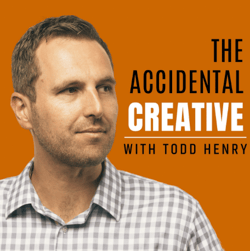 Description: With more than ten million downloads, The Accidental Creative podcast has provided weekly tips and interviews with top thinkers, leaders, and artists since 2005.
Why You Should Listen: This podcast is great for those who love to hear stories from business owners and inspirational leaders across fields.
Episodes To Check Out:
Putting It All Together:
Podcasts are a great way to be entertained while learning.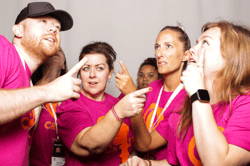 Listening to them lets you stay up-to-date on the latest trends, learn from industry leaders, and get inspired by fresh ideas. They offer unique and interesting perspectives that challenge your thinking and inspire you to up-level your knowledge, strategies, and skills.
Why not give one or several of these podcasts a try?
You never know what gems of knowledge and inspiration you might uncover.
Have you tried out any of the podcasts on our list? Do you have a favorite episode that inspired you?
We'd love to hear about your favorite marketing-related podcast and what you've learned from listening in the comments below! And if you don't see your go-to marketing podcast on our list, let us know so we can add it.