Show us an app that is geared towards building deep relationships with people and we'll show you how eager we are to jump on it!
We're super pumped, to introduce the new social media app that everyone (with an iPhone, sorry Android users, we're hoping they extend the invite soon) has been talking about, Clubhouse.

"#Clubhouse is the first social media app that I've been excited about because it is ONLY conversations." @jessikaphillips (click to tweet)
What Clubhouse Is:
Remember the days of Blab? (#RIP) ...yea, we loved that platform.
"I met SO many people through Blab, and I feel like Clubhouse is built with the same- let's make connections through conversations way as well." @jessikaphillips (click to tweet)
Clubhouse is an exclusive, invite-only audio app where participants can move around to different virtual rooms and listen to, and or participate in, conversations that literally are across the board. There are rooms around world affairs, arts, meditation, health, mindfulness, business, marketing, podcasting, you name it - it's there.
"There's a little bit of everything on Clubhouse… and they've rolled out tools quickly as it's grown. It's on a steep evolution curve." @mike_gingerich (click to tweet)
One of the best parts of this app? >> It's audio-only. There's no video. It's simplistic in nature in that there's no messaging or commenting on the app.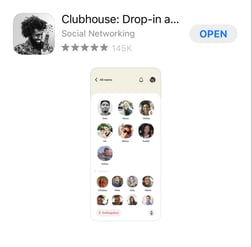 "I love that I don't have to be dressed up or have my ring light on to use #Clubhouse. I can participate in conversations with billion dollar VC executives while in my yoga pants, folding laundry." @jessikaphillips (click to tweet)
Because of the audio-only nature, it really helps to strip out the noise that we so often see on other social media apps.
Where To Get The App:
Right now, Clubhouse is only available to apple users via iPhone and iPad.
And yes, we know a number of folks, who finally splurged on the iPhone in order to participate in conversations on this app. (If that doesn't speak to the power of this new tool, we don't know what does!)
Here's the thing: you can't just download Clubhouse and get in. There's a waiting list, hence the allure of exclusivity.
You can download the app and claim your handle now though, while you wait to get in via an invite or a nomination.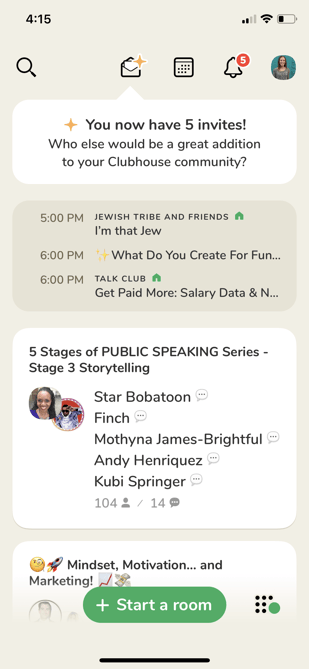 Invites come from more established app users. Nominations come from newer users to the platform.
Established users of the app get a certain number of invitations that they can send to people (usually 3-6) to invite them directly into the app.
If your friends are there, they can allow you to get in without using an invite IF you've already downloaded the app and claimed your username. Alternatively, if you send someone an invitation, they can download and get in automatically.
If you've downloaded the app to try to get in, without an invitation from someone already on the app, you can be nominated to get "bumped up" on the waiting list by someone in your contact list that is already on the app.
When it comes to invitations AND nominations, there are two important things to remember:
You only get a select number of invitations, so use them wisely.
Whether you nominate OR invite someone, your name is going to appear on the bottom of their profile. This means you want to be very selective about who you nominate because you're going to be associated with their profile.
Who It's For:
One of the coolest things about this app is that it's truly meant for anyone seeing as how there are discussions on virtually any topic.
"I love that I've been able to meet so many amazing individuals hanging out in the same space online. On other channels, we tend to see the same connections because of the algorithms. Now, I get to meet friends of my friends, and mentors of my mentors.." @jessikaphillips (click to tweet)
It's especially suited for those of us who like introducing people.
"It's like meeting in the lobby… you can introduce people to each other and the conversation can change over time. The room might start out talking about goal planning and then shift into working on someone's business." @mike_gingerich (click to tweet)
There are super formal, and very informal, rooms to pick from - so whatever your mood is, you can find a room that suits you.
"Some of the rooms are #sharktank style, and it's very structured and to the point. This is great for people that want to learn how to pitch their ideas." @tonydoesads (click to tweet)
There are also groups that are super informal, with the sole purpose of letting people hang out, connect and just enjoy themselves casually.
"With everyone being in lockdown still, how important are these Clubhouse rooms where people can just go to kick it? We are isolated and hearing people's voices feels connected." @jessikaphillips (click to tweet)
Whether you're looking to learn, network, establish thought leadership or go deep on certain topics, this app is for you!
"Clubhouse has allowed speakers who were otherwise losing gigs and momentum due to events closing, the opportunity to speak, build momentum, get virtual gigs AND continue to evolve their personal brand." @jessikaphillips (click to tweet)
How To Use Clubhouse:
This app was made for building relationships, so we're here to first remind you that selling is a major NO on this app.
But before we get into that, let's talk nitty-gritty deets.
First, you want to set up your profile immediately when you get in.
Add your profile photo and write up a detailed bio about yourself so that people can get to know you.
You can also link your Instagram and Twitter feeds, so that people can continue the conversation with you outside of the platform. (Remember, there is no messaging feature inside of the app.)
You can find people to connect with by searching for their name and/or searching for interests. This will pull up specific users on the platform as well as clubs that you might want to join.
"Search around until you find the right rooms and clubs, and then follow those moderators that you like. They will lead you towards other rooms that you enjoy!" @tonydoesads (click to tweet)
What's a Clubhouse Club? >> These are essentially groups centered around a specific topic.
"Joining clubs is a great way to find like-minded individuals. I have been seeing what clubs others are involved in as a way of finding more people to connect to." @tonydoesads (click to tweet)
To create a club, you have to submit it to support inside of the app for it to be approved. You describe the purpose of the group and who it's for, so that Clubhouse understands what the purpose is.
Once you're in the app and have your profile set up, you can use it by hosting a room and/or just listening in on other discussions being hosted and moderated by others.
There are rooms of various sizes, so how you go about diving into it is totally up to you.
"When I'm folding laundry and looking to learn, I'll go to a larger room and listen. I'll just soak up the value. When I want to network and contribute, I find a smaller room geared towards my interests." @jessikaphillips (click to tweet)
One tip for brands using the app? >> If you have a hard cut-off time for your talk, LABEL IT!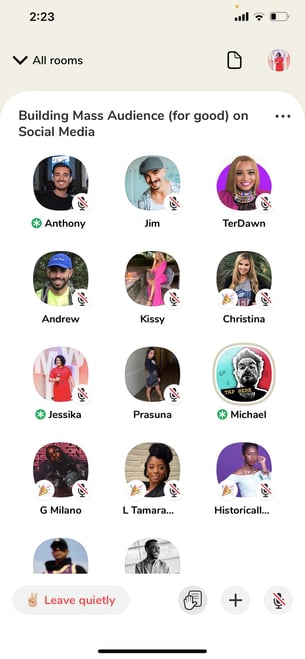 People have a tendency to just keep talking on the app and the average time we're hearing people spending time consecutively is FOUR HOURS! So, be sure that you have moderators set-up to keep the conversation moving and on-point. Also, let people know that you're going to end it at a specific time to set the expectation.
How NOT to use Clubhouse? >> Selling. Oh, did we mention that already… it's worth saying again.
When To Use It:
There are so many applications for how Clubhouse can be used to provide value, connect with people, expand your network and share your expertise.
Let us remind you that this app is NOT meant for you to blindly pitch yourself. Just as we hope you wouldn't sell from a stage you were speaking on, please don't do it on Clubhouse. It turns people off.
"It's easy to look at the other rooms happening. People are going to leave the room if you're trying to sell and pitch. I think that's why people keep providing value… they know that people have other options for value inside of the app." @tonydoesads (click to tweet)
Whether you are a podcaster, video producer or thought-leader, we think that there are so many opportunities for when to appropriately use this tool:
Education:
There is SO much value being shared in this app. You can literally tune in and learn about anything.
"I have a notes tab of all of the things that people have mentioned that I want to look into. There's so much value being shared in Clubhouse." @tonydoesads (click to tweet)
You can also use it as a vehicle for continued education for your audience.
"I wouldn't take a live show and move it to Clubhouse, but I would use it as an expansion of the conversation happening on the live show. It's a great place for Q&A or a post-event party!" @jessikaphillips (click to tweet)
Masterminds:
This is a great place to bring together people with similar interests and/or challenges and host a discussion where everyone can contribute. This isn't a platform to host a presentation but rather to have a conversation with like-minded individuals.
"I created a big room with media buyers and we basically had a town hall. We brought together people who run ads across platforms and used it as a way to share knowledge." @tonydoesads (click to tweet)
Networking: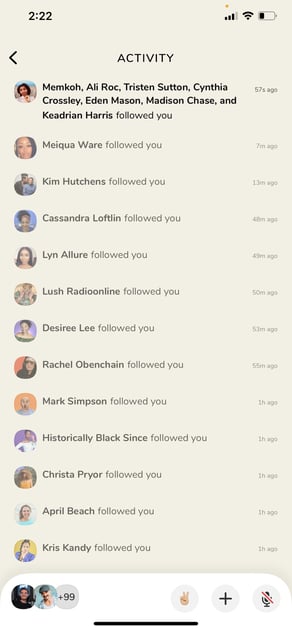 Because people are going in with a goal of having meaningful conversations, this app is extremely powerful for networking.
It's an exceptional place to deliver extra value because people are showing up for that sense of belonging!
"You will see that by showing up and leading with a 'who can I help today' mindset, you are going to create meaningful relationships. You're going to get back what you put in. The law of reciprocity also applies to Clubhouse." @jessikaphillips (click to tweet)
Hanging out:
Given how distanced we are, this app is a great place to just have casual conversations and kick it. Plus, the lack of video means that you can literally tune in wearing pajamas, which we are totally here for.
"It's going to continue to shift and evolve. You can't just log in once or twice and think you're done. There are different things to experiment with and pay attention to." @mike_gingerich (click to tweet)
The main point? >> There are so many creative uses for this app!
Why We Love Clubhouse:
The quality of conversations, and therefore the deep relationships that can be built as a result, is really what makes this app stand out. Plus, the diversity of creators is HUGE!
"It's the energy for me. It's the power of NOW, and that can't be replicated. We aren't distracted by likes and comments. We get to the heart of building a meaningful conversation." @jessikaphillips (click to tweet)
Because people are going in with a goal of creating real connections, we're able to get deep with people quickly. Plus, the audio nature allows us to really hear tone and inflection and intent when chatting with those in your groups.
"I've had some of the best conversations on this app. The depth on #Clubhouse is amazing." @jessikaphillips (click to tweet)
The fact that so many people are using it also means that we have access to thought-leadership from people who we would never be able to "get in the lobby" with otherwise, like Lewis Howes. ***ahem best selling author Lewis Howes, ahem***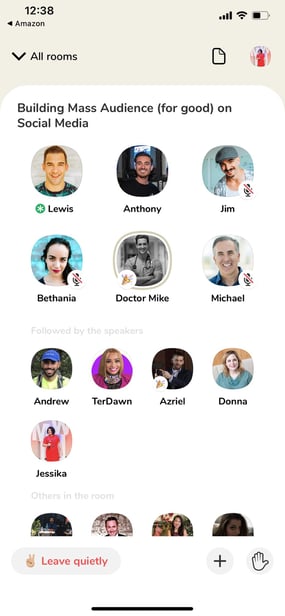 "There are so many opportunities for being a human being, building relationships and using this as a social listening tool! You can't rig it and that's what I love about it." @jessikaphillips (click to tweet)
And while we're absolutely loving the app, it's less about Clubhouse specifically and more about the functionality behind the tool.
Remember: it's not about the tool, it's about the technique.
"It's about adding value and building relationships. You don't want to base it all on the platform. The key is wherever you show up, you really show up! And you go into it with the intent to add value and build relationships." @jessikaphillips (click to tweet)
Putting It All Together:
When it comes to Clubhouse, it's all about HOW you show up!
You have to be willing to show up and put in the work. Even if you decide to host a conversation and then need to leave, do the extra work to make sure you're leaving it off in the right hands.
Think of it like hosting a party. You wouldn't just invite people from all over and then leave them in a room to figure out what to talk about. You'd make introductions first, and then leave people to connect themselves.
"As long as you've introduced everyone in the metaphorical Clubhouse lobby, you can leave and 'get some rest' and let that party in the lobby continue on!" @jessikaphillips (click to tweet)
Our main point? >> This is where things are heading: smaller, more niche experiences for people to connect with people.
Brands, remember this: people connect to people FIRST. So, encourage your team to be on Clubhouse and share their expertise. People will make the association back to your brand!
It's about finding the right people, the right conversations and then contributing value and/or soaking in all of the value available through this powerful new app.
What do you think? Are you on Clubhouse? What conversations are you enjoying?
Let us know and leave your handle in the comments below so that our team can start connecting with you there!