Creating a sense of community doesn't happen overnight; it takes time to build trust.
In order for brands to create a community of action takers, they have to reframe how they think about showing up.
The key? >> Focus less on you and more on your community.
We sat down with one of the funniest, brightest, and most passionate experts when it comes to creating a community, the amazing Judi Fox, for Magnet Marketers this week to dive into this topic in more detail.
Judi Fox generated more than five million views on LinkedIn in the last two years and is listed as a Top 10 LinkedIn Coach for 2021 in Yahoo Finance. She is featured in Inc Magazine, CEO Magazine, Vidsummit, Video Marketing World, People of Video, and on several Top 100 Marketing Podcasts.
With more than 18 years of experience in business development and sales, Judi Fox developed the LinkedIn Business Accelerator Method. Clients are implementing this LinkedIn method to achieve more business and 1 million+ content views in 90 days.
Not only does Judi know how to drive results; she knows how to really bring the energy when it comes to relationship marketing.
Showing Up To Lead:
In order to create a community of action-takers, it starts with a reframe. We need to change the way we look at calls to action.
As Judi would put it, the first layer is all about showing up and taking action ourselves.
"The highest level thing, the action that you want people to take for you… you have to go out and give what you want to get." @judi_fox (click to tweet)
We should model the behavior we're asking others to take. If we're asking people to comment on our posts, we need to be taking time out of our day to comment on their posts. What we put out really does come back to us.
In fact, that's the exact premise of the law of reciprocity. It's a powerful law of human nature to give back to those that have given to us.
"If someone is showing up for us, we want to show up for them in return. That's what builds connections and makes us memorable." @jessikaphillips (click to tweet)
The next layer is doing the action on our OWN content that we would like others to do. It's about taking the initiative to be a leader and take the first step.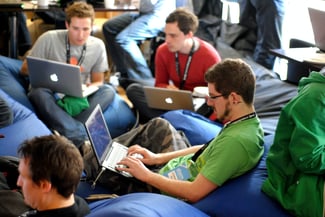 If we're asking people to answer a call to action and share their opinion in the comments, we should be sharing our thoughts first!
We should be guiding them rather than putting all of the weight, and pressure, of the post onto our audience.
Because the reality is that while our audience is happy to weigh in, we should take the lead.
"Permission-based marketing is when you're inspiring people to take action based on YOU showing up to lead them." @judi_fox (click to tweet)
Whether its showing up as a brand or an individual, if you want to create a community, you have to show up ready to lead them with collaborative, heart-centered energy.
It's the 'yes, and' kind of energy like improv comedians use!
"If you're creating content, it should contain some of your thought leadership and ideas, as a way of encouraging your community to share theirs." @judi_fox (click to tweet)
Now that we understand the importance of showing up as a leader within our community, let's talk about some best practices for driving action from them and fostering deeper connections.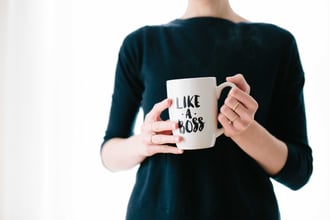 How To Inspire Action:
The more we nurture the connections we're creating on social media, the closer we become to our audience and the more likely they are to want to take action.
Here are some of the best ways to inspire action from your community.
Use Positive Appreciation:
This small and subtle shift in language can be hugely transformative! Instead of stating a call to action in a stale way, that honestly sounds sort of like a demand, we can instead thank people for taking that desired action.
An example would be changing the call to action from "tag a friend in the comments" to, "thank you so much for helping spread the word by tagging a friend you'd love to bring with you to our event!"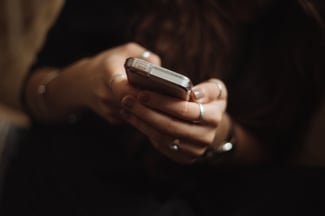 The language shifts the energy of the ask, making it come across as so much more inviting and appreciative.
Show Up For Others In A Timely Fashion:
If we want to increase the chances that people show up for us, we've gotta show up for them!
Nurture the connections created by engaging with the people who take the time to engage with you. Have conversations with these folks in the comments of your content AND theirs as well, and be timely about it.
"We all started at zero, so my favorite practical tip is if you sit down and go back to your posts after the first hour, find something you can support for those people! It can be something simple, but do it immediately!" @Judi_fox (click to tweet)
Taking the time to write a thoughtful comment based on someone's caption is a great way to build relationships. Not to mention, these comments that you leave will likely inspire those folks to comment on your content because of the law of reciprocity at play.
The most important thing? >> Being genuine. You're not commenting because you expect one in return, you're doing it because you want to create that connective touchpoint.
"It's all about making that memorable touchpoint with someone." @mike_gingerich (click to tweet)
Add Touchpoints:
It's a matter of trust-building; it's not about going for the sale. That's why we value referrals because one touchpoint turns into the next one, turns into the next one, and that's how connections are built.
"It's not a numbers game; it's not about the likes on your posts… Don't count the likes; count the conversations, and grow upon that!" @jessikaphillips (click to tweet)
Those touchpoints, over time, are what translate to business.
In fact, it takes up to 20-30 touchpoints that clients need before they trust you and think that you can get them the results that you promise.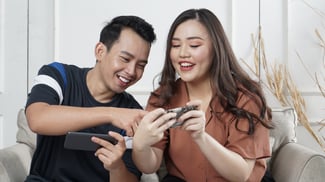 That's why it's critical to lean into a continued effort of creating those touchpoints because the reality is that sometimes they are happening without us even realizing it!
Just because people aren't commenting, doesn't mean they aren't watching and taking in what we have to say. Remember that everyone has a silent cheer squad of content consumers.
Use The POST Formula:
If you want your content to inspire action, our POST formula is a great way to do so!
We recommend that every social post have the same four elements: personalized, open-ended, styled, and timely.
Making the content personalized to your audience, asking open-ended questions, adding your unique style and tone of voice, and talking about timely topics, is what makes it most likely to drive action.
As social media managers, this means ditching the desire to over plan and overschedule content so that we ensure we're truly speaking to our audience in a way that hits home for them when they're actively consuming the content.
Reframe Consistency:
While it's easy to put pressure on yourself to create content consistently, reframing the way you look at consistency can be the necessary game-changer for driving action.
Removing the focus from you and how much you are posting, and putting that energy towards engaging with your community, is what creates a two-way conversation that is meaningful and memorable.
"There are so many more ways to be consistent than just putting out content. Think about how people consistently feel about you!" @judi_fox (click to tweet)
By looking at consistency in a different way, you have the ability to truly lean into what matters most which is the connection created, not the content.
Putting It All Together:
When you show up to lead, with the goal of creating conversations instead of driving action, you will ultimately end up driving more action. It's funny how it works like that, right?
"Focus less about all of the posts you're making for you, and more on how you're showing up for your community and engaging with them." @Judi_fox (click to tweet)
Remember that human beings are on the other end of the screen; people are looking to feel something from a human and heart-centered standpoint.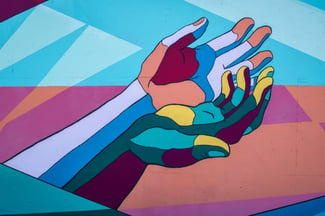 Judi's best piece of advice? >> Think back to what really lit you up as a kid and follow that.
For Judi, she used to run pretend radio shows as a kid. She also went to school for engineering, and BOTH of those led her to where she is today: the host of her own show, as well as someone who understands the science behind content virality.
By tapping into what we loved doing as kids, we have the ability to bring our most authentic selves to the table and that is truly what allows us to create relationships, that lead to community, which drive action.
What brands do you think do a great job at creating community? Do you have tips to add to ours?
Let us know in the comments below!