If there's one thing that all marketers know, it's the importance of learning about the latest changes in the industry.
In order to stay relevant, survive and thrive, brands have to understand how the industry is evolving so that they can spot opportunities and drive repeat business.
One of the best ways to understand how the industry is evolving is to look at big events that have driven major changes.
"I look at the past events that have happened over the past 15 years that have caused some type of change…the first catalyst I noticed was in 2008, the Occupy Wallstreet movement." @JuntaeDeLane (click to tweet)
Juntae DeLane is someone that truly understands how looking at the past can help you prepare for the future as a brand, which is why Jessika Phillips and Mike Gingerich invited him onto Magnet Marketers to discuss marketing in the new normal.
Juntae DeLane is a sought-after strategist, thought-leader, and influencer. He is the Founder & CEO at Digital Delane, a full-service digital agency, the Founder of Digital Branding Institute. He is often noted as a Top Social Media and Content Marketing Influencer and has spoken around the world advancing the practice of digital branding. If you can't catch him on stage or online (@JuntaeDeLane), you can probably find him at the gym, doing his 1,000th push-up. #notreally
The Evolution Of Marketing:
Marketing is an industry that has continued to evolve alongside the changes in our social, environmental, and political landscapes.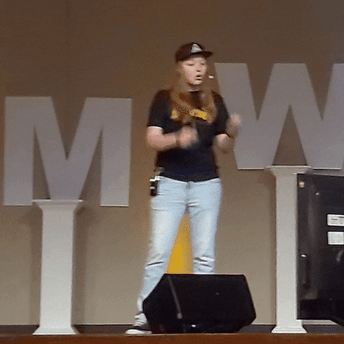 There has been a shift towards humanizing brands and businesses, with new open-floor plan layouts in offices across industries and CEOs becoming the face of their organizations.
Now, more than ever, businesses understand that it's critical to share their WHY, their purpose, with their customers.
Gone are the days when people are willing to buy a product from a brand with no values. People know that they vote with their dollars, and they want to support businesses that show they care - whether it's about diversity and/or the environment.
The great resignation showed us that people aren't just working for money; they care about feeling like they belong. People want personal development opportunities, meaningful work, autonomy, and flexibility.
Not to mention, with people spending more time inside than ever before as a result of the pandemic, brands realized the true need to double down on their digital presence.
"We take those events that have happened and learn from them so that we understand how we can overcome challenges." @juntaedelane (click to tweet)
If we want to be adaptable as brands, it comes down to looking at the evolution of our societal values, the ways that people shop, and the type of content that's popular.
Why Humanizing Content Wins:
The shift towards more human content isn't surprising; people crave personalized and meaningful interactions.
"Because people have had more time, content consumption has skyrocketed…So, we have to sharpen up our brand voice and make it more personalized." @juntaedelane (click to tweet)
The more personalized your brand approach, the better you're going to perform.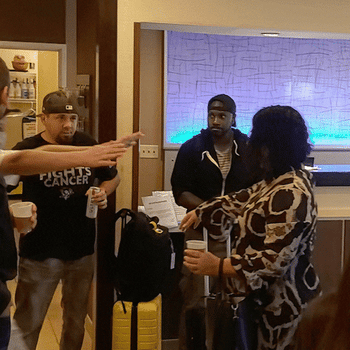 Personalized content feels like a hug to your audience. It feels tailor-made to them, which drives more engagement AND makes them feel cared for. It's a win-win for brands.
"Brands need to pay attention and understand how to show up in a way that shows that they care." @jessikaphillips (click to tweet)
The easier you make it for your online audience to understand who you are, what you do, how you help them, and WHY you help them, the more likely you are to build a relationship with them.
"People might not be ready to buy right away and the brand has to be ready for that; there's a time period in between." @mike_gingerich (click to tweet)
At the end of the day, you're using social media as a relationship-building tool more than anything else. That's why taking a relationship marketing approach is so important.
And considering that buyer's journey continues to get longer, especially in the B2B industry, it's the only way to continue to drive repeat and referral business.
"It takes a long time to convert a prospect in the post-pandemic world…so, you have to make sure that you're engaging with that individual through things like live streams so that you stay top-of-mind, because they'll remember you when they're ready to buy." @juntaedelane (click to tweet)
The reality is that we're never "done marketing," because our best leads come from word-of-mouth referrals from our current customers, team members, and community!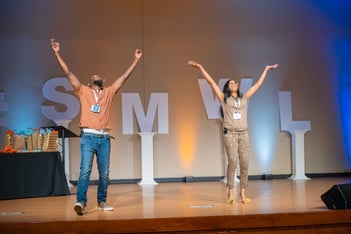 "By learning more about your community, you gain momentum because it turns your followers into real fans and friends." @jessikaphillips (click to tweet)
That's what relationship marketing is all about! It involves showing up to build rapport and creating meaningful and humanizing content that provides value to your audience because you care. By doing this, you stay top-of-mind for when someone needs what you have to offer.
How To Get Started:
One of the best ways to get started embracing the new normal in marketing is to lean into the best type of content right now: short-form, episodic, content.
"When you look at new forms of content, they're more episodic. So, brands need to think about how to tell their brand story in bite-sized pieces of content over time." @juntaedelane (click to tweet)
By creating episodic content for your audience, you can truly expand on your brand story and make it even more valuable, and human, for your audience. Similarly, this short-form content meets your audience where they're at in their preference for snippet-like content.
"We need to take the market cues and apply them to the types of content that we create as an organization." @juntaedelane (click to tweet)
Looking at what is most popular right now and finding ways to lean into it and apply it to your brand is critical to staying relevant.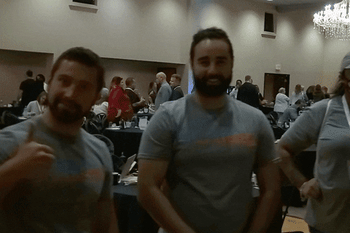 Here are some tips to set your brand up for success:
Start social listening:
In order to stay up with the latest trends, you want to utilize some sort of social listening tool. If you do a Google search for social listening tools, you'll find SO many options for them.
Regardless of what you use, you want to invest in a tool that lets you both stay up with trending hashtags AND see the conversation happening online about your brand so that you can join in.
Create a "trend" workflow:
For agencies working with clients or brands with big teams, you want to create a process for the steps you'd need to take in order to be able to create and post timely, brand-centric, trending content.
"The freedom of your creative team is essential so that they can jump on a trend in a timely and relatable manner to create that craveability." @jessikaphillips (click to tweet)
Think of how to set your team up to be agile enough to make it happen!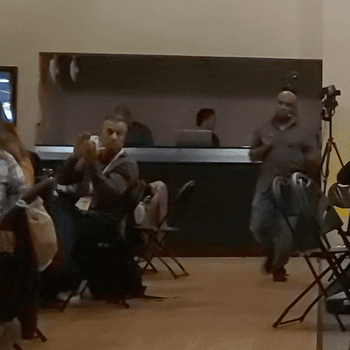 Pro tip >> Write down every step involved in the process of getting approved to make a timely post so that you know what this workflow looks like for your organization. Then, start to map out the process, with specific roles and responsibilities, and put a plan in place so that when an opportunity does arise, you have this workflow to follow.
You want to be sure that you are set up to jump on trends when the opportunity is truly right.
"Not every brand can/should jump on a trend." @juntaedelane (click to tweet)
It's not about jumping on a trend just to do it but rather, because there is a way to be fun, tasteful, and relevant!
Pro tip >> Try putting out a piece of "trending" content organically first, before ever considering a paid ad campaign, to see how your audience responds and engages to it. If you get a great response, turn it into a paid campaign!
Revise Your Personas:
Buyer personas are critical to success and the reality is that you probably haven't revisited yours in quite some time.
"Focus on revising your personas because if they were created pre-pandemic, people's fears and challenges have been impacted by the pandemic and your language might not resonate anymore." @juntaedelane (click to tweet)
The brands that truly "get invited to the party" are the ones that are involved in the conversation, so take the time to truly understand your audience.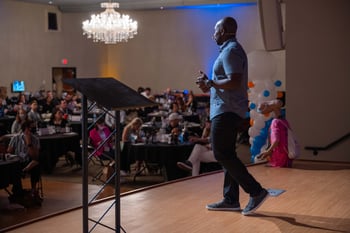 You need to know your audience deeply and understand what they're feeling, watching, reading, listening to, and worried about; this is how you set yourself up to be able to help them best.
At the end of the day, the brands that are going to win are the ones that show up to care for their customers, create humanizing content that is timely and relatable, and co-create with their communities.
If you want to get started with jumping into marketing in the new normal, we recommend that you connect with Juntae. Juntae developed the ultimate brand strategy toolkit for you! We highly recommend checking it out and following him on LinkedIn.
What do you think about marketing in the new normal? Is your brand ready to jump on trends as they happen?
We'd love to hear from you!