How to use social media to get a real ROI for your brand
Social media marketing has always been about being social. But, the term "social media marketing" has left some people a little confused. The expectation for a lot of people is that social media marketing is going to be the same as advertising on television, or holding a radio campaign, or even paying for a billboard. It's not the same thing, people!
Your social media profiles are customer service, wrapped up with sales, with a pinch of advocacy, and a dollop of culture building. And yes, it is still social!
Setting up social media for ROI
Now, just because social media is mainly social, doesn't mean you can't make some sales off of it. There is a return on investment in managing these pages.

First, before you do anything, you need to set up some goals. Your goals set you on the right path and give you a roadmap to get there. Next, you've got to know your audience. Who are you trying to engage with, and what would you like them to do? Lastly, where are you going to be measuring ROI? Is it with Google Analytics, your shopping carts, lead form opt-ins, engagement on social, or by some other means?

No matter what you're doing, if you're using social for sales, you need to have an inbound process in place.
Once you know which audience you're targeting and how you'll be monitoring ROI, you can stop spreading yourself so thin. You can start focusing on one to three platforms that align with your goals and are where your audience is hanging out.

Lastly, I hate to say this, but sales funnels are dead. Yes, I said it, the ole' funnel concept of sales has been buried outback alongside telemarketing calls. It just doesn't work anymore. Why and what's replaced it you may ask? Because more than 90 percent of all buying decisions start online—and because word-of-mouth reviews and ratings are the most trusted form of marketing—it means your customer is never truly finished with the sales cycle.

Ultimately, we want to turn our customers into advocates so we can gain repeat-referral business. We are never "done" marketing to them.

We like to think of the sales process as a flywheel with this new approach. (See our fancy relationship and ROI flywheel below.) It's an always turning ROI machine: you capture attention with an articulated message to build relationships and provide exceptional service. You community turns into brand advocates who then become your brand team. Over-and-over, it never stops!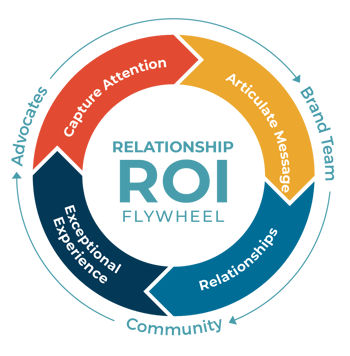 Ultimately, your team, clients, and community are now ALL a part of our ongoing sales and marketing process to drive awareness, leads, sales, and overall ROI your brand. The new sales flywheel focuses on these things:
➡️ Turning your followers into true fans online
➡️ Clients into your word of mouth advocates
➡️ Community-members into your collaborators
➡️ And your team members into evangelists
Growing ROI boils down to a simple question: do you want to earn it or pay for it?
There are two ways of getting sales on social media. Number one, you can earn it through organic traffic. It's a lengthy, hard, but extremely great way to build an audience who is loyal to your brand and isn't just about price. Your audience is following you because you've earned their trust, respect, and business. They base their confidence on the experience you've given them, and it's the ONLY sustainable way to build ROI and grow your brand ongoing. That should be the focus of a great brand anyway.

But it's a long game. Depending on when you start and how specific you are with your goals, audience, messaging, and overall delivery, it can take anywhere from 12 to 48 months to build itself into a self-sustaining model. You're using brains and time over ad budget to build this out. This method is like being a magnet for your right audience, not a bullhorn. People are coming TO YOU versus you pushing a message TO THEM.

Or, number two, invest in paid traffic, which can accelerate the earned ROI. Paid investment is made to push messages out by targeting your ideal audience and paying to put the message where they're hanging out online in hopes they will not only see it but also, read it, learn more about it, and buy into it.

Paying for views still means taking an inbound approach because a cold audience isn't always willing to whip out their credit card just because they've seen an ad from you. They will look at reviews and dig into your messaging to see if you're a good fit.

You're going to have to pay others who've earned your audience's trust so they can promote your brand. To wrap up, paid influencers, paid affiliates, and paid advertisements are all part of a paid (read: rented ROI) plan.
Here's another way to break it down:
Earned
Growth is earned, which means it will snowball without you doing a lot
It's all about spending time, not dollars to grow your community
It needs a strategic inbound process with a clear path
Make sure you're offering valuable content in exchange for attention
You've got to be consistent
You have to be uniquely you
Be known for your "thing" and stand out with your content - and it MUST be valuable to your audience. Why would they use their time to follow and interact with you?
Incorporate activators into your content—collaborate with other people in the space for mutual benefit
How can you involve other people in your circle and on your team to grow your sphere of influence?
Use your brand to continue to build relationships with your existing audience; aka don't forget about your followers as you try to grow
One downfall—It takes a long time to earn your views
Paid
Traditional marketing—spend a certain amount of money, get more back than you spent
Pay influencers who already have an audience who trusts them to feature or promote your product
Use affiliates links—people sharing their unique links for money or because they already love your product
When collaborating, make sure to choose someone trustworthy, both to you and your audience
Use advertisements, of course. Google Ads, Facebook Ads, YouTube, etc.
Put out a specific message and have a particular goal you're aiming to achieve
You still need to have an inbound workflow!
Many people try to set up paid ads to reach cold leads, but that makes the cost of acquisition more expensive
Try targeting a cold list with a soft offer, warm them up, and then re-market to the people who responded
Downside—there is a more significant investment upfront
The best-case scenario is that you incorporate both in your marketing mix. Continue to build your earned view through a thought-out inbound plan. At the same time, use tools like FAN Ads and Google Ads to drive your audience towards your helpful and craveable content.

By incorporating a mix of paid and earned methods, you can eventually tip the scale and gain more views, leads, and sales than you pay for. Or, keep doubling down to increase more ROI month-over-month for rapid growth.

Think about the time you want to spend investing. What's your budget, how will you do it, and what's your date to earn your ROI? That will help you determine which way to earn your views.
The hard truth is you can't buy community
Regardless of which method you go with, remember, you can't buy community. Building communities takes trust. No matter what you do, make sure you focus on building trust through your marketing with your audience. This comes from being helpful, being honest, creating an amazing in-person and online experience, and ultimately by delivering delight.
Here are a couple of things that build community:
➡️ Have a strong content mission statement and brand identity that focuses on real people you want to serve.
➡️ Have a smaller hyper-focused community to have ongoing conversations on social using tools like a Facebook Group.
➡️ Use stories to share what's happening behind the scenes of your brand. Show what it's like to work with you and how to use your product/service.
➡️ Use tools like email, private communities, and your website to connect with people before, during, and after the sale. Remember, the sales cycle is never over!
➡️ Be consistent, so people know what to expect from you. Delight, deliver, and do it again!
---
Are you looking to grow your return on investment on your social media pages? If you need a little help, reach out. We'd love to answer your questions and help you determine whether an earned or paid method would be best for you.