What does virtual reality mean for your business?
If you've been paying attention to the tech industry lately, you may have heard a lot of buzz about virtual reality. With new wearable tech and video games incorporating virtual and augmented reality, it seems the future is happening sooner rather than later. But what exactly is it and what does the future of virtual reality mean for business? Read on to find out!Virtual reality immerses you in a digital world.
This is a recap of the Magnet Marketers Interview with Mike Gingerich, Jessika Phillips and our amazing guest, Cathy Hackl
Cathy Hackl is an Emmy-nominated broadcaster turned live video and VR + AR influencer. She's the organizer of Latin@s in VR and is a pioneer in the immersive marketing field. - See her full bio below.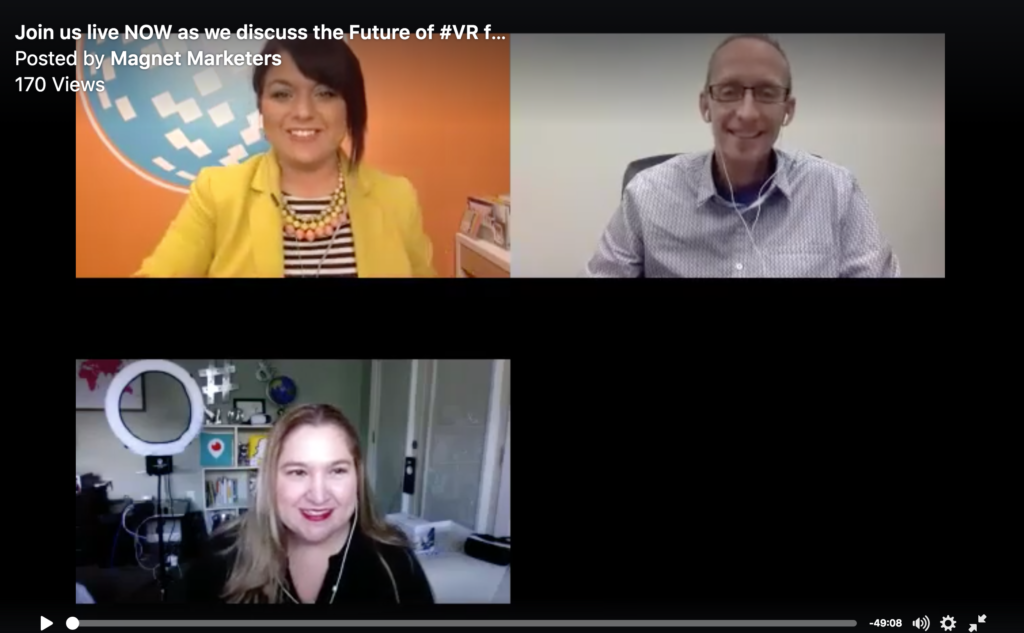 Virtual reality is a digital environment in which you are fully immersed in a digital world. It essentially cuts you off from the real world. Through the use of virtual reality headsets, you are no longer looking at the real world, but instead at a digital environment. It is sometimes a world that you can interact with, where you have agency. It has been incredibly popular and effective for video games for this reason. But as Cathy Hackl mentions, the future of VR will be used for empathy, emersive experiences and simply being connected on a deeper level.
There is also augmented reality. Augmented reality is the overlay of virtual elements into the real world. For example, Pokémon Go is a really popular game that used augmented reality to place digital game elements into the real world through cell phones. In augmented reality, the digital world is added into the real world. Eventually, this will turn into mixed reality - where digital elements are overlaid into the real world and are fully interactive. Think Minority Report or Tony Stark in Iron Man.
But, it's really not virtual reality versus augmented reality. VR and AR is a spectrum, and the discussion is really about where the future of computing is heading and how humans will continue to interact with computers.
Virtual reality is the future of technology
VR is going to become increasingly important in future technology. It's expected to make $1 billion by the end of this year and $150 billion by 2020 and eight out of the top 10 tech companies have invested in VR. It's definitely not a fad. While right now VR is becoming popular for gaming, it will be used for both social and mobile phones. And it has some really promising uses for real estate, business, marketing, and more.
Facebook has purchased Oculus Rift (which speaks volumes to the future of VR) and plans to Launch a social VR App "As Soon As Possible." While VR and AR haven't yet been fully embraced by the masses, it will eventually trickle down to the masses. And VR technology is becoming more mainstream
It will eventually trickle down to the masses. We're starting to see this even now. A good example is the Sony PSVR launch.
Virtual reality and business
Many businesses are afraid that entering into the VR technology world may be expensive. But it doesn't have to be. There are some really affordable headsets that enable you to enter the VR world.
Look to others. What are other people in your space creating and using VR for? Pull some ideas and incorporate ideas that are based on what your audience might want to see.
You can create 360º degree video by getting a 360 camera. Record your office, store, factory, whatever it may be. Create a tour video or show the behind the scenes things that you do, highlighting your talents and abilities.
If you're really looking to get into VR, check out Unity. Almost everything you're currently seeing in VR is created with Unity. There is a free and a paid version. It's an online software that lets you design virtual worlds. It's simple enough, you don't have to be a coder. And the more you play around with the software the more you will understand how VR works.
You're going to see businesses using VR sooner, rather than later.
Check out these companies who are using VR right now:
However, you decide VR may be useful in your industry, keep looking at how the technology is changing. We are at the forefront of how VR will be used, and it's certainly going to expand and develop further in the very near future.
For more info on VR, AR and MR connect with Cathy Hackl:
Cathy Hackl is an Emmy-nominated broadcaster turned live video and VR + AR influencer. She's the organizer of Latin@s in VR and is a pioneer in the immersive marketing field. Hackl is a bilingual storyteller that is recognized as one of the nation's top Latino digital influencers and tech innovators. She's a contributing writer for VR Scout, one of the top sites for VR industry news. Through her personal consulting business, she helps brands with their strategy and has worked with brands like Teradata, TNT Latin America and Applebee's. Hackl has been featured on Telemundo, Mashable, The Huffington Post, FOX News, CNN en Español, Silicon Beat, and NTN24. She's currently working with brands on Facebook Live, Periscope, Snapchat and VR content strategies for effective storytelling. She is an advisor to VR Salon and is o a part of the team of creatives working on the #HELPERASE Child Trafficking documentary that seeks to use VR for social good. She is a member of Women in VR and recently keynoted at VR Fest MX, Latin America's 1st International VR Festival.
Hackl was also recognized by the Huffington Post as one of the Top 10 Live Video Influencers to Follow and also by Onalytica as one of 2015's Top 50 PR influencers. She's the former director of Periscope Community Summit/Summit Live. She's taught social media at IE Business & SDA Bocconi School of Management, two of Europe's top business schools. Hackl has worked with CNN, FOX5, Discovery Channel, and ABC News and is currently a Huffington Post blogger and a Social Media Week contributor. She's fluent in English and Spanish and proficient in Portuguese. Hackl has given talks in Asia, Europe, Latin America and the US.
Social Media Presence
Twitter: twitter.com/CathyHackl (Verified profile)
Periscope: periscope.tv/CathyHackl
Facebook: www.facebook.com/hacklcathy (verified profile)
LinkedIn: www.linkedin.com/in/cathyhackl
Instagram: https://www.instagram.com/cathyhackl/
Snapchat: https://snapchat.com/add/cathy.hackl
YouTube: www.youtube.com/cathyhackl