If you want to capture the attention of your audience, one of the best things you can do is get comfortable with live video.
That said, we all know that getting started with live video is easier said than done. It takes time, skill, practice, technology, equipment, and talent.
There is a lot of energy and expertise that goes into creating a compelling live show, which is exactly why we invited Kimberly Flowers onto Magnet Marketers. Jessika Phillips and Mike Gingerich sat down with Kimberly to discuss the topic of how to turn your expertise into a live show.
Kimberly Flowers is the Chief Executive Officer for what has to be one of the most exciting media-based companies in the world. Broadcastpreneur Studios is one of the fastest-growing broadcast resources for professionals who want to host their own professional & TV-ready broadcast from home, with ZERO Tech or media Experience.
Her platform, Remote Producer Live produces online TV shows for some of the most talented, highly paid, and sought-after business coaches, speakers, and experts in the industry and reaches over half a million of their followers.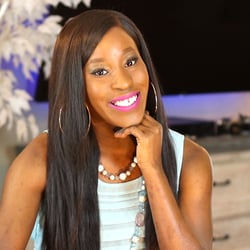 Kimberly teaches THE POWER OF VISUAL BRANDING as a tool to help others see the value of an offer & believes video to be the most important & powerful tool a business owner can possess to help grow their company's industry influence and income on social media.
As a frequent speaker at industry events over the past four years, Kimberly has recently developed a new monthly educational platform called "Broadcastpreneur Studio Academy", that teaches business professionals how to both create and monetize online TV shows and videos for business.
Creating Compelling Video Content:
While video isn't for everyone, tons of creatives will tell you that they love video because of their ability to exercise their creativity. Not to mention, video is extremely powerful because of how human it is.
"I wanted something bigger for myself and I realized that all of these things - graphic design, motion graphics, and photography - work within video." @remoteproducer (click to tweet)
Video is all about how you show up to attract the audience; it's about magnetizing your audience by helping them solve problems.
"Even though there are different things that you know and have expertise in, it's about how you show up to help someone solve a problem." @jessikaphillips (click to tweet)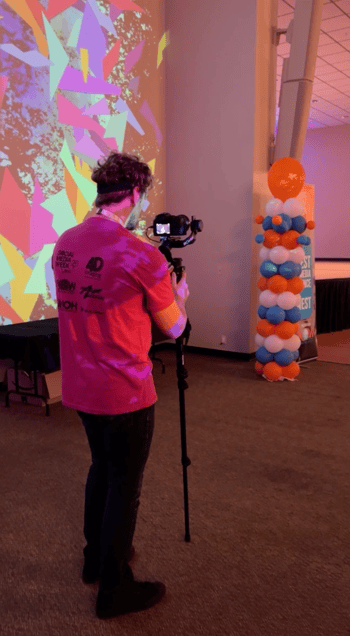 Whenever you have an audience of people willing to tune into your video, you have an opportunity to serve because these are people that are already in alignment with what you have to offer.
For Kimberly, video became the perfect place to show up to offer solutions.
Even after teaching people how to create amazing videos for their brands, they didn't have the time to do it. More and more clients started asking Kimberly to create videos for them, and thus Remote Producer Live was born.
What Kimberly does is what Chad does for our monthly live show, NOW & Them -- serving as a behind-the-scenes producer so that the hosts of the show don't have to worry about the technology and production aspects and can just show up fully to the video!
Turning Expertise Into A Live Show:
Before even getting started with production, creating a show for your brand is all about understanding the strategic element of video.
In order for a live show to work for a business, you have to have a strategy. You have to have a purpose for creating the show, which is why we swear by our WATCH Formula.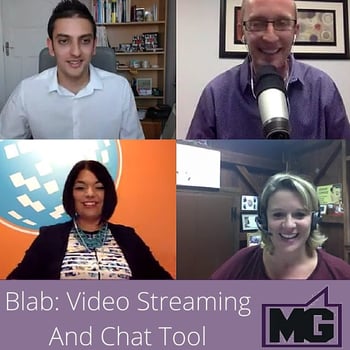 To create a great show for your brand, you don't need millions of followers, you just need to create content that is valuable and relevant to a problem that your audience is facing.
Your job as the brand is to position yourself as an expert that can solve their problem and show them what it looks like to work together to execute that solution.
The best way to do this? >> Get strategic.
Why Strategy Sessions Work:
Take the time to truly understand your WHY.
Some questions to ask yourself are: Why am I creating a live show? What is the purpose? How will I measure success? What are the goals for the show?
Have clear goals for the show so that you can assess whether the show is doing what you want it to. Not every goal will be monetization; your goal might be to educate or inspire your audience, but by getting clear, you know that you're creating the right content to achieve those goals.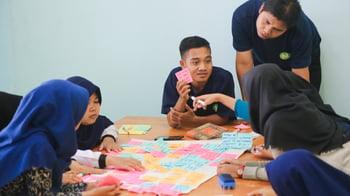 You also need to know your audience and their pain points and problems so that you can showcase yourself as an expert who can not only speak to those problems but develop products or services that solve them!
When you solve people's problems, you gain their trust. This is how you grow relationships and therefore, your business.
"I execute a broadcast strategy session to help my clients hone in on their expertise and how they best deliver value." @remoteproducer (click to tweet)
This strategy session helps Kimberly uncover key data about her client so that they can find a smart and thorough approach to using a live show.
"In order for us to gain value, we have to provide value." @remoteproducer (click to tweet)
By developing a comprehensive strategy for creating value-based content for your audience, you set yourself up for success. That's the kind of content that when posted consistently, allows you to drive a loyal audience and repeat viewers.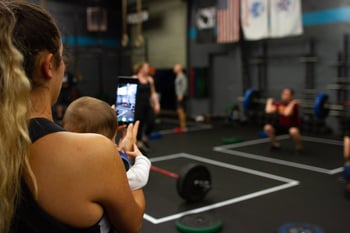 Pro tip >> Be sure to infuse calls to action in your content so that you give your audience a chance to take the next step with you.
"We call it strategic product positioning; it's putting in subtle reminders of how your audience can tap in and get involved in whatever you're holding as a host." @remoteproducer (click to tweet)
This looks like mentioning your upcoming event in the middle of your broadcast and/or doing a mid-roll ad to show a client testimonial video for a service that you offer.
Putting It All Together:
At the end of the day, there is so much opportunity for individuals and brands to start to utilize live video as a way to position themselves as experts in their field.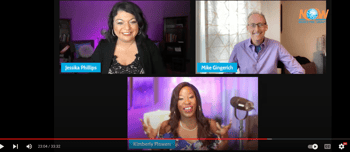 Live video gives you the opportunity to develop trust with your audience and show up as your bright and unique self to share your expertise on a consistent basis.
"Video is the one tool that will share your tone and truly help you create community, plus it's an amazing type of content to repurpose." @jessikaphillips (click to tweet)
By listening to your audience and understanding the problems that they are looking to solve, you find creative ways to provide solutions. This makes you memorable and valuable.
What's most important is to not let the technology or production aspect of live video be what bogs you down from getting started, because there are people to help!
The power of live video is that by showing up, you have the ability to build trust and create community! So remember, even if you're good at everything, video might not be the most valuable use of your time.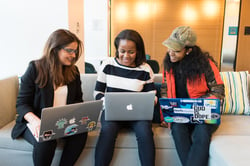 Be sure to take the time to assess whether you have the bandwidth to fully commit to the production value and planning that a consistent show requires.
"It's really cool to learn all of these things and it's important to assess whether you want to do it yourself!" @remoteproducer (click to tweet)
Sometimes trying to do everything prevents your growth forward.
If that's you today, you might think about having a remote producer who can help alongside you to take the load off, just like Kimberly.
"When you say yes to something, you're saying 'no' to something else." @jessikaphillips (click to tweet)
Most of Kimberly's clients aren't even in her state; it's all done remotely and she's there to be by your side as a show producer so visit her website to learn more AND to get information on a new live show she's starting called "Success with Livestream" that will help you focus on what's truly important to your clients and create awesome videos!
What do you think about live video? Is your brand using it?
We'd love to hear your thoughts!