Do you want to amplify your brand's visual assets?
Creative photographs and videos can be powerful tools to help you stand out online and capture attention. Visuals have an immediate impact on the way customers perceive your message; not to mention, they help create a lasting impression.
So, how can you effectively utilize visuals to resonate with your ideal target audience? What are the best practices for capturing photo and video content that helps your brand articulate your message and build relationships?
We dove into the topic of visual content creation for Episode 19 of our monthly live show, NOW & Them.
Hosts Julia Jornsay-Silverberg and Andrés Medina brought on Brian Williams, our Creative Content Director to share tips to help you get started quickly and effectively.
The Power Of Visuals:
Visuals are an essential component of a strong social media and/or content marketing strategy.
Our brains consume visuals much more quickly than text, making photos a powerful way to translate a message to your online community.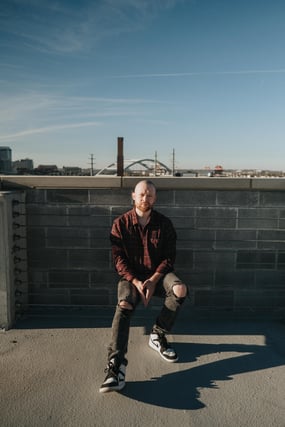 Sharing photos, graphics, and videos on social media helps brands capture attention of current and prospective customers and humanize our brands.
Showing the faces of your team offers viewers a glimpse of how your organization works; it gives a little look into your culture and shows that there are real people behind the product or service, which helps to build recognition and trust.
The Biggest Mistake Brands Make With Visuals:
Strong visuals help amplify your brand's social media presence, email marketing campaigns, brochures, and website.
However, tons of brands continue to make this one mistake: using stock photography.
The biggest mistake we see brands making with visuals is their continued use of stock photos that don't accurately represent what they do, who they serve, or who their team is.
"We are in the era of content, so we need to use authentic content. Nothing about stock is fun or friendly." - Brian Williams
It takes bravery for any individual or brand to show their true selves, but you're the only person who can truly convey everything that your brand has to offer! No stock photo will ever do that justice.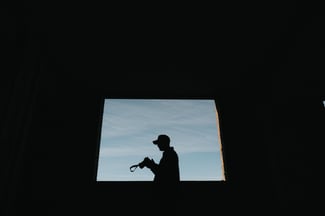 Best Practices For Photography and Videography:
There are so many different ways to take great photos and videos for your brand, making content creation a fun challenge.
Here are the best practices to follow to create great visual assets for your brand:
Use a trusted photographer: Not everyone can be great at everything, which is why it's worthwhile to pay a professional photographer to capture great photos that your brand can use for months! There is an art and skill to framing a good photo.
Use flash: If you're using your phone, don't forget to use flash. The flash helps to create a sharper image.
Clean your lens: Nothing ruins a photo like a gunky lens. Wipe it off before you take any photos and you'll notice the difference in quality!
Keep practicing: Get out there and keep taking photos. Practice is going to be the quickest way to get better at taking photos - whether you're the photographer or the model. You'll get better with each photoshoot you do! Continue to exercise that creative muscle.
Give yourself grace: Remember that even the most talented photographers struggle to find inspiration and feel creative. It's okay to be in a funk; try to lift yourself up and just keep pursuing your passion.
"People underestimate the time it takes to get to where you want to go, but keep practicing your craft." - Brian Williams
Putting It All Together:
There's no doubt that dynamic imagery and creative photos and videos can help distinguish your brand's content and provide a unique and powerful way to reach customers.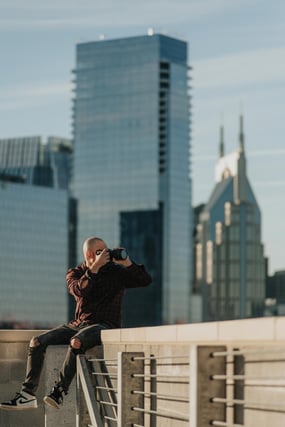 Strong visuals also help to boost engagement, increase a brand's visibility, and ultimately drive more sales.
That's why we are SO excited to have launched Visual Content Creation packages for our NOW clients, as these photo packages are being used for clients for commercials, banners, flyers, websites, social media and more!
"There are always uses for new photos, you just don't always realize it as a brand until you need them." - Brian Williams
By following the best practices detailed above, you can start to take photos and videos for your brand that capture attention, articulate your message, build relationships, and deliver exceptional experiences for your online community.
A strong visual identity will help your brand stand out amongst the sea of samesies online.
Have questions about how to get started?
We're always here to help!