Have you found yourself looking for a way to freshen up your visual content? Take it outside. Literally.
With summer upon us, there's no better time to take to nature as your backdrop for new brand photography.
Doing some content creation outdoors is a great way to change things up for summer and become more relevant and relatable to your audience. It's an engaging way to supplement some of your traditional images.
Why Create Outdoor Content:
Before diving into the specific tips for taking photos outside, we wanted to share why creating outdoor content should be considered.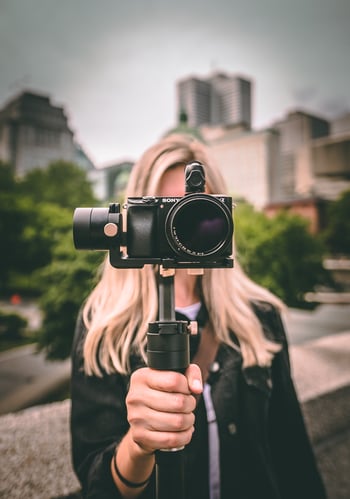 Regardless of whether your brand sells lawnmowers or hair clips, stepping outside into nature can add a new element and dimension to your brand photography.
Pro tip: your brand doesn't need to primarily operate outdoors to benefit from outdoor photos.
In fact, we'd argue that any brand can benefit from some outdoor content creation; it all comes down to being creative and finding unique ways to make the elements work for your brand.
Here are the top tips that our Account Management team has for you to create eye-catching and engaging content outdoors:
Capture A Lot of Content:
While of course, quality shouldn't be compromised, try to take as many shots and videos as you can! You'll never regret having hundreds of options at your fingertips.
Creating a robust digital assets library will keep you stocked with options when the time comes to create new social content or product highlights for your website.
Make the most of the time invested in your outdoor photo shoot so you leave with at least a dozen options for each idea or product.
Camera Settings:
Be sure to set your camera settings for the highest quality, and wipe your lens clean. Nothing ruins a photo like a dirty camera lens.
Also, take time to play around with the aperture given the natural lighting. You want to be sure to maximize the natural light you get from outside without over-exposing your shot.
Get Creative:
Take time to try different angles, backgrounds, and environments. The natural light outside is going to be constantly changing, which adds a fun dimension to your photos and videos.
Not everything is going to work and that's fine; choose what works best and run with it!
You'll never regret going to multiple locations to get different kinds of shots, so be sure to carve out an appropriate amount of time so that you don't have to rush the process.
ProTip: Be sure your locations are on-point with your brand. Your images should feel like they are part of your brand family to help you tell your overall story. So if a location feels a little disjointed, move on to a new environment that feels like a visual extension of your brand.
What To Invest In:
It's easy to get overwhelmed when getting started with capturing content for your brand. Many times, business owners think that they need to invest in an expensive camera, studio lights, and podcast-style microphones.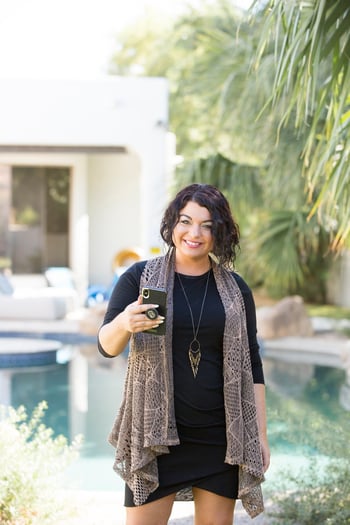 The reality is that you can use your smartphone to get started; it's good enough!
Most of what you need is already at your disposal: your smartphone and a creative brain.
Here are the tools that we'd recommend investing in:
A wireless microphone:

You can find them on

Amazon

for cheap. The sound quality for your videos is crucial, so this is a worthwhile investment if you're going to do any video with audio, especially the "talk-to-camera" style.

Charger:

The easiest way to ruin your outdoor photoshoot is for your phone to die. Be sure you're fully charged going into the shoot, and bring a spare battery pack because recording high-quality video is going to drain your battery quickly.

Small umbrella:

Don't let the rain cramp your style. Bring a small umbrella with you so that you can still get the shot even if a little drizzle starts. Plus, rain could add a super interesting and creative element to your photos, so don't be afraid to play around and experiment. Just be sure to keep your camera dry!
Putting It All Together:
At the end of the day, it's less about the tools and tech that you use and more about channeling your creativity when it comes to creating content for your brand.
Outdoor content creation can be a lot of fun, and it's a great way to connect with your customers on a personal level.
By following our tips, you'll be able to approach your outdoor content creation more confidently about how to make the most of your time in taking fantastic photos to use in your email communications, social media posts, and website.
What do you think? Do you do outdoor photoshoots? Do you have tips or tools to add to our list? Are you going to create content outside for your brand this summer?
Let us know how it goes! We'd love to hear from you!