All digital marketers understand the importance and necessity of creating fresh content regularly.
Consistent, quality, content creation is key to capturing attention, articulating your messaging, building relationships, and delivering exceptional experiences as a brand.
But, what do you do when you're short on time? How do you ensure you never run out of ideas for content? How can you maximize the lifespan of the content you worked so hard to create?
It all comes down to repurposing and creating longevity for your content.
To best understand why repurposing your content is so important, Jessika Phillips and Mike Gingerich invited Jeff Sieh to Magnet Marketers to share his expertise.
Jeff is an international speaker and visual marketing consultant. He hosts the Social Media News Live show and podcast and is also "Head Beard" at Manly Pinterest Tips. Jeff has worked with and produced a wide range of content for various companies, including Guy Kawasaki, Kim Garst, Social Media Examiner, and Tailwind.
Why Repurposing Is Powerful:
Repurposing is one of the most effective ways to give your content the biggest bang for its buck possible.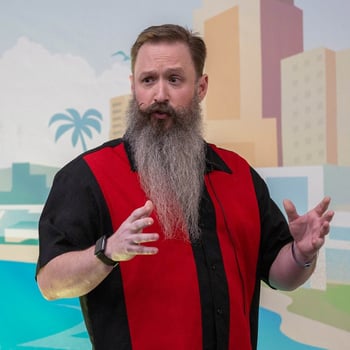 Creating good content is hard. It takes a lot of time, thought, and creativity, which is why we should spend just as much time, if not more, ensuring that we maximize its lifespan.
"As #ContentCreators, we're always going to the next thing way too fast, and we don't squeeze all of the juice out of the content we create." @jeffsieh (click to tweet)
By repurposing your content, you can turn a single blog post into several pieces – such as infographics, quote graphics, Facebook posts, InstaStories, and more – that can be republished on different platforms to reach new audiences.
"Repurposing is not just putting the same thing out again and again. It's taking something and adding a different spin or value piece to it." @jessikaphillips (click to tweet)
Doing this allows you to reach various people because people spend time on different platforms. Not to mention, everyone has different words and phrases that resonate with them the most.
By taking your evergreen content and sharing it across multiple platforms and mediums, you can share your message with a much larger audience and maximize the reach of one singular content piece.
The 3 Rs of Repurposing:
Repurposing content is extremely effective because it takes one idea - or content piece - and extends it out to be so much more.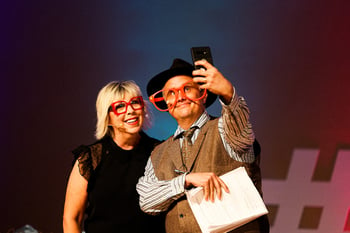 So, how do you find what is worth repurposing? Where should you focus your repurposing efforts?
Jeff's 3 Rs system is an extremely helpful place to start because it will guide you on where to spend your time.
Relevant:
The best content to repurpose is content that is relevant to your audience and custom-made for them.
The question to ask yourself: is it still relevant?
Perhaps it's a piece of content that is timely and topical to what people are talking about online, or maybe the relevance comes from it being a strong case study in your industry.
Focusing on relevancy is important because if the content isn't relevant to your audience, there's no point in taking the time and effort to repurpose it.
If the content is dead and people aren't talking about it anymore, it's not the best content to repurpose.
The best kind of content to repurpose is evergreen and includes principles, tips, and tactics that will never expire or go out of style.
Refresh:
The refresh stage is all about thinking critically about whether there is content that could currently use a facelift.
The question to ask: does it need to be refreshed?
Refreshing an older piece of content is a great way to revive it and bring it new life.
"Change up your content so that you can refresh it again." @jeffsieh (click to tweet)
Whether it's content on a web page, a specific blog post, OR a past social media campaign, it's worthwhile to update it to make it more timely. The refreshed content will serve as a new piece of content for your audience which is valuable for them.
Taking the time to freshen and update a piece of content shows that you're knowledgeable about what's changing, showcasing your industry expertise.
"You can take what you've learned and experienced and apply it to today." @jessikaphillips (click to tweet)
By taking a piece of content and figuring out how you'd approach it today, you can refresh it and make it more relatable and relevant to your audience.
"We take our blog posts and turn them into Reels and tweets." @jessikaphillips (click to tweet)
Pro tip: carve out time where you're experimenting, having fun, and trying something new.
"You don't always have to stay in the same medium, either. Try to stretch those creativity muscles when repurposing." @jeffsieh (click to tweet)
For instance, you can take a great blog post into a video or a Reel. Or perhaps you take a long-form blog post and turn it into a series of podcast episodes and see how that performs for your audience. This is key for creators to avoid getting burned out because you're infusing fun into the process and letting yourself be creative.
Remarkable:
The last R to consider in this stellar repurposing system is whether the content is remarkable.
If your brand is taking the time to create great content, it's important to find the right mediums and ways to expand that content to make it memorable.
"If you're going to take the time to create something great, make sure you have a plan and a flow for how you're repurposing it." @jessikaphillips (click to tweet)
The question to ask: is this remarkable?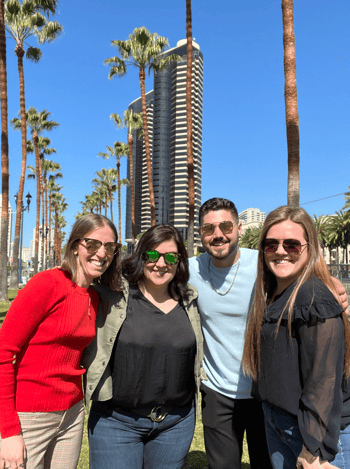 At every turn, your brand wants to focus on what is remarkable – about your team, your customers, your process, and your brand values.
You also want to go above and beyond to find ways to make your content stand out, whether it's jumping into Reels or starting a podcast.
Ask yourself: what would this content look like if it were a blog, Reel, etc?
This one question will help you think creatively about how you can transform one type of content into another. This will fuel your repurposing efforts and leave you with dozens of ideas to get started.
Putting It All Together:
The best part about repurposing is that it's a skill that gets better and stronger with practice.
"Once you start flexing the repurposing muscle, more ideas will come to you for how you can repurpose." @jeffsieh (click to tweet)
The more you repurpose content, the easier it becomes to find ways to make your current content relevant to your audience, refreshed in new mediums and/or with new value-adds, and remarkable.
Keeping these tenets in mind inspires creators to take risks, think outside the box, and as a result, keep their fans coming back for more.
Are you ready to try out this system for yourself? What R would you add to the mix? Let us know in the comments!
To get help with your content repurposing efforts, we recommend following Jeff and reaching out to him!