For brands and individuals looking to create a sense of community online, there's no tool more powerful than live video.
Live video is the most authentic kind of content we can produce; there's simply no faking it with live.
The beauty of live video is that it's truly an experience of 'what you see is what you get.' It's because of its unfiltered nature that it's such a powerful and popular form of content creation.
To dive into the power of live video and specifically, how it can be used to create a strong sense of community, Jessika Phillips and Mike Gingerich invited special guest Julie Riley onto Magnet Marketers.
Julie Riley is a social media manager for StreamYard, and she loves everything about marketing. She has been working in digital marketing since 2007 while working at a Harley-Davidson dealer. Since then, she's worked on many different projects, including owning a social media marketing agency.
Julie's experience includes e-commerce, SEO, social media marketing, chatbots, live video production - the list goes on! Julie has received awards from the American Marketing Association - Wichita Chapter in 2019 as Marketer of the Year, was nominated to the 2019 Women Who Lead Program by the Wichita Business Journal, and was nominated for small business of the year by Small Business Association.
Why Live Video Is Powerful:
Video is so much more powerful than audio and written content, because of our ability to see someone's facial expressions and gestures. It's human.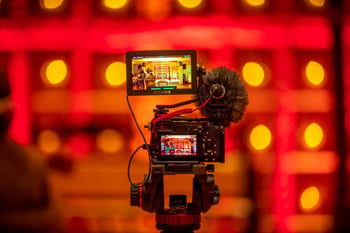 A mere Google search for "video statistics" will bring up thousands of articles about the power, prevalence, and popularity of video.
In fact, here are a few of our favorite statistics of late:
40% of consumers state video increases the chance to purchase a product on their mobile device.

74% of millennials find video helpful when comparison shopping.

96% of people say they've watched an explainer video to learn more about a product or service.
Video, especially live, is more powerful than ever. The pandemic created a shift in our habits in that we started to attend church, yoga classes, and even mental health counseling in the comfort of our own homes.
"There are so many ways personally, professionally and in community that you can use live video and it shrinks the distance from our people." @jessikaphillips (click to tweet)
Video in every form - live, short, and long - is only growing and becoming more prevalent, meaning now is the time to jump in as a creator.
How Live Video Builds Community:
Because live video is in real-time, engaging, and interactive, it gives us such an amazing opportunity to create a sense of community and establish the know, like, and trust factor.
Through live video, we can interact with the audience and engage with comments in real-time. It gives us the ability to truly have a conversation with our audience.
"You're able to see who is watching you on live video and by engaging with their comments, you build a rapport with them." @socialjewelsict (click to tweet)
This is how we make our audience feel important and appreciated.
"In live video, the community is strengthened and nurtured by what's happening in the comments! People are tagging others and it's creating a real conversation and it creates a sense of belonging." @jessikaphillips (click to tweet)
Live video also helps us create community because it's so human and authentic.
You can easily watch someone's pre-recorded, perfect-looking videos and walk away without a genuine sense of who they are.
When you watch someone live, you know exactly who someone is. Their personality and energy are right there in front of you; you get the authentic version of them. It's this level of realness that is what generates that strong sense of connection and is so powerful!
"You can't fake it and that is what is so endearing about live video. You can tell when someone really cares and what they are all about on live video." @jessikaphillips (click to tweet)
Live video is the place where we can show up as our real selves and bring people along for a journey - be it a conversation, yoga class, educational training, interview or product preview - in an unscripted way.
In fact, here are a few ways for brands to use live video:
Showcase your product: whether you just got in new merch or printed a brochure for a client OR your upcoming event, show it off on live video! If you have something to sell, why not show it off live and let people buy it, LIVE? Try going live once a week, showing off your latest products, and allowing people to comment to have items set aside for them for purchase and pickup.
Interview someone: this is what we do weekly on Magnet Marketers and monthly on NOW & Them! Interviews are a great way to provide value to your audience in the form of quality information!
Host a class: Calling all yoga and fitness instructors! Host your classes virtually so that you can expand your audience and cater to those who would prefer to still exercise in the comfort of their homes.
There are so many different ways for you to use live video!
"There are endless use cases for live video, so don't just think of it being used for just an interview. There are so many ways to use it." @mike_gingerich (click to tweet)
The unscripted nature of live video is truly key, as this is what sets it apart form pre-recorded video. If it's scripted, it may as well have been pre-recorded.
The beauty of live video is getting to see things happen and unfold organically.
"Obviously, video is not going anywhere and there are so many new ways that you can use it to communicate with your audience." @socialjewelsict (click to tweet)
As we continue to enter into the metaverse, we will see more creativity applied to how to reach our audience in totally new ways.
Jumping Into Live Video:
When getting started with live video, it's important to take small and consistent action.
One of the first important things? >> Understanding the mindset.
Video should be thought of as a long-term strategy with the goal of providing value to an audience.
If your goal is to provide value and build relationships, you will inevitably create a community over time. If your goal is to generate sales, you're bound to fail.
Here are some tips for getting started with live video:
Don't Overthink The Technology:
Use the tools available to you. Overthinking the technology aspect of video will forever keep you on the sidelines.
You don't need a fancy camera and microphone in order to start creating live video content.
"I hear all of the time that people don't have the fancy microphone or camera, but I didn't have my equipment for YEARS. I started with just my cellphone. Your setup doesn't have to be elaborate." @socialjewelsict (click to tweet)
Focus On Value:
So often, marketers think about ROI and people get caught up in the monetization when the real focus should be on the value being provided in the live.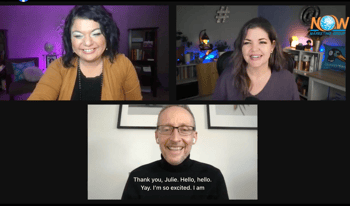 As Julie wisely said, "your goal isn't allowed to be more money because everyone wants more money. That can't be a reason to go live."
Think about what you can give back to your community.
"If there isn't value for them, your audience isn't going to tune in." @socialjewelsict (click to tweet)
If your goal is monetization, your videos will feel stale and icky. Not to mention, you won't end up likely sustaining the live video effort.
(Therefore you won't be able to truly establish the sense of community that would, actually, lead to that revenue over time… you see the conundrum here?)
Follow A Process:
There are so many experts in the field of live video to learn from! Plus, we developed our WATCH Formula to help marketers create a frictionless live show experience.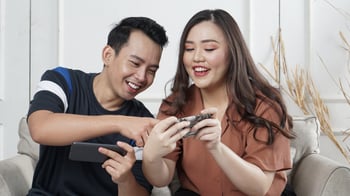 The formula is broken into:
What purpose: why are you doing the show? What's the deeper meaning beyond "just going live."
Activators: who do you want to show up?
Technique: how do you want to approach it? What's your specific flare? What do you bring to the table?
Consistency: how often are you going to do live?
Humanity: what's the human element that you bring to the show that makes it valuable and stand out?
Having a framework to follow can make it so much less scary to get started going live.
Practice:
Just like any skill, going live takes practice. The more times you go live, the more comfortable you'll feel in front of the camera.
Jessika recommends making a private Facebook group for just you and going live in the group as a way to practice! When you're feeling more confident, invite a friend or two and ask them for feedback.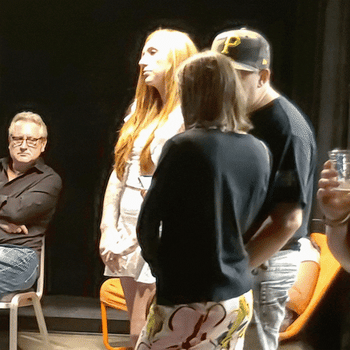 A Facebook group is a great place to start to try things out and get comfortable with the technology.
Start With Where Your Audience Is:
Aim to create live video content on the platform your audience spends the most time on.
Live video is not a "build it and they will come" sort of thing; you need to start where your audience actively is and then you can start to promote your other platforms and grow elsewhere.
Ninja tip >> If you want to create a community somewhere, like a Facebook group, but your audience is outside of that area, you can use Streamyard to start a live to all of your platforms and tell people what you're going to talk about. Give them a teaser of your value-filled topic and then tell them that you're going to take an intermission and STOP the live video everywhere except your Facebook group.
Streamyard gives users the functionality to turn the live off of any destination at any time, so this is an incredibly smart and strategic way to funnel your audience to the exact place you want them spending time online.
The best part? >> Since you're providing value and giving exclusive access in just this one spot, it's likely that your audience will follow.
Putting It All Together:
At the end of the day, it's important to remember that even if you aren't getting comments on your live video, there are people that are watching and silently consuming your content and benefiting from it.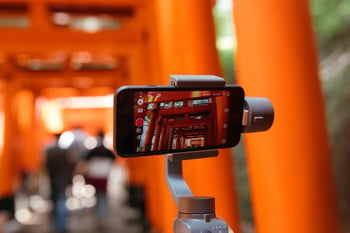 Live video has a huge ROI at the end of the day, it's just not a direct line of clicking a link straight from a video. Rather, it's about creating a flywheel in your business - of true relationships - that generate a sense of momentum and drive repeat and referral business for years to come.
Do you want to get started with live video?
Join Streamyard next week January 31st-February 4th for the 5-Day Getting Started with StreamYard Challenge.
This 5-day course will help you get started with StreamYard. You'll learn the basics of StreamYard, why you should go live, the equipment needed, communication tips, and how to be more confident on video. This challenge is designed for those who are new to StreamYard or just want some tips and lessons to help improve their streaming if they are unsure of how to really get the most out of StreamYard.
Each day at 10 am PST / 1 pm EST, there will be a live training in the challenge Facebook Group for the challenge, followed by small assignments. Register here.
What do you think about live video? Are you currently using it? Are you feeling inspired to start?
We'd love to know!