One of the most powerful ways to building connections and growing relationships online is to leverage live video. In fact, live video gets double the engagement of pre-recorded video posts on Facebook.
The reason being….it's HUMAN! Live video inspires action; it taps into emotion and brings together communities.
Not to mention, it's preferred. Almost 70% of people say they'd rather learn about a product or service by watching a video.
As brands look to build relationships with customers, or just as humans looking to connect to each other, video is the most powerful kind of content we have available to us because it's the closest thing we've got to spending time "IRL."
That's why we the amazing Chris Strub for a digital hang out on Magnet Marketers to share his experience of executing thousands of hours worth of live broadcasts --not just for himself--- but for nonprofits across the country with the purpose of building community and shining a light for good.
Chris, The Giving Day Guy, has been producing giving days since 2017. (We'll get into what a Giving Day is soon, don't worry.) He really is THE go-to guy in this space, and it makes sense given his experience:
New Hampshire Gives was Chris's 16th Giving Day produced since 2017
Chris has helped raise more than $64,000,000 AND produced 140+ hours of live-streaming video throughout these 16 Giving Days
These Giving Day live streams have had 2,000+ cumulative hours of organic watch time
The biggest Giving Day, by donation, that Chris works with is Louisville. In 2017 they raised $4.6 million; they grew that to $7.64 million in 2020.
Chris's journey really got started in 2015, when he set out on a journey to travel to 50 states in 100 days.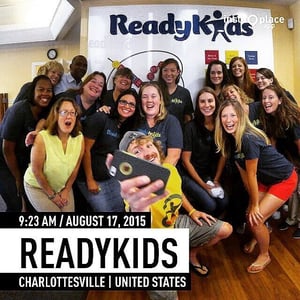 During this solo road trip journey, Chris visited a nonprofit in every state. He wrote a book about the experience and even made a film that debuted at Social Media Marketing World.
What did he learn along the way? >> The power of building relationships. (Oh, and live video of course.)
The Power Of Giving Days:
Giving Day is ALL about raising awareness, and money, for a community.
It's about taking 24 hours to truly spotlight a community, share the mission of the organizations, and come together for a common good.
Here's the thing: it's hard as a nonprofit to get donors. This is why a Giving Day can be so powerful; it's an opportunity to bring together a number of nonprofits in the community to work together to raise awareness for all of them!
"Nonprofits struggle to accumulate new donors… the key with #GivingDays is when nonprofits in a specific community come together the effort creates something that's bigger than any one of themselves." @chrisstrub (click to tweet)
Just like with any event, social media is one of the best places to go to generate visibility and create an audience.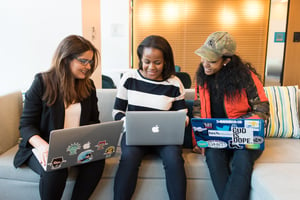 Social media is a key component of a Giving Day because it:
Helps get the word out about the day in advance
Serves as a vehicle for generating AND showcasing sponsors
Drives engagement with the community before, during, and after
Amplifies the conversation happening online for the actual day
Provides a central place to provide information and updates in real-time
...and live video is the backbone of all of it.
"I use live video to create a telethon aspect for the #GivingDay, interviewing stakeholders, local influencers, government officials, and sponsors. I get them together and create live streaming magic that goes all day long that boosts the visibility of all participants." - Chris Strub
The best part? >> Live video truly amplifies both the fun AND success of these Giving Days.
Why Relationships Are The Key:
At the heart of any good Giving Day is someone who cares; someone who has a passion for creating community and bringing people together.
"The beauty of giving day is the opportunity to come together and serve as a celebration of the community itself which helps people really understand WHY this is so meaningful to the community!" @chrisstrub (click to tweet)
Relationships are critical because they allow for connections to be made that enable these days to truly become successful.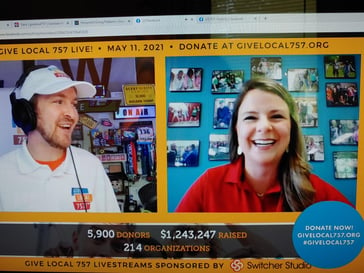 Giving Days gives a platform to local nonprofits who usually don't have the ability to tell their story to a large number of people who are ready to take action.
Individuals that work at these nonprofits, sometimes for the first time ever, get to show their face on camera and speak to the impact that their work has on the community at large.
They get to pull the curtain back and show their audience what the reality of doing their work really looks like.
THIS is what drives donations, and therefore success, for these Giving Days. Humans telling stories to elicit emotion and that emotion drives action.
"Telling SPECIFIC stories - showing people exactly how their donations are helping is so powerful. People can SEE through live video this is who we are and how we care." @jessikaphillips (click to tweet)
We feel more compelled to support those to whom we can relate.
It's why Chris is so passionate about empowering nonprofits to take live streaming into their own hands.
"There's so much you can do with these #livestreaming platforms like @SwitcherStudio. You can incorporate visual elements into the show like logos, add peoples names and find ways to showcase sponsors! You can even play commercials." @chrisstrub (click to tweet)
Because these live streaming platforms are so powerful, we have the ability to execute a show -that's live- that feels like a well-produced television show, with intros, commercials, and little ad breaks!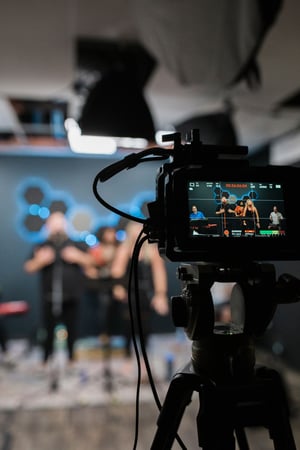 For instance, Chris is able to feature 50+ different individuals throughout ONE Giving Day thanks to the technology of Switcher Studio.
Think of the power: for nonprofits, this means the ability to feature individual's names on screen and thank them for donations coming in LIVE! (And as Chris shared, the more you acknowledge, the more donations you drive.)
Live video means it's real-time, so it's an incredible opportunity to engage people and acknowledge them for their participation.
Plus, there are so many opportunities to add some gamification elements, which make the entire broadcast more engaging and keep people watching for longer.
How To Start A Giving Day:
"I do what I do because I love uplifting the nonprofits and helping them succeed, and sometimes survive, based on the work that we're doing." @chrisstrub (click to tweet)
These Giving Days can be such a boost for an organization - the principles behind relationship marketing and community building that make these Days successful can be applied to any business regardless of the industry.
"2020 was the push that many of us needed to realize that we need to come together in order to survive as a community." @jessikaphillips (click to tweet)
The beauty of live video is that it can shine a light on anyone and show just how special they are.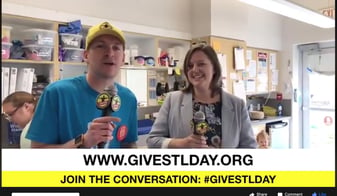 Here are some tips to help you get started:
Create a theme:

Whether it's a "giving day" or another kind of event, you want to have a theme. You want to have a purpose for gathering people and have something that brings, and ties, them all together.

Plan ahead

: Live events take A LOT

of planning, organization, and most importantly, dedication. You have to have someone that really wants to pour into it. Give yourself at least a year out to start the planning process.
Contact folks: Outreach is key. Contact your local community foundation or an organization with deep relationships in the nonprofit community. Chris also recommends reaching out to the folks at

Neon One

or

GiveGab

which are the two main Giving Day tech providers.

Prizes:

Think of creative ways to provide prizes, recognitions, or awards to members of the community for getting involved either by donation or just through engagement and shares online!
At the end of the day, it's all about building relationships and giving people a place to share their stories!
"I want to create a space where people can be on camera and share their stories because that's a powerful thing." @chrisstrub (click to tweet)
The more we allow ourselves to show up, take up space, and share our story, the greater opportunity we have to become known and build relationships with others.
To learn more about giving days, check out Chris's site where he posts a full recap blog about each event!
What do you think about live streaming for an event or as a tool to build pre-event momentum? Have you used it as a fundraising tool or awareness builder for your non-profit or event? Share below!