Given that professionals anticipate that 82% of internet use will be for streaming video by the end of 2022, it's important to start diving into live video as a brand.
Not only is live video powerful in that it earns 27% more minutes of watch time per viewing vs. video on demand, but it's emotional. The beauty of live video is that it gives people a sense of who we are as a brand and/or individual.
To dive into the topic of live video and break down how your brand can leverage its power, we invited our friend Christian Karasiewicz onto Magnet Marketers to share his expertise given his long-running show Social Chatter.
Christian Karasiewicz is the Content Marketing Manager for StreamYard and a social media marketing professional for B2B and B2C businesses. He's also the founder of Social Chefs, your premier source for social media training on the web, and host of the live show and podcast, Launch Your Live.
Getting Started With Live Streaming:
While the hardest thing about getting started is definitely hitting the live button, there's a lot of work to do before you do that.
The most important thing you have to do when it comes to live streaming is to know your why; you have to think about why you're making live streams and what your purpose is.
"When it comes to #LiveStreaming, start with your why and make sure that you look at your data." @ckroks (click to tweet)
Only after you know your main purpose can you start to create content, think about how often to go live, dive into analytics and see how it's performing.
"Live streaming brings you closer to your community, lets you build relationships, and makes brands more relatable." @jessikaphillips (click to tweet)
There is so much power to live streaming as a brand:
Build relationships: because of the humanizing aspect, you have the ability to connect to your audience in a way that feels real, authentic, and relatable.
Real-time: because it's live, there is a feeling of getting exclusive access and being able to be a part of a conversation NOW. There is so much value to that because you're able to answer questions in the moment and provide feedback on the spot.
Showcase knowledge: by going live, sharing your expertise, and bringing guests on like we love to do on Magnet Marketers, you provide valuable insight to your audience, which keeps them coming back to view your lives.
There are endless opportunities to use live to create connections and grow awareness for your business.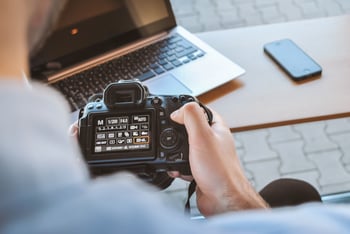 Now that you understand the power of live, it's important to distinguish between the different kinds of live video.
The Different Kinds Of Live Videos:
It's important to think through the content you want to produce as a brand to find the format that makes the most sense to support your goals.
By looking critically at what you're making, you can decide what type of video it should be.
For instance, a walk-through of a tool/tutorial video is probably better suited as a pre-recorded video than done as a live video unless you want your audience to be able to ask questions DURING the walk-through.
There are a few different kinds of live video to consider:
Fully live:
This is what we do at Magnet Marketers. This is a TRUE live video in that what you see is what you get.
Nothing is recorded in advance with a fully live video, and everything is happening on camera for the audience to see and respond to in real-time.
This is nice because it lets you shout out the viewers that are commenting and make them a part of the conversation.
Fully pre-recorded:
You can create pre-recorded videos that you pre-schedule to publish at a specific date and time. We love the idea of using pre-recorded video if you're not able to record fully live that week but still want to be able to set that appointment with your audience and have them get the "live experience."
"We like to think of pre-recorded lives as a release, where we will release a collaboration video and let people know what date and time it's posting so that they know to tune in." @jessikaphillips (click to tweet)
By doing this, you also free up time that you could spend engaging with the audience in the comments.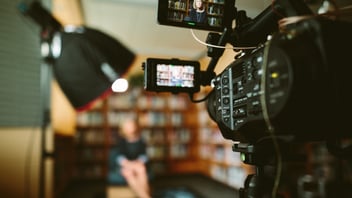 This is something you can even mention in promoting the video is to let people know that you'll be live answering their questions in the comments. This is a great way to set an appointment with your audience to watch something together.
It's also a really nice solution for business owners who feel burnt out from being on camera every week. By giving yourself a week off from going live, it feels like a mini reprieve from that feeling of being on the content creation hamster wheel.
Mix of live and pre-recorded:
This is a super interactive show style, and it's what we do for our monthly NOW & Them show!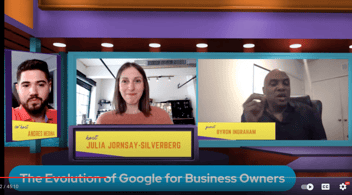 By adding some pre-recorded elements into your live show, you really serve to amplify the production value of your live show and make it feel like a "real television show."
Some fun ways to add pre-recorded video into your lives are to have a segment where you share a pre-recorded video about a news story or testimonial related to the topic you're discussing on that specific show. You can cut to that video and then go back to being live with your hosts.
This is a fun way to keep the video engaging while also giving your on-camera hosts a few minutes to take a sip of water and/or just regroup from being live.
"If you're just putting out a pre-recorded live stream to check a box, you're missing out on the relationship that you can develop with that viewer." @ckroks (click to tweet)
The beauty of live video is that the guests can interact with the audience in real-time and answer questions live, so find a way to keep this as the main element of your live video even when mixing in that fun and informative pre-recorded content.
A few final tips when it comes to going live, regardless of what kind of content you're making:
Re-watch your videos: Watch every live video you do. This is the best way to get better and continue to improve your confidence on camera.
Get feedback: Ask close friends and family to watch your live videos and give you feedback. Staying open to feedback is what will make you better on camera.
Download the live video file: This way, you have the file and can easily extract the audio for repurposing purposes. (Which, speaking of repurposing…)
How To Expand The Reach Of Your Content:
A lot of time and thought goes into one single live video, from the planning to the recording to the post-show flow.
"A lot of people create content and then they move onto the next thing but there's so much that you can extract from that one piece of content." @ckroks (click to tweet)
This is where repurposing comes in. If you're going to go through all of that effort, it's worthwhile to repurpose your content so that you can expand its reach as best as possible.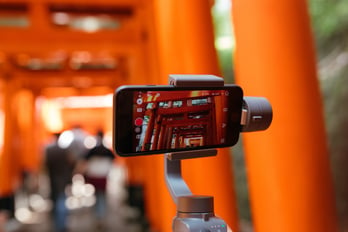 There are so many things that you can to do repurpose your content and by doing so, give it new life.
Repurposing your content into various forms is smart because it helps you reach new audiences and showcase your knowledge in a variety of mediums. This is a great way to ensure that you're making the most of each piece of content that you create.
We recommend creating the following pieces of content from each live stream that you create:
A blog post to recap the conversation and highlight the best takeaways
Video clips to post on InstaStories
Short-form videos featuring all of the extracted clips together
Extract the audio for a podcast
Extract the audio and play it live for a Twitter Space
Create quote tweetables from the conversation
Craft short tweets that recap the highlights of the chat
"By repurposing content, you're creating these magical moments for your social channels from only one piece of content." @ckroks (click to tweet)
While this is definitely a lot of work, it's one of the best ways to maximize the impact of each live video that you create. It also is an exceptional way to determine where your efforts should go.
By repurposing your content across multiple channels and mediums, you're able to see where you get the "biggest bang for your buck," aka which platforms are showing the most views, comments, and clicks.
"Take multiple approaches at once and then look at the analytics across platforms to see what's working best." @ckroks (click to tweet)
Once you know which platforms are worthwhile when it comes to distribution channels, you can start to narrow down the list above and only focus on the actually impactful ones.
How To Get Started:
Live video isn't just an effective way to reach your audience, but it's fun!
Thanks to tools like Streamyard, getting started with live streaming doesn't have to feel daunting. We love Streamyard because it's extremely user-friendly and easy to navigate while still featuring all of the functionality you could want when it comes to multi-channel broadcasting.
While it's easy to get bogged down in thinking that you need fancy equipment, you can truly get started with your webcam and/or iPhone. You can easily geek out on the Streamyard blog about tech and tools, but it doesn't have to be complicated to start.
"Audio is the most important thing with live streaming so that would be my first investment, but you can get started with your smartphone." @ckroks (click to tweet)
Once you have your basic equipment and software figured out, remember to go back to the basics and where we started in this blog - think about your purpose. It's critical to think through what your live stream is all about.
We highly recommend reaching out to Christian to get started.
He's been doing this for longer than anyone in the industry on a consistent basis and would love to help you think through what your live stream is about and/or answer your questions.
Remember to have fun and check your analytics! Data is truly what will show you whether what you're doing is working, so roll up your sleeves and dive into it.
What do you think? Are you ready to start live streaming?
We want to hear what you're going to do to get started!