Facebook is one of the most powerful and popular social media platforms in existence.
When considering the fact that 1.85 billion people log into the platform daily, it seems like a prime place to spend time as digital marketers. In fact, it seems like virtually everyone - individual and brand alike - has a presence on the platform.
Despite the prevalence and popularity of paid advertising, there is still a lot to be said for organic marketing efforts on Facebook.
Organic reach is far from dead, it just requires creativity and strategic thinking to make it happen as a business page.
Before we jump into some best practices, let's start with a super quick ProTip >> Perform regular audits in the settings section - make sure all options are filled in as completely as possible and update your information as things do change (crazy right) this will help ensure your profile is fully optimized and accurate.
Now... what are the best practices for the platform and how can you become a better marketer on Facebook?
Here are 14 Tips To Become A Better Marketer On Facebook:
Have A Strong Profile Photo:
Your profile has to look attractive, first and foremost. If you want to develop an audience, generate credibility and create a sense of community, your page needs to look legit. This means starting with a high-quality profile picture.
For individuals, think headshot… something that is an authentic reflection of who you are - it could be fun and creative and spirited, or polished and professional. For brands, think logo or branded and easily identifiable image. A fun way for brands to get creative is to make multiple colored versions of their logo so that it can be switched out for specific holidays!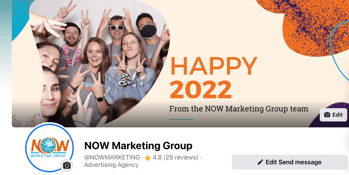 As you can see, we're using our logo for our profile photo. A simple white background and high-quality version of our logo allows our audience to immediately know they've found the right agency.
At the start of the year, we featured a fun photo of our team flashing the peace sign, as it was a fun way to showcase our team, show our personality and celebrate the start of the new year! If you head over to our Facebook profile now, you'll see that we have a cover photo to showcase Social Media Week Lima 2022.
Utilize The Cover Photo:
The cover photo is prime real estate on your Facebook page, it's a great place to add eye-catching graphics that stand out.
For individuals >> use this space to showcase who you are in a creative way. For brands >> what better landscape to highlight your culture with a great photo of your team OR a marketing graphic to promote a specific deal you're offering.
Pro tip: if you're adding any kind of text to the cover photo, be considerate about where the text is placed in the graphic so that your message doesn't get cut off on the mobile or desktop layouts of the app.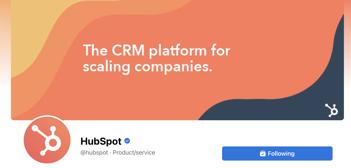 Hubspot does a great job at showcasing its branding in its profile and cover photo, as well as using its cover photo to tell the world what they do and how they help others. The cover photo is simple, eye-catching, clear-cut, and to the point. AKA it's perfect.
Grab Your Vanity URL:
Within your page information and settings in Facebook, you have the ability to create an easy-to-read URL for your business page. Not only does this make it so much easier to prompt people in conversation "head to Facebook.com/nowmarketing" but it's great for search engine optimization. When using a vanity URL, your page becomes more easily found on both Facebook AND Google.
Customizing the URL to reflect your brand name allows for easy identification. It might be fun to play with your identifier and create something like: Facebook.com/bestcompanyever however while unintended, you're creating a friction point for your community to find and connect with you.
A best practice tip is to use your name or an iteration of your name to make it crystal clear who you are.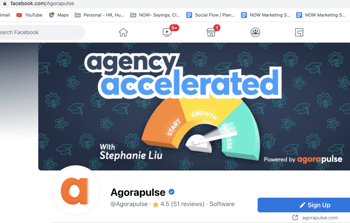 As you can see, Agorapulse has the vanity URL of Facebook.com/agorapulse. Not only does it make it easy for anyone to find them, but to TAG them and engage with them on the platform. Agorapulse also follows the best practices as outlined above of using their logo as their profile photo, and a strong, branded cover photo that speaks to a current offering they have.
Share A Variety Of Content:
One of the best ways to ensure your profile will stand out and show up in the newsfeed is to post a variety of content. Facebook is the platform where content creators have the "most freedom" of what content to post.
Whereas Twitter and LinkedIn give us parameters for video length, YouTube doesn't post photos, and Instagram doesn't allow links, Facebook is the one platform where you can post everything.
Lean into that and share a diverse content mix >> photos, videos (short and long-form,) links (both to your website and to industry resources), and status updates. The content variety will keep your page engaging AND help you understand which content delivery method your audience would prefer.
Scrolling through Wave.video's Facebook page is a great way to see this best practice applied.
Wave is a video creator and live-streaming tool that shares a ton of value in a variety of ways on Facebook. They share videos that provide chances for their community to win prizes, links to blog posts with best practices for live-streaming, reminder updates for their weekly live show "Live Better" and more.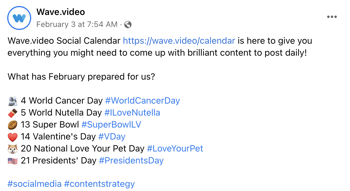 We love this value-driven post from wave that helps their community plan ahead for social media content.
Wave.video is such a strong example as a brand that understands the art of creating a wide variety of value-based content for their community.
Post Video Content:
The creation of video content should be a major part of your social media strategy. While we encourage you to post photos and links, video is "where it's at."
Video is prioritized in the algorithm, making it the best type of content to create to generate as much organic reach as humanly possible across every single social media platform.
Of course, you don't want to post "just to post." Every piece of content should be tailor-made with your audience in mind and offer value to your viewer; the more you use video and leverage those best practices, the better reach you'll see for your content.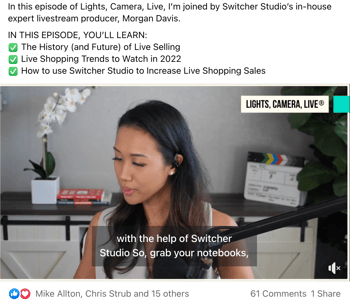 Stephanie Liu is one of the industry's leading experts when it comes to video marketing, especially live-streaming. Not only does she have a crystal clear, professional-looking setup (with a high-quality DSLR camera and amazing microphone) but she has an engaging presence that keeps users engaged throughout the length of her show, "Lights, Camera, Live."
If you're looking to become savvier with video, you're going to want to follow Stephanie.
While some content creators have a professional setup, that doesn't mean you can't create great video content if you don't have access to the types of equipment others may be using. Your smartphone is a great place to start and inexpensive lighting and microphone options are available to give your video content that professionalism you're looking for.
Ask Questions To Drive Engagement:
Community-building should be at the forefront of your content creation regardless of which social media platform you're using. The most successful accounts are those which are pulling their community into the conversation >> ask open-ended questions >> include strong calls to action in your posts to encourage your community to chime in to share their opinion via comment, to like your posts, and ideally share them.
Questions show your audience that you care AND help drive engagement. Win-win!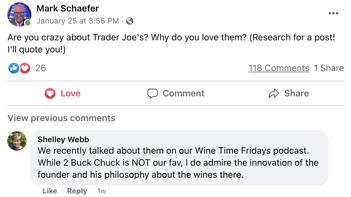 Mark Schaefer is an absolute industry leader to follow in regards to tapping into his community and asking them questions to drive engagement. As a writer, Mark often looks to his audience to get insight from them to shape his content. This Trader Joe's post got 118 comments! Think of how much insight Mark had to shape his piece!
It's brilliant; he knows how to make his audience feel valued and appreciated for engaging, and he finds unique ways to take their insight to expand his points and create so much value along the way.
Optimize Your About Section:
This is one of the first sections of your profile that people will see when they connect to you, so make sure to utilize it.
The "about" section is a great place to showcase your brand's personality and to share your WHY - the reason behind your business and how you serve to help people. Provide a brief but descriptive and detailed explanation of your business or your personal brand.
Canva does a great job at using their about section to provide a concise but keyword-rich description of their tool.
The about section serves to show their personality and their helpful nature, plus their mission to make graphic design simple for everyone. Not to mention, they include the phrase "drag-and-drop" as well as their impressive number of stock photographs and graphic elements, helping to provide credibility.
Engage Often:
One of the most important places to spend time when it comes to social media is in the inbox. Be sure to engage often and answer messages on your Facebook Business Page, because Facebook is always "keeping score."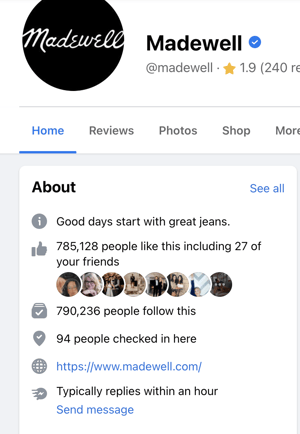 Facebook shows the typical response-time speed right on your profile, and it's a definite badge of honor to get the message symbol with a "flash" next to it, to showcase that you are very responsive aka that you typically reply to messages quickly.
This serves as a digital signal to your audience that you're "on top of it" and that you care about your audience to answer their questions timely.
As you can see, clothing brand Madewell is speedy when it comes to their responses, as Facebook shows that they typically reply within an hour.
Not only does this signal to customers that the brand cares about what they have to say, but it helps to inspire confidence and drive more online fans.
Use A Call To Action Button:
Facebook gives Business Pages the ability to add a "Call to action" button to their page.
You can decide which of the 7 options provided makes the most sense for your business, such as Shop Now, Send a Message, Book Now, Sign Up, and more. This is a great way to drive more action directly from your page.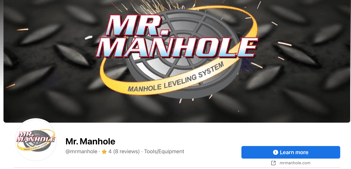 Mr. Manhole, a client of ours that makes a ground-cutting piece of equipment, uses their CTA button to drive people directly to their website to learn more. They also utilize the best practice above of having a vanity URL and a strong profile photo.
By clicking the learn more button, you're driven straight to the website homepage where you can gain a better understanding of what the tool does.
Dive Into Insights:
Facebook analytics are a goldmine of data, and it's worth spending time there!
Use the data inside of analytics as a way to further hone your strategy to see what are the best TIMES to post as well as what are the best TYPES of posts for your audience.
Start testing around different posting times AND content types based on what you see is performing best. Remember, social media is not a "set it and forget it" kind of thing. The best businesses understand the art of constantly tweaking and refining their approach based on data.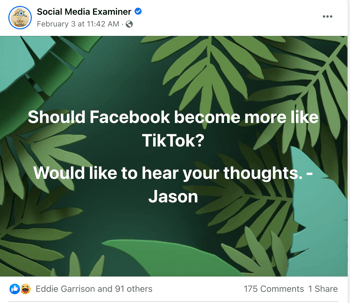 We love this post from Social Media Examiner because it's a perfect example of the power of analyzing your data and crafting content based on what you see is driving engagement. SMExaminer knows that their audience is made up of social media marketers, so they're engaging their audience by asking a question that they know will prompt a response.
Not to mention, the act of signing the post helps to add an element of humanity to it which makes the content feel even more human and personal, therefore more likely to drive responses.
It's clear to see that this is a topic that people resonate with given that this simple post (in that they didn't create any special graphic and just made a colored text post that Facebook provides) generated 92 reactions and 175 comments!
Leverage Messenger:
Messenger is a great place to spend time on Facebook, as it's where you get to connect to your customers and have a conversation with them.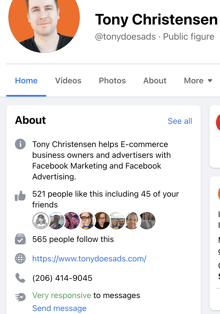 Not to mention, Facebook "scores" your page on response time, so being actively engaged on messenger will help your performance on the page and signal to your audience that you're responsive.
Given that the future of social media is dark social, and all about the conversations happening in the inbox, messenger is a place that you want to prioritize when it comes to your Facebook marketing efforts.
You can see here that Facebook Ads expert Tony Christensen is rated as very responsive to messages; this is exactly what you want to see on your profile and you'll get there by making sure that you stay engaged with messenger daily.
Add FAQs:
Another great area to tap into on Facebook is the FAQ section.
In this section, you can insert commonly asked questions and build out the answers in Facebook Business Manager's advanced messenger section.
This is a great way to further your relationship-building efforts because it allows you to input information that you get asked often and have a pre-loaded answer ready to go.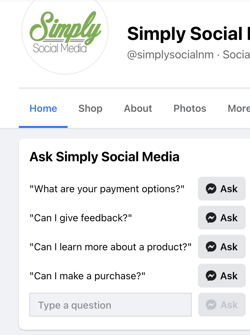 Not only does this increase your response time, which helps boost that ranking we mentioned above, but it helps you save time on engagement.
Our friends Simply Social built out their FAQs section to make it easy for people to ask simple questions immediately upon arriving to their Facebook page.
Take the time to look through reviews and messages from customers to figure out what questions make the most sense to include in this section for your page.
Using The Right Profile Template:
Facebook provides a number of options for business pages regarding templates for the specific page. The template you pick is important because it dictates the tabs and sections that appear on your business page, which help to give a more complete picture of your business.
For example, services pages allow you to share services that your business offers, special offers, as well as pricing information if it's relevant. If you're a non-profit, there are specific options for that where you're able to promote events and fundraisers.
Not to mention, the template allows you to rearrange your profile's sections to make sure that the most important items are shown first, and then the rest are filtered into the drop-down list.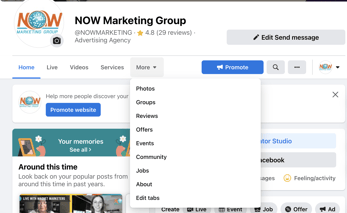 Facebook also allows you to completely turn off sections that aren't relevant to your business, making the entire thing completely customizable.
You can see that for our NOW page, we selected live, videos and services as our top tabs to appear on our page. When you click the drop-down menu, you can see all of the rest of the tabs that we have on our page. We have the ability to edit these tabs as we see fit to change the order and/or remove any entirely.
Build Out Events:
We highly recommend tapping into the power of Facebook events. Create an event and build out the details so that your audience can be informed and get engaged.
Whether you're hosting a fundraiser, online sale, in-person concert, or virtual seminar, events allow you the opportunity to put a spotlight on that specific occasion. Not to mention, you can add co-hosts if you're collaborating with another business, which helps to amplify your reach and exposure to the event.
You can see that Social Media Examiner had an event for their annual conference, Social Media Marketing World. If you click on this event, you can learn so much about it - from the dates and times, the location, a detailed description, a link to get tickets, guests, and a discussion board where people are posting about the sessions they'll be attending, networking meet-ups and FAQs like conference attire.
This event not only serves as a great way to get information to a broad audience but helps to foster a sense of community among attendees.
If you want to geek out with even more tips for Facebook marketing, we love this blog post from Canva.
Putting It All Together:
At the end of the day, the most important thing when it comes to Facebook is showing up as your unfiltered self to share value and create a sense of community.
There is so much that you can do on Facebook organically, let alone through paid ads, so it's worthwhile spending time on the platform to truly understand everything it offers.
Not to mention, Facebook is constantly updating its features and functionality. It's easier than ever to use Creator Studio to schedule content, access video clips and so much more. Staying up to date with the latest changes is crucial in order to tap into the way array of opportunities available for marketers.
Following these best practices above is a sure-fire way to drive more engagement and therefore have the opportunity to build stronger relationships on the platform.
We'd love to hear from you! What do you love most about Facebook? Who do you love to follow on the platform?
Share with us below!