We've officially entered into the holiday season, and are getting ready for the end of the year. As we say goodbye to 2015 it's a good time to start preparing for the new year. It's time to start thinking about the goals you have for 2016. Although it may be difficult to get past the day to day work, planning your goals now can really help your business. So take a few minutes or hours and get ready to plan out what you want to see this year. What you plan is what you're going to achieve.
You'll want to start with your SMART goals. It isn't enough to say simply, "More revenue!" Your goals need to be really thought out. They need to be:
Specific

Measurable

Attainable

Realistic

Timely
Firstly dive down into your specific goal. What exactly is it? Next, make sure it's measurable and that you're able to attain the goal. Is it achievable? Next, is your goal realistic or relevant to your business.? And lastly in what timeframe would you like to see this goal made?
Say increasing revenue for your business really is a goal for your business. Well, that's great but you need to think about what percentage increase you're looking for, where the revenue is coming from, what timeframe the increase should be achieved by, etc. Drill down those details on how you're going to get there. Don't forget to look back to what you have done. That will help you move forward. You'll really want to look at the business from all angles.
We think the best way to do this is to write it all out on paper. There is something to be said about writing your goals by hand.
Surveying is a great way to find out where you are at today and why. Perhaps a goal is company culture. There are many survey websites that help you reach out to customers and employees, such as Survey Monkey. This way you can find out what's working for your customers, if their needs have changed, and how you can help.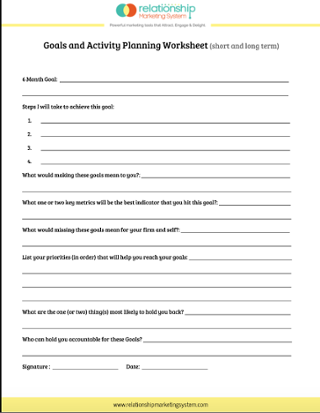 NOW Marketing has recently begun using Tiny Pulse to receive feedback from our team. Tiny Pulse allows you to send surveys to your team, and they can reply anonymously, without fear of repercussions. It's a great tool for insider information and looking at why your business is where it is today.
If you've thought of some baseline goals, consider bringing in your team and get them involved in planning out your goals. This way, everyone knows the goals of the year and can add their own insights.
This will really help you keep up with your customer's needs and your team's needs.
Also, consider creating a list of things that may hold you back. It will be really helpful to know what some of your challenges are. This way you're already aware of what they are and are able to think of ways to tackle those issues beforehand.
Identify:
Strengths and opportunities
So once you've ironed out your goals, you'll need to plan how you will achieve them, and what steps you're going to have to take. You can plan them out with different websites, like Trello, and break them down by months or ways to break down your goals.
Imagine yourself reaching those goals. What does that mean to you?
What does it mean to your business? What would you be able to do next? It could be hiring more employees, or adding a new branch. In essence, where will you be able to go next? Think about the flip side too. If you don't hit your goals what does it mean?
Join us next Tuesday at 4 p.m. on #MagnetMarketers.