Google is the world's largest and most widely used tool for search; it's no doubt that it's important for marketers to understand its power.
In fact, Google is the place where marketers and individuals go most often to get information, discover businesses and solve problems.
However, Google Search isn't the only tool in Google's belt. Many of their features are majorly under-utilized by brands and businesses.
We welcomed Byron Ingraham on as our special guest for Episode 8 of our monthly laugh and learn, NOW & Them, so that we could dive into the topic in depth.
Byron Ingraham is the founder and chief business strategist at Azure Media. Byron's focus is on creating innovative strategies that help businesses reach their ideal customers while maximizing their revenue potential.
Why Google Is Essential For Brands:
Having a presence on Google is essential for brands that want to get discovered, hand raise if you're cool not being findable... didn't think so.
Everyone uses Google to find solutions to their "problems" and to discover where to take their business, whether it's for a new hair salon, coffee shop, restaurant, dentist, therapist, marketing agency, etc.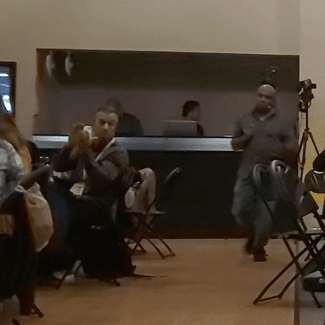 The strength of a business's profile on Google plays a huge role in influencing whether people will contact, visit and/or purchase from that business.
Consider the following metrics as they relate to the power of Google:
These statistics show how deeply ingrained using Google is into our purchasing behaviors.
This is exactly why Byron stresses that Google is a crucial component of any strong strategy for social media and digital marketing.
Taking Action On Google My Business:
Google My Business is a free business tool where you can create posts, showcase business information and verify your business so that it's shown easily in Google maps and search.

Create your presence on Google My Business:
If you haven't done it already, this should be something you prioritize TODAY.
Remember: Google is the largest and most widely used search engine in the world, so you want to prioritize getting your business set up in the place people are searching!
Note: depending on the type of business that you have, you might need a physical mailing address of some sort to do this. You can verify your business via a postcard sent to your address or phone call.
Bonus tip: If you don't have a physical sign on your brick and mortar location, it can be harder to get your business approved, so have a copy of a signed contract that shows your business operates in that location.

GMB is more than just a listing; the free tool lets you make posts, create events, and chat with customers! In fact, there are so many features within Google My Business that are worth tapping into which will help to skyrocket awareness for your brand or business.
Add your Business Information:
Now that you've claimed and verified your profile, you're going to want to fill out your business information.
Action item: Insert all relevant information about your business from the location to hours to a keyword-rich description of what you do.
After filling out all of the important information about your business, it's time to dive into the fun part, which is all about communicating with your customers.
Start Posting Content:
Google allows you to post, so you want to treat the platform like any other social network.
Action item: Start posting content regularly.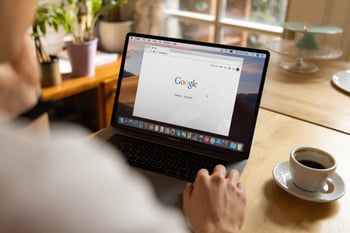 While you don't need to post constantly, you want to aim to post to the platform about once a week because it helps to show that you're active. You can use tools like Agorapulse and/or Local Viking to pre-schedule your posts for the platform.
Posting tip: You want to be sure to geo-tag your images.
This is as simple as taking pictures with your iPhone which automatically adds the geocoordinates to the image. Doing this confirms to Google that the image was taken at a particular geolocation, which helps with SEO.
Turn on Chat:
One of the biggest mistakes Byron sees businesses make is their failure to enable the chat feature.
It's rare that people pick up a phone these days; people send messages online and want the ability to have a quick and seamless conversation with your business.
Enabling chat shows that you care about your customers and are ready and available to answer their questions quickly.
Drive Reviews:
Another important thing to note is that posting consistently can help keep you top of mind, which helps you generate more reviews.
Reviews are Google gold, and you're going to want to spend time looking at, and encouraging reviews. It's known that businesses with more reviews are the businesses that tend to be delivered as a search result because Google reviews add credibility to the business.
Given that 97% of people report that customer reviews influence their purchase decisions, brands should be working hard to generate more positive reviews for their business.
Action item: Ask your customers to leave reviews!
When you go above and beyond for your customers, you make a memorable impression and they're likely to share that online and with their friends and family.
Have a QR code that links straight to your Google page on your brick-and-mortar window, or have it easily accessible on your phone. This way, you can ask people to simply leave a review with just one click of a button. Also acknowledge those reviews by commenting and replying back - regardless of nature. On occasion a review may come in that isn't quite what you were hoping to see, use that as a moment so display your customer service and offer a solution or to move the conversation offline through a direct phone call or email to clarify or rectify the situation. Do not leave it unanswered.
Another tip >> go to whitespark.ca; they have a free tool where you can create a free link for GMB that you can use in your email marketing efforts.
Check the Data:
Google My Business also has an analytics dashboard built in that tracks engagement with your profile so you can see how many calls to your business were generated during a designated time period or where your customers are located. As a marketer, you know data rules all, so this dashboard helps to give insight into who is engaging with and how often your business listing is accessed.
Putting It All Together:
Google My Business is one of the most worthwhile and easy-to-use platforms we can spend time on as marketers. It's intuitive to get set up and offers prompts to get you started.
If you don't have the fundamentals in place, you're not even in the game and Google My Business is one of those foundational fundamentals.
By taking the time to create your listing and ensure it's optimized to its fullest, your brand can be discovered where it matters most.
Are you leveraging the Google My Business platform currently, if so which feature have you found to be the most beneficial? If not, how can we help get to get you started?