Studies have been done that tell us people use the internet for two reasons: 1. To perform an action or 2. To find an answer. When it comes to social media marketing efforts, people are trying to connect and see what is happening in the world around them. We've found one thing that often gets lost or left out when it comes to social media marketing in business is being human or humanizing your brand. Simply stated, many forget to let people in, letting them see you as genuine, authentic, and personable. People run businesses and you are working hard for your clients on a daily basis, why not show them a day in the life of you so they can connect with you on a more meaningful level?
While this has always been important on some level, 2015 is truly shaping up to be the year to humanize your brand on social media. We all saw this coming to some extent. Over the last few years as we've marketed our businesses online and used social media to build solid relationships, we began to see more pictures, more videos. And this past year we went from the sensation of sharing funny comics or hilarious memes to focusing on real-time photos and short videos. If you're not here yet, we'll give you a few reasons why you might want to move in this direction.
Why be Human?
Ask yourself, why did fans take the time to like and follow you on social media? It's not because they want to hear your next best sales pitch, but because they like your product or service and they desire to get to know and support you.They're on social media to engage with their families, friends and co-workers so if you are only talk "salesy" your content is going to be overlooked or even considered off-putting. The best way to engage your audience and retain your following is to show your human side (appropriately) which enables them to know, like, and trust you. So how can you show a human side to your business?
The Power of Pictures & Video
So how are you supposed to be "human" then? One suggestion is to post more pictures of what's going on there and what you're up to (if it is relevant to your business, your community, or current event). Here are a few examples:
Example 1: Real-time happenings. Your followers probably didn't know you support the March of Dimes and attend the walks each year. But if you share a picture of you or your employees participating! Did you get a surprise visitor in today? If they don't mind, take a quick selfie and post with a short sentiment that shows how happy you are to see them. Does your company do something special for your employees like a luncheon, employee of the week, or even safety training? This is a great way to show your company's culture.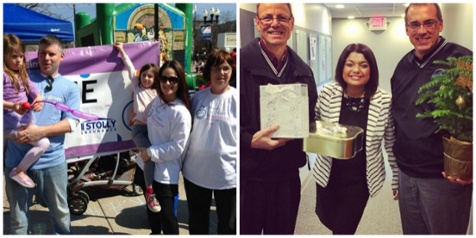 Example 2: Let them meet your team. This gets everyone involved and let's your audience see who's behind the scenes. It's like the difference between talking to an automated phone system and a real person. Let them see real people.

Example 3: Engaging video content. Did you tackle something that you would love to share with someone because it's either a common problem you have to resolve or just simply really cool? Take a short video! Check out Flipagram to make a video out of your beginning to end photos.

The key is keeping it conversational and interesting, and don't be afraid to have fun. A short video, a photo, or series of photos are quick and simple, just grab a smartphone and run with it! Instagram allows 15-second videos and there are a ton of photo editing and collage apps out there to really make it shine.
What am I Doing Wrong?
Pictures are great, but if shared with a bland introduction of your company's vice-president, your fans will skim right over it. Here are a few mistakes we see people making (No offense to anyone out there, we're always learning new things in this ever-changing environment they call social media!).
Mistake 1: Adding bland and over-professional text to a photo. Yawn… Again, think about how you go through your newsfeed. No one likes boring. It's hard for businesses to even show up in newsfeeds, so if you make it you'll want to make the most of your appearance there.
Mistake 2: Talking about yourself too much. Yes, we understand you may be the CEO and founder, but your business's Facebook page was not meant to be your temple. Share what everyone within the company is doing. Give your audience a glimpse into the inner workings of how your company functions and the great people that make it happen. Revealing everyone as a people and putting personalities on display is a great way to build relationships.
Mistake 3: Being too pushy. Social media is so different than a TV commercial or billboard. As hard as it may be, carefully construct your posts so they don't sound sales pitchy. That is definitely not what people are going to look for on social media. Instead, tap into your generous side and give them something of value like a helpful tip.
These are just a few suggestions, but really, the possibilities are endless and they play on your personality, your company culture, and your brand so be creative and don't be afraid to show a fun side! You really can grow your business utilizing social media. Knowing when to post and what apps will help save time and make them pretty are great, but don't lose sight of social media's purpose: to be social and build relationships. Now get out there and humanize your brand! :)