NOW Marketing Group Website Announcement
Release March 8, 2017
We understand that owning a small business comes with many challenges, and our goal is to ensure your online marketing is not one of them. We want to make your website design and upkeep streamlined, so you can focus on what you do best - running your business. To accomplish this goal, NOW Marketing Group has developed a plan called the "Small Business Growth Initiative."
Why the Small Business Growth Initiative?
Nearly half of all small businesses do not have a website. A recent 2016 small business survey says this is due to the expense and small businesses believing that it's not relevant in today's age. This couldn't be further from the truth.
Studies show that:
94% of buyers search online before making a purchase.
89% of consumers use search engines for purchase decisions.
85% use search engines to find local businesses.
62% also research on Facebook before buying.
90% don't scroll past the first page of Google results.
This is why we need to help small businesses be competitive in today's online world and stay relevant with their customers. And it's why we developed the Small Business Growth Initiative.
How does our Small Business Growth Initiative work?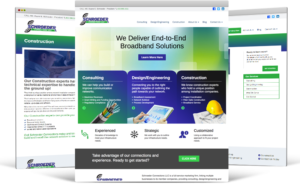 You will have the choice of 1 of 3 pre-designed responsive website layouts that we can customize to fit your brand. We will work with you to understand how to customize your website to best communicate your story and attract your ideal customers. From our discovery meeting, we will write your website content to ensure your story is told, not only to the customers you are trying to attract, but also to search engines that are trying to find you online.
We understand that websites can be expensive to build and maintain, so we want to help alleviate that burden as well. After the small, initial payment, your website cost will be converted to a monthly retainer. We will provide a contract, stating the obligation to pay monthly for the first 12 months after the site launches, or the site could be taken down. After the contract ends, the website is fully released to you and you are free to stop your ongoing monthly retainer by letting us know 15 days in advance.
What's included with the new website?
New 15-page website customized to your business
Mobile-optimized responsive website
Website content, which we will write for you
Search Engine Optimization (SEO) built into your website
Blogging built into your website
We've made it easy!
We've made it easy! You only pay $2,000 to get your new website built and launched!
Then, your monthly payment will be only $200/month for twelve months after site launch. You can also choose the Domination Package at $300/month, which includes enhanced SEO keyword content, hosting firewall to prevent downtime from hackers, and two extra hours of page updates per month.
What do you get if you continue?
Our intention is to keep your website fresh and search engine optimized by continuing to work on and enhance your site, so it doesn't grow stagnant.
Small Business Growth:
$200/month includes:
SEO meta description optimization
One hour of website updates per month as your business grows and changes
Updating Wordpress as new versions are released
Small Business Domination:
$300/month includes:
Your business promoted on over 400 local search directories and specials changed out seasonally!
Three hours of website updates per month as your business grows and changes
Updating Wordpress as new versions are released
Site security protection through a hosting and domain firewall
Ongoing SEO management for every page, with focus keyword research by an SEO consultant and quarterly review of SEO search goals