Every strong social media manager and strategist knows that one of the most important things to spend time doing is staying up-to-date with the latest trends and changes across platforms.
Algorithms change constantly, meaning that learning from others, asking questions, and testing new features are paramount to success. When we take the time to learn from others through watching tutorials and/or attending conferences, we grow our network and it serves as an inspirational spark for new ideas.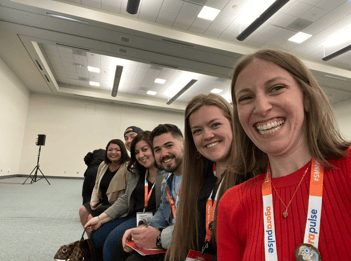 The networking, learning, laughing, and connecting are why we love attending Social Media Marketing World, Social Media Examiner's annual social media marketing conference that takes place in San Diego, California.
#SMMW22 felt extra special for us because Jessika Phillips hosted a workshop "Relationships to ROI" on Day 1 of the conference, AND we also sent the majority of our account management team to the conference!
We left San Diego feeling creative, excited and inspired to make creative short-form content, learn more about NFTs, co-create with our community, further support our clients in reaching their goals, and continue to build relationships with our team, clients, fans, and community.
That's why we are excited to share our top takeaways from SMMW22 with you!
Takeaways From SMMW22:
Speaker:

John Jantsch
Title:

Fuel Your Referrals: The Ultimate Strategy to Growing Your Business
Takeaways:
Referrals are truly gold and we need them to survive in business. As humans, we crave social currency, and referrals not only provide that but help remove the feeling of risk when working with a brand or individual.
There are 7 kinds of referrals that all businesses should aim to drive.
Offers for clients

Referral champions

Ecosystem balancing

Internal referrals

Partner network

Expert club

Referral mastermind
If your brand wants to develop a referral posture, it's important to truly understand WHY your customers work with you! That information will be hugely valuable in crafting future content.
Tweetable:
"Referrals matter for our business because they help us to attract ideal customers, they shorten the sales cycle and magnify the lifetime value of a customer."@ducttape (click to tweet)
Connect With Him on Twitter.
---
Speaker:

Jessika Phillips
Title:

Relationships To ROI:

How to Drive Business Growth by Amplifying Relationships Online
Takeaways:
Relationships will always be more powerful than marketing. If we want to continue to grow our businesses, we need to focus on the core of who we are and WHY we do what we do. Once we understand that, we can use the C.A.R.E process to:
Capture Attention

Articulate Our Message

Build Relationships

Deliver Exceptional Experiences
This is the difference that truly makes the difference and is what allows us to turn our fans into followers, team into evangelists, clients into advocates, and community into collaborators!
Tweetable:
"Experience is the number one reason why someone does business with you, and the experience is how you make people feel." @jessikaphillips (click to tweet)
Connect With Her on Twitter.
---
Speaker:

Michael Stelzner
Title:
Social Media Marketing in 2022: What the Newest Research Reveals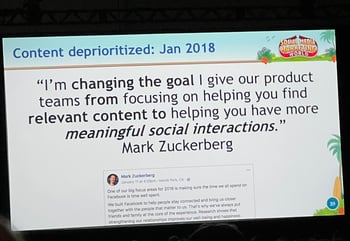 Takeaways:
For brands and individuals looking to continue to grow on social media in 2022, it's critical to focus on how to provide and extract value from the community that exists across the various social media platforms.
Social platforms are continuing to put power into the hands of the creators which means that the best content is community-oriented, curious and value-based. It's important for marketers to be agile, try new things and look out for new players and platforms that are emerging.
Tweetable:
"Creators want money, autonomy and control more than anything."@Mike_Stelzner (click to tweet)
Connect With Him on Twitter.
---
Speaker:

Robert Rose
Title: Content Marketing In 2022: How to Deliver Differentiated Value
Takeaways:
Robert's session was all about building trust within your audience. Get your audience to subscribe to your newsletter and focus on first-party data so your subscribers can easily navigate your website and newsletter.
Your content should be aligned with that of the sales team. There's nothing worse than reading some really great material and having high expectations, and then it falls flat when it comes time to convert because the sales team's voice doesn't align with the one from the content.
2022 Differentiated Content Operational Framework:
Communication

: Coordinated use of content to acquire, keep, and grow customers.

Operations:

Ensure efficient, effective creation, production, and usage of the content.

Experiences:

Use content to fuel designed platforms that provide value.
Remember, the easier and more fluid you make this process, the more trust your audience will have in you.
Tweetable:
"What if we stopped producing content? Who would miss it?" @Robert_Rose (click to tweet)
Connect with Him On Twitter.
---
Speaker:

Rachel Miller
Title:
The Work Smarter Not Harder System to More Leads and Sales With Facebook Content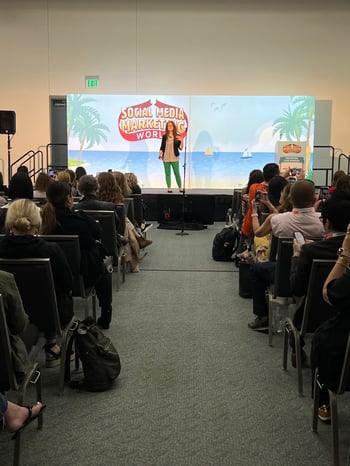 Takeaways:
Working smarter is all about finding unique and creative ways to repurpose content that you're seeing performs well. A big tip from Rachel is to always repurpose your best content by sharing the best posts every 100 days!
It all starts with understanding who you are and the value you provide; ask yourself who you help, what you help them get, and HOW you help them get it even if obstacles are presented. Getting clear on that allows you to know exactly who you're trying to reach with our content.
Tweetable:
"Think of your company bumper sticker so that you can make a statement that says I help ____ be/get _____ even if _____" @RachelMillerMM (click to tweet)
Connect With Her on Twitter.
---
Speaker:

Natasha Samuel
Title:
How to Boost Your Instagram Engagement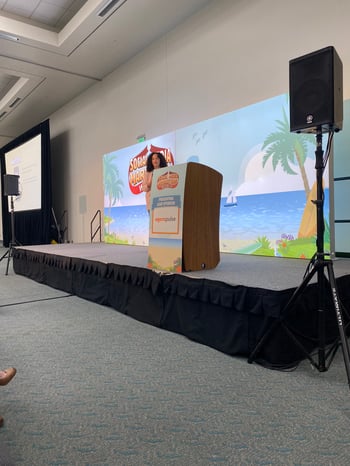 Takeaways:
There are so many features and functionality that Instagram provides for us to boost our engagement, and it's up to us to tap into them. By using stories to show the behind-the-scenes of our business and tapping into engagement stickers like polls and questions, we can build connection points with our audience.
Not to mention, the close friends feature on Instagram is a great place for brands to start testing the idea of giving increased value and information, and perhaps more personalized content, to their superfans.
Tweetable:
"Ask your audience what they want to see today, whether it's behind-the-scenes, day-in-the-life, or what you've learned, and bring them along for the day!" @natashafromsol (click to tweet)
Connect With Her on Twitter.
---
Speaker:

Judi Fox
Title:
How to Drive More Traffic and Sales With LinkedIn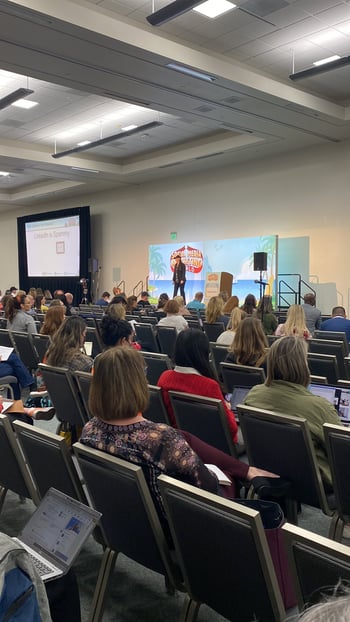 Takeaways:
Driving more traffic and sales on LinkedIn is all about tapping into the platform's functionality as a way of building relationships and providing value. By using the "contact us" button on your page, and posting your links IN your posts (versus in the comments,) you help to speed up sales and amplify your reach. Similarly, engaging on the platform in a meaningful way is an excellent way to start to become known by more people, as your comments appear as notifications to anyone that is engaged with that post.
It's smarter to spend MORE time engaging vs. posting, as you don't want to over-post and burn your audience out. By posting LESS, you actually give your audience time to be there for you and show up, so remember to focus on content that ROCKS: relatable to others, opinion-based, comments to grow community, knowledge to showcase expertise, and success stories to drive credibility!
Tweetable:
"If you want to increase your followers and clicks, start to use the contact us button on #Linkedin. Focus on being clear vs being clever." @Judi_Fox (click to tweet)
Connect With Her on Twitter.
---
Speaker:

Luria Petrucci
Title:
How to Create Professional Quality Live Video Without Blowing Your Budget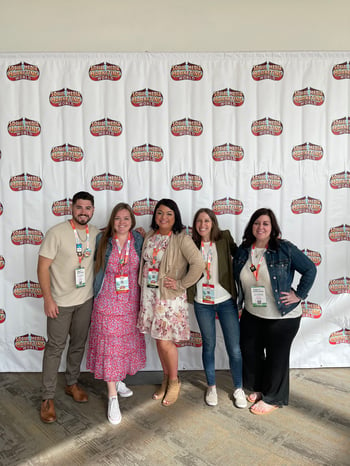 Takeaways:
You don't have to break the bank in order to make meaningful content that looks professional as a brand and individual. When thinking about your budget, think through what the end goal is that you're looking to accomplish with the content.
Remember that people are here to see YOU, so be human and let your personality shine through your content. The strongest content strategy is one that uses both recorded video and live video together, in a strategic way, to provide value, showcase expertise, and connect with your community.
Tweetable:
"Your results will only go so far unless you integrate your unique personality!" @LuriaPetrucci (click to tweet)
Connect With Her on Twitter.
---
Speaker:

Brian Fanzo
Title:
NFTs for Business: Creative Use Cases to Inspire Your Web 3.0 Journey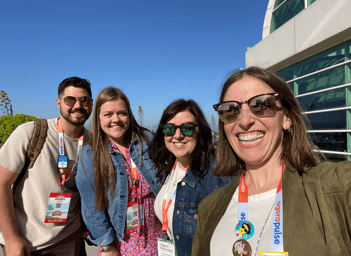 Takeaways:
The world is truly changing and we are entering the metaverse where limited editions, NFTs (non-fungible tokens), and collector's items are being created and the value is being determined by the community at large. Commitment, creativity, and consistency are the key.
The best thing that brands can start to do, as we continue to enter the metaverse, is showcase the interactions the brand is having with its community, lean into the power of creator coins that give utility and access, and think about customers as co-owners and co-creators of, and with, your brand.
Tweetable:
"We can reward, track and empower from the perspective of providing value."@iSocialFanz (click to tweet)
Connect With Him on Twitter.
---
Speaker:

Mari Smith
Title:
The Ultimate Facebook Success Formula for Better Leads and More Sales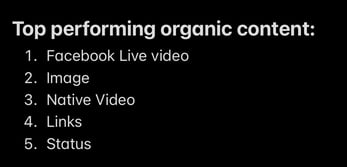 Takeaways:
As social media continues to evolve, there is a shift away from the constant push for more followers, reach and engagement, and an emphasis on building relationships and creating community. Both Facebook and Instagram are currently seeing declining reach and engagement, but there are ways for brands and individuals to continue to provide value and capture that organic reach.
Content is king, but community is queen; the best thing that brands can do is to identify their top video posts, create short-form content, showcase their teams, and aim to create valuable content that focuses on the community.
Tweetable:
"The top-performing #OrganicContent on Facebook is #FacebookLive video, images, native video, links and then statuses." @marismith (click to tweet)
Connect With Her on Twitter.
---
Speaker:

Cathy Hackl
Title:
The Metaverse: Moving Business Into the Future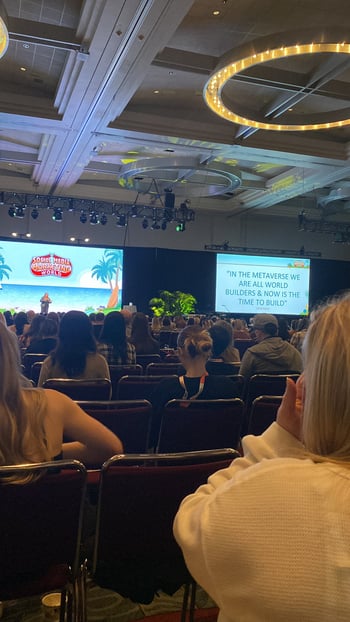 Takeaways:
If we want to understand the future of business, we must understand the power of artificial intelligence, the blockchain, NFTs, and augmented reality. In 2021, $100 million was spent on virtual goods inside of gaming platforms; gaming truly is the onramp, aka the parent of the metaverse.
The future of digital is all about our ability to connect with others as we've never experienced before; we can truly explore new identities and experience new environments constantly. Because of this, it's crucial for brands to have a clear strategy because brands are going to start opening metaverse offices and having more and more transactions happening in this space.
Tweetable:
"Web 3 and the #metaverse are intrinsically linked but not the same thing." @CathyHackl (click to tweet)
Connect With Her on Twitter.
---
Speaker:

Elise Darma
Title:
How to Easily Create Instagram Reels, YouTube Shorts, and TikTok Videos In One Recording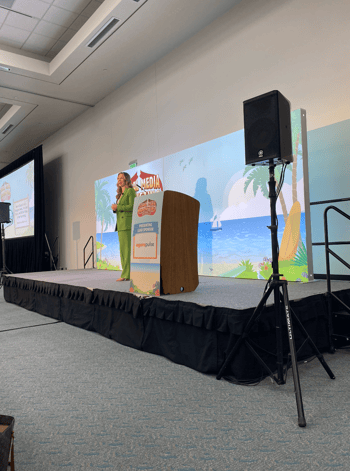 Takeaways:
Batching your content is one of the most effective ways to create a lot of content at once for social media without burning out as a brand or individual. By creating a process and using a project management system like Asana, Notion or Trello, that outlines a detailed system for your content creation efforts, you can easily make more than one video in the span of a few hours, and save so much time in the long run.
The best content recipes include columns/areas for the due date, inspiration for the idea, audio links, concept descriptions, ideas, calls to action, and the details for the post caption itself, including the title for the video, CTA, and hashtags.
Tweetable:
"When creating content, aim to stay in your niche, share tips, and include keywords in your video titles." @elisedarma (click to tweet)
Connect With Her on Twitter.
---
Speaker:

Ann Handley
Title:
The Art of Storytelling: How to Create Better Content With Stories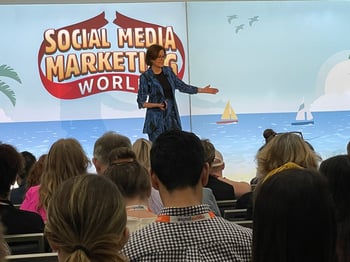 Takeaways:
The best stories all have a storytelling framework: once upon a time there was a_, he/it has the capacity to_, some people doubt it because_, but one day_, which means_, to help_, and that matters because_, which brings together_, and someone gets_.
Using this framework can help your brand become crystal clear on how to tell a compelling story that captures the attention of your audience and speaks to the value that you have to offer them.
The best stories elevate the customer and make them the focus, and hero, of the story. Use language, like "you" that helps to bring your customer into the narrative and make them the center point of what you're sharing.
Tweetable:
"Your story is about your audience. They are your story." @MarketingProfs (click to tweet)
Connect With Her on Twitter.
---
Speaker:

Fallon Zoe
Title: Organic Facebook Growth Reinvented
Takeaways:
If you want to see organic growth on Facebook, it comes down to content and networking. The goal should be to create original posts that drive people to your page content. For example, you can copy the link for a video and go to a Facebook group and post JUST the screenshot of the video, and then paste the link to the original post to drive them to that video so that you drive engagement on the original post.
A great way to drive engagement is to just start having a conversation with your audience in the comments; ask them questions that show that you care and get them answering, such as "any plans this weekend?" Once they reply, make sure you keep your replies over 100 characters; your followers and Facebook will value that.
Tweetable:
"The goal is to get people to snoop you! And be a source of value." @Real_FallonZoe (click to tweet)
Connect with Her on Twitter.
---
Speaker:

Brie Anderson
Title:
Becoming a Data-Driven Marketer: Your Key to Success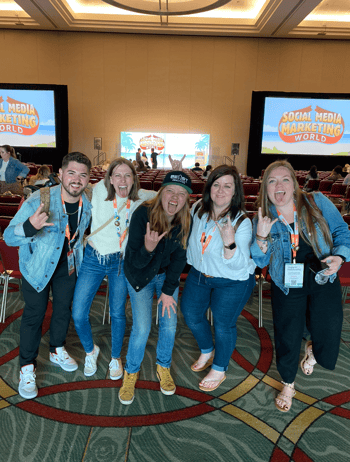 Takeaways:
The most important place to spend time as a marketer is inside of the numbers. Through Google Analytics and internal social media analytics dashboards, we have the ability to truly understand what content works best and drives action from our audience.
Becoming a data-driven marketer is all about transforming the mindset to understand that you need to always be testing. Social media and content marketing isn't a "set it and forget it" kind of thing; we need to roll up our sleeves and spend time analyzing the numbers in order to continually refine our strategy in order to be successful.
Pro tip: use the BEAST cycle: benchmark (state where you're going,) explore (gather data,) analyze (look at the data,) strategize (figure out what to scale, stop and start,) AND then test and track (see if your observations were correct and how the new plan is working.)
Tweetable:
"What makes the marketing industry so valuable is the data." @brie_e_anderson (click to tweet)
Connect With Her on Twitter.
---
Speaker:

Millie Adrian
Title:
Getting In Front of the Camera: How to Gain Confidence for Reels, Lives, and Stories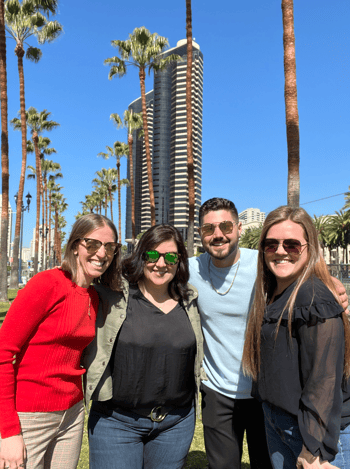 Takeaways:
So often, we think that our product or service should be the star of our video but the reality is that showing our face and being human is what creates a personal connection. Because of the familiarity principle, we develop a preference and trust for objects, people, and faces that we've been exposed to over a period of time. That's why we need to shift our perspective and embrace the human moments in our lives and brands.
By focusing on creating content that is valuable, educational, entertaining, inspirational, and relatable, we have the ability to drive engagement and keep our audience coming back to our stories, lives, and reels.
Tweetable:
"Where #InstagramStories and lives are for your current followers, to drive engagement from them, think of Reels are content to drive new eyeballs to your account." @itsmodernmillie (click to tweet)
Connect With Her on Twitter.
---
Speaker:

Joel Comm
Title:
Future of Marketing and Web 3.0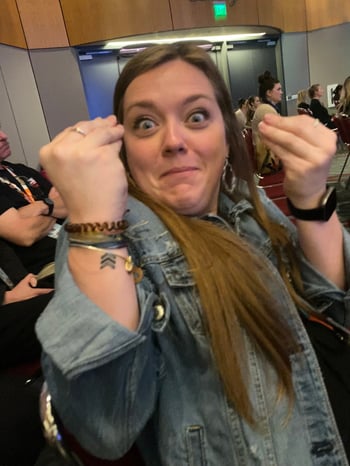 Takeaways:
The metaverse and NFTs (non-fungible tokens,) are truly shaping the future of where digital is heading, and the best part of this is that the community gets to decide the value of what is being created.
We are still in the early adoption stages of these new tools and technologies, which means that there is more opportunity than ever before for brands and individuals to start understanding how these tools translate to creating relationships and providing value.
As we see more big brands jump on the bandwagon, we can better understand that NFTs and creator coins aren't a fad but rather, the new way of how digital interactions will take place.
Tweetable:
"Think of blockchain as a more efficient, effective, accountable, and faster way to handle any kind of transaction or contract." @joelcomm (click to tweet)
Connect With Him on Twitter.
---
Putting It All Together:
At the end of the day, staying up to date with the latest best practices across all social media channels is critical to staying successful as an account manager and digital marketer.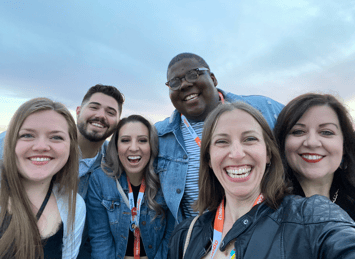 We absolutely love conferences like these that allow us to not only learn from the experts but connect with other like-minded professionals that truly care about using social media to capture attention, articulate our message, build relationships and deliver exceptional experiences.
We're back in Lima with inspired ideas and full hearts, thanks to our amazing time in San Diego.
What do you think? Did you attend Social Media Marketing World?
We'd love to hear your top takeaways!