The best social media managers know that keeping up with trends and staying on top of the newest features across social platforms is critical to success.
The industry changes so quickly that to keep up, we have to learn from others and constantly be willing to test new features. That's why we love attending Social Media Marketing World, Social Media Examiner's annual social media marketing conference.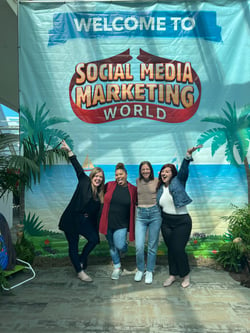 This year, we sent four teammates to San Diego to attend #SMMW23!
We left the conference feeling inspired to put our learnings to action, make more engaging short-form content, and find creative ways to connect further to our community.
Here are the top takeaways that you need to know from SMMW23:
Takeaways From SMMW23:
Speaker:

John Jantsch
Title:
Strategy Before Tactics: A Holistic Approach To Marketing
Takeaways:
All marketers need a strategy, and Jantsch focused his talk on four elements: clarity, confidence, control, and customers. He inspired us by taking the time to really break down the elements of strategy.
He shared the 7 elements of a successful strategic plan:
Voice of ideal customers: develop a way of writing to a very specific person

Develop a core message: a simple statement that defines how you're different and stand out

The marketing hourglass: using know, like and trust to create and build relationships

Strategic objectives: having a list of goals

Editorial platform: how to structure new and existing content

Priority Initiatives: develop a list of the highest pay out activities

Success track: develop a 90-day plan centered around those activities
The key takeaway is if your brand wants to develop a referral posture, it's essential to understand WHY your customers work with you. That information will be hugely valuable.
Connect With Him on Twitter.
---
Speaker:

Ray Edwards
Title:

Write Words That Convince More People
Takeaways:
Marketing is influencing; it's the work you're doing that is already rubbing off on your audience. You'll be more impactful by including demonstrations in your marketing because demonstrations beat explanations every time.
It's important to remember that it's hard to influence someone you're simultaneously judging, so take a step away to stop judging and start observing.
The key takeaway: don't just HAVE a message, BE a message. c
Connect With Him on Twitter.
---
Speaker:

Sean Cannell
Title:

Insider Hacks, Tips, and Tools For Growing Your YouTube Subscribers in 2023
Takeaways:
Sean shared 11 tactics that any brand can use to start growing their YouTube immediately and it all comes down to focusing on the community.
One of his top tactics was for brands to use the community tab to start creating posts, ideally up to 3x/day, that engage your audience, ask a question, and give a call to action.
More tactics recommended by Sean? >> Using answer the public to find video ideas and topics, YouTube chapters, YouTube stories, Pinned comments, LinkTwin, and more like a ChatGPT summary of your video!
YouTube chapters are a great way to break up your video, and it's as simple as writing the timestamp in your video description and then adding the chapter title!
The key to remember is that the more valuable you make your video for the viewer, the more likely they will watch it all the way through and subscribe!
Connect with Him on Twitter.
---
Speaker:

Pelpina Trip
Title:

Video Creation: How To Easily Create Videos From Your Phone
Takeaways:
When getting started with video, remember you don't need a ton of expensive equipment. There are 3 different levels of video: the basics, filming and editing tips, and then apps, effects, and efficiency.
Level 1 - the basics - are about introducing yourself, your team, and your company. This is where you share knowledge.
Level 2 - intermediary - shows your process and personality in your video.
Level 3 - advanced - is adding movement and changing the angle or distance. This is where you add layers to your video.
The key: video is all about looking at things differently and channeling your inner artist to be creative.
Connect With Her on Instagram.
---
Speaker:

Park Howell
Title:

Using Story: How To Sell More By Saying Less
Takeaways:
Stories are so powerful because they can stop people in their tracks. So, how can your brand start building them effectively?
Park taught us the ABT method which stands for and but therefore. The method is all about identifying your audience AND why something is important to them BUT (why they don't yet have it) THEREFORE how your brand is equipped to help them get it.
The key: start with your audience. The story should always be about your customers and what's in it for them. Your goal is to paint a vision for a brighter tomorrow they want to be a part of.
Connect With Him on Twitter.
---
Speaker:

Michael Stelzner
Title:

The Future Of
Social Media Marketing: Trends Impacting Marketers
Takeaways:
While social media is far from dead, now is a fantastic time to be trying new things in order to capture more attention online. Considering less than 1% of Facebook group members see when you post a link in a group, it's clear there is a shift happening.
Facebook and Instagram are shifting from being organized solely around people and accounts you follow to showing more relevant content recommended by AI systems.
The key: experiment with text-based content and use AI to improve the efficiency of your writing and visual creation. AI will help save time that can then be spent on strategy and analysis of what's working.
Connect With Him on Twitter.
---
Speaker:

Jade Beason
Title: How To Leverage Instagram To Lead To Sales
Takeaways:
The best way to leverage Instagram is to connect with your community.
Simple actions like responding to comments, engaging with followers' content, and including calls to action go a long way for brands.
The reality is that people won't engage with crappy content, so brands have to think about providing value by being entertaining, educational, inspiring, and relatable.
The key is to follow the triple C funnel to break down your content types: capture, converse, and convert. 50% of your content should be aimed at capturing, 30% should be about conversing, and 20% should be aimed at driving conversions.
Connect with Her On Instagram.
---
Speaker: Dana Malstaff
Title:
The Loyalty Engine: How To Build A Community That Won't Allow You To Fail
Takeaways:
Dana inspired us by focusing on the importance of human behavior and how it impacts marketing. The reality is that humans want to feel valuable, so by asking more questions to your audience, you can successfully build a sense of community.
People want to see something real, so show truisms in your content and call out the elephant in the room.
The key to creating community is about creating strategic authenticity where you allow yourself to make mistakes publically, dust yourself off and keep going.
The key: be authentic, gather aha moments and special wins, and always be proactive with your customer service. This will keep you on your mind and allow you to become a business your audience won't let fail.
Connect With Her on Twitter.
---
Speaker:

Luria Pettruci
Title:
How to Sell More With Live Video And Make It Fun
Takeaways:
The best way to sell more with live video is to stop selling and shift your mindset to focus on the community. You don't need to hammer your audience with your offer; instead, you need to be honest with your audience and tell them when you're NOT the right fit for them.
The 3 secrets to selling more are to stop selling, gamify, and break the mold.
The key takeaway we left with is to focus on serving above all. Take the time to get to know your customers and infuse your knowledge of them into the messages that you craft in your videos!
Connect With Her on Twitter.
---
Speaker:

Latasha James
Title:
Video Content Repurposing
Takeaways:
The number one rule of repurposing is to start with a good story, which means you have a plot, setting, characters, and conflict.
Some crucial aspects of a great video are having a face of the brand, a helpful message, and a good background. While short-form content thrives off trendy, bite-sized moments, long-form follows a complete storytelling framework.
For brands looking to repurpose easily, the key is to start with long-form content because it's easier to repurpose down than up.
One video can be easily turned into audio for a podcast and tons of short-form videos for TikTok and Reels. Not to mention, the text transcription can be turned into a blog or email newsletter.
The key to repurposing effectively is to make it easy for yourself. Don't reinvent the wheel. Create a repeatable system so you can repurpose content easily every week.
Connect With Her on Twitter.
---
Speaker:

Brian Fanzo
Title:

How To Prepare Your Business For Web 3 and

NFTs
Takeaways:
The social media industry is all about change; it's the one constant in the industry which means we must stay curious about what's possible.
Businesses need to think about what community means to them and find ways to shrink the distance between the brand and its target audience by rewarding engagement, interaction, and customer activity.
The key is considering how your most loyal customers want to be rewarded. Think about what you'd love to give your customers more of because Web 3 is moving us to a space where the users control the data which means it's up to creators and brands to determine how to reward them!
Connect With Him on Twitter.
---
Speaker:

Kat Norton
Title:
How To Easily Create Short-Form Video Content That People Love To Watch
Takeaways:
The best way to create content people love is to infuse it with education, entertainment, creativity, and energy. Kat shared that the four main elements of a strong video are healthy polarity, storytelling, authentic energy, and creative problem-solving.
Some important steps to remember when filming are to set up your outfit and space ahead of time, clean your camera lens, research trends and give yourself a significant mood boost.
The key takeaway we left with - for both creators and brands looking to amp up their content - is to build creativity into the schedule. You have to get out of your head and do activities that help you get into the creative flow state, aka the right brain.
Connect With Her on Instagram.
---
Speaker: Millie Anderson
Title:
How To Level Up Your Instagram Marketing in 2023
Takeaways:
To level up your Instagram marketing in 2023, brands and creators need to outline, optimize their profiles, set goals, utilize the right features that Instagram offers, create and schedule good content and check on analytics.
Your Instagram bio is the reason why someone should follow you to be sure to include what your business is. Highlights, on the other hand, are where to share your story. Lastly, Reels are the place to show up to start reaching new people.
A key for brands to remember is that your content should indicate what your business is about. If people can tell what you offer by looking at your photos, you're doing something right.
Connect With Her on Instagram.
---
Speaker:

Maxwell Finn
Title:

TikTok Ad Strategy For Beginners
Takeaways:
When getting started with TikTok ads, brands should focus on sharing tips and providing value in a fun way, like creating "this or that" style content. By posting consistently, brands will start to see what types of content resonates which can then be repeated to grow followers and likes, and eventually turn that content into an ad!
Maxwell discussed the importance of research and shared his 3 TikTok must-haves: a hook, motion, and text overlay.
A few more secrets? >> Cut between multiple scenes, use bold captions throughout, change the perspective, overlay popular UI elements, and leverage trends.
There is so much you can do inside of TikTok ads that brands should start playing around ASAP to create different ad groups and ads to test and see what performs best. Then, they can use that data to tweak and iterate for future ads.
The key KPIs for TikTok ads are hook rate, engagement rate, video completion rate, CTR, CPM, and CPA.
Connect with Him on Twitter.
---
Speaker:

Austin Armstrong
Title:
How to Use TikTok To Scale Your Business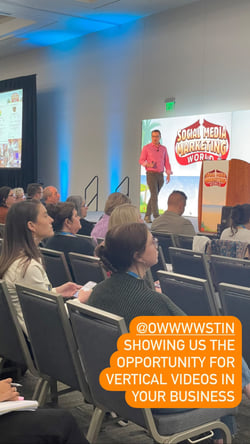 Takeaways:
Using TikTok to scale your business starts with the buyer persona and understanding exactly who you are targeting and how you can help them.
But hey, don't forget about Facebook because short-form content, aka Reels, are popping off there too!
Austin discussed how a good content mix incorporates broad content (60% of posts,) nurture content (30%,) and conversion content making up just 10% of posts.
Strong content is always about the audience and never about you, so be sure to focus on what your audience needs and wants to know and follow the formula of hook > value > build tension > and then include a call to action.
A key to remember is that TikTok functions as a search engine. Users can start typing anything and see what comes up, which can be hugely helpful in shaping the types of videos your brand makes! Study what's working and do more of that.
Lastly, Austin taught us that it's easier to get people to correct you and point out your flaws, so it's worthwhile testing around with pronouncing something wrong or hiding some easter eggs in the background of videos to capture attention and keep people engaging!
Connect With Him on Twitter.
---
Speaker:

Nicky Saunders
Title:

How To Build A Highly Engaged Community On Instagram
Takeaways:
Creating an engaged community on Instagram means figuring out the art of crafting such good content that it makes our followers want to talk. It's all about knowing your audience so well, that you know the language they use, their pain points and the ways to speak that will get them saying "yes."
One of the best ways to do this as a brand is to ask questions. If you want your audience to engage with you, ask them to! Experiment with different content types and stickers to see what prompts engagement.
A carousel of a bunch of photos of you, with no value added in the caption, isn't going to do anything for your business.
The key to remember is that the good stuff goes down in the DMs. Get people sending you DMs, and respond to every comment because the comment section matters!
Connect with Her on Twitter.
---
Speaker:

Melanie Deziel
Title:
How To Use Content To Build Trust And Authority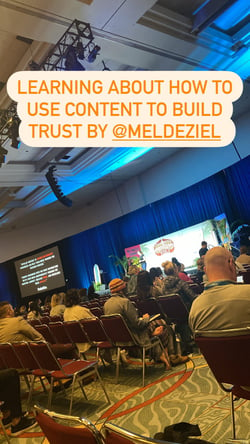 Takeaways:
The easiest way to use content to build trust and authority is to make claims in your content around the following areas: convenience (speed, ease of use, and compatibility,) comparability (quality, durability, and affordability,) and competence (experience or reliability.)
Creators and brands need to show evidence, aka proof that their claims are valid and trustworthy because once they do, they've built trusting fans for life.
The key to creating strong evidence is through corroboration (experts and witnesses - aka customer testimonials,) demonstration (stories and case studies), and education (coaching and information.) Creating this type of content will make your brand stand out and help you establish lasting authority.
Connect With Her on Twitter.
---
Speaker:

Natasha Pierre
Title:

How To Create Engaging Instagram Reels Without Embracing Trends
Takeaways:
One of the best ways for brands to start creating engaging videos for Reels is to actively content stack, which means taking a video of something you're already doing.
Creators and brands can easily document processes and activities to show behind the scenes, and this content can be extremely easy to repurpose regardless of the industry you work in.
The key to creating engaging content is to have a clean aesthetic and quick movement and then overlay text on top of the video. For instance, you can share an aha moment in your business, discuss your hot take or opinion on something, or share a tip and provide information.
Connect with Her on Instagram.
---
Speaker: Wave Wyld
Title:

How To Leverage TikTok For More Exposure
Takeaways:
There's no doubt that TikTok can help brands be seen and one of the best ways to do this is to combine trending sounds with action. For instance, use a trending sound as background music with the volume lowered while also showing the behind-the-scenes of a process in your business.
Some types of trends worth experimenting with as a brand: challenges, transitions, duets, CapCut templates, dances, and more. These are fun ways to show your brand's personality, discuss your point of view, tell stories that relate to your audience and showcase your values as a company.
The key to leveraging TikTok is to experiment and play around! Don't make trend-based content your entire strategy, but have fun finding new ways to relate, educate, inspire, appeal to your audience and lastly, sell.
Connect with Her on Twitter.
---
Speaker:

Keenya Kelly
Title:
Mastering TikTok Marketing: Advanced Strategies for Success
Takeaways:
Keenya inspired us to step up our TikTok game and truly focus on being an educational resource on the platform.
She shared how microlearning is one of the best ways to position one's expertise and create a strong community because this type of content causes people to ask questions, is usually watched multiple times in a loop, and encourages people to visit your profile to learn more.
A few other types of powerful content are product teasers, user-generated content, influencer ads, and behind-the-scenes.
The best product teaser videos sometimes don't even show the product; they show someone using it and mention the benefits. Teasing products makes people feel like they're not being sold to, which drives more conversions!
At the end of the day, the key to mastering TikTok is to be respectful and friendly when working with influencers and lead with value.
Connect With Her on Instagram.
---
Speaker:

Daniel Kading
Title:
How To Use LinkedIn Content To Achieve Meaningful Business Growth
Takeaways:
To create content that gets noticed on LinkedIn, keep spacing in mind. There should be no more than 2 lines of text at a time and posts should be from 700 - 1300 characters. Similarly, carousels are hugely powerful because they're visually stimulating.
Daniel taught us the importance of using "you" in our copy as a way to persuade the audience and how you have to give them a reason to care. Always focus on what's in it for your community - that will help you capture their attention.
The key to using LinkedIn like the experts is to focus on your fans. Engage with their content and respond to every comment; treat your comment section like a 24/7 booth, and you'll create a lasting community!
Connect With Him on Twitter.
---
Speaker:

Pat Flynn
Title:
Get Attention! How To Captivate An Audience With Long-Form Content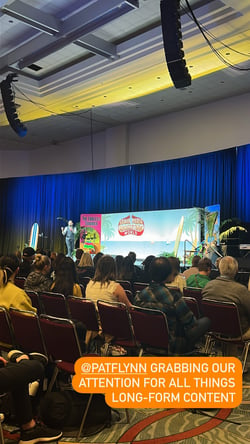 Takeaways:
While short-form content is like a snack that makes people want more, long-form content is a full-course meal that helps build loyalty.
Brands today want to focus on building top-level experiences for their super fans, the people that will promote your brand because they love you and know that you're amazing. The best way to do this is to create long-form content that nurtures those relationships and provides value to those folks.
Pat shared the importance of the title and thumbnail, as these are the two most crucial elements of a long-form video. His recommendation? >> Brainstorm 5 clickable titles for each video and film the video with the title in mind!
The key to captivating an audience with long-form content is to bring your personality into your content and aim to bring people together. That is how you'll be remembered and create videos that truly change people's lives.
Connect With Him on Twitter.
---
Putting It All Together:
Staying up to date with the latest techniques and best practices is the best way to spot opportunities for building relationships with your online audience.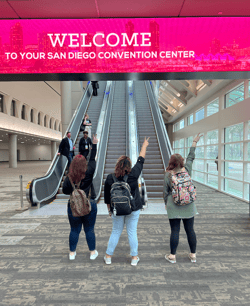 We're so grateful to have attended SMMW23 because we learned so much from the expert speakers and feel so excited about the ideas that we have brainstormed for ways that we can amplify the work we're doing for our clients.
We feel invigorated from connecting with so many like-minded digital marketers and can't wait to take the work we're doing to a new level as a result of everything we learned and experienced in San Diego.
Here are the top main takeaways from each of our team:
Julia: It's so important to make the space for creativity. You can't expect to feel creative and have amazing ideas for videos for your brand every single day. That's why having a process for making the space will help you become a more sustainable creator that produces higher quality, more impactful videos.
Olivia: Show up in the way that works best for you. As we add short-form video, metaverse, and web 3, it may seem daunting to jump in head first, take the time to warm up to the new trends in the best way for you. BUT still show up and take the chance to learn about them. Kat Norton was a perfect example of scaling comfort level on video. One of my absolute FAVORITE things about SMMW is the connections you make; you get to see all the familiar faces you met years before while also connecting with new marketers each year!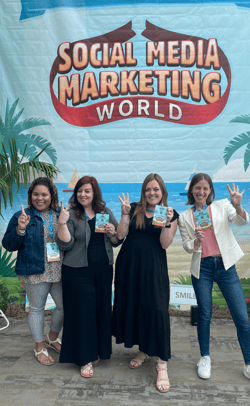 Cara: Always make sure your content is valuable in some way. Can you explain the value you provide? Could you ask someone else to tell you?
"ALWAYS strive for that virtual head nod" - Nicky Saunders
My favorite part of SMMW is the relationships formed outside of the super informative sessions. The idea shares and connections are key. The opportunity for collaboration is endless!
Sadea:
Social media is ALWAYS evolving, and there's no better time than the present to start showing up and utilizing these platforms to help market your business. Your content does not have to be perfect however the more content you create, the more you'll learn from your content and your target audience about what works and what doesn't. Short-form video helps get your content in front of "new" eyes to take advantage of this type of content. Take advantage of all things that these social platforms have to offer.
My favorite part of SMMW was all the amazing networking sessions. I had so many great conversations and loved knowing that we all had one common goal by attending SMMW: to learn and implement these great takeaways in leveling up our own marketing.
What was your top takeaway from Social Media Marketing World?
We'd love to hear from you!
If you're looking for ways we can help you maximize the changes coming, we're here to help keep our clients ahead of the curve so let's chat!