Employees are increasingly working on the go. However, this can create a problem if they need access to a critical file or report kept "back at the office" on their computer's hard drive. "The Cloud" solves this problem.
Whether working mobile, from home, or from the local coffee shop, the cloud should be a part of every small business. But which one is the best?
What is "The Cloud?"
Simply put, using the cloud means your files are hosted on a remote server, commonly known as a "Data Plant." These giant warehouses are home to petabytes of secure hard drives where data is stored and, with the proper login credentials, accessed by your team via the internet from anywhere in the world.
Is it secure?
I'm going to just get this out there, so brace yourselves: No option is 100% secure. Locally stored files can be stolen if your facility is broken into. Cloud files can be stolen if your password is weak (it's the equivalent of leaving your front door unlocked).
But with proper security measures, cloud data is just as safe (perhaps even safer) than local storage.
Who do I use?
This is the $1,000 question. I created this handy comparison chart on the price ranges of various storage capacities for the five biggest names in cloud storage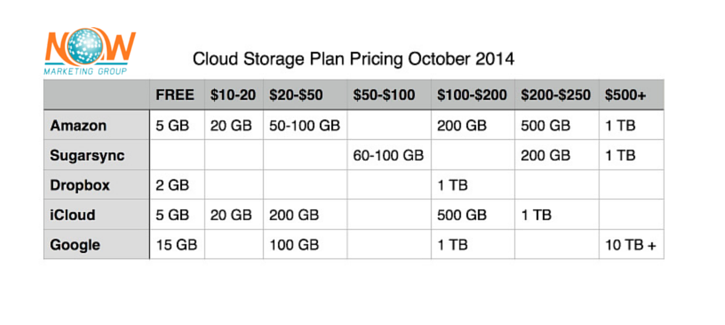 Who do I recommend?
Before I answer this question, I want to briefly talk about each specific service:
Amazon: Amazon Cloud Drive has an extremely simple interface. It worked seamlessly for me during testing, and it was crazy easy to organize my files. However, sharing is limited. This is geared towards the consumer, not the business professional.
Sugarsync: NOW Marketing started with Sugarsync, and for many years it met our needs. As time went on, it became less intuitive and we noticed files were too easily misplaced (or disappeared entirely!) due to syncing issues. I never liked the desktop app, and found the mobile app frustrating. I primarily used Sugarsync via my web browser.
Dropbox: Next, we transitioned to Dropbox. The UI felt more intuitive and we were initially highly impressed with the customer service. However, the biggest drawback was an inability to limit who had access to specific files. As with Amazon, Dropbox is more suited for consumers.
iCloud: Personally, I prefer to remain in the Apple ecosystem as much as I can. However, iCloud Drive is simply too new to review (the old iCloud concept was just overhauled for iOS 8). It looks encouraging, but I had significant issues with mobile backups before. It's touted as a true offline storage system, but I'm cautious…
Google Drive: Professionally, NOW is completely embedded in the Google business ecosystem. Our email is via Google, our browsers are Chrome by default, and Google Docs are stored on Drive. Everyone is able to log in, share, and collaborate simultaneously despite working remotely most of the week.
It may be obvious, but my recommendation for professional service companies is a Google small business account. You'll receive a Google support rep during your first 30 days, you can use custom email domains (yourname@yourcompanyname.com), and Chrome integrates perfectly with the Hubspot Signals plugin.
If you'd like to learn more about the Google suite of apps for your business, just click HERE to find out more!
If Google integrates so well with inbound marketing, you may be wondering how well inbound will integrate with the rest of your marketing efforts. Download our inbound marketing guide and find out!