The world of social media is constantly changing, coming up with new features that make the experience better for social media users. It doesn't matter what social media platform it is, the creators are always up-to-date with the latest trends, ensuring that they can be one of the first to make the user experience more convenient and beneficial. When it comes to Twitter, these are some of the features that you may not know about, but you really should if you want to rock the Twitter scene.

Tagging on Twitter.
What's nice about this feature is that you can tag up to 10 people in a photo without changing the number of characters in a tweet; the tagging does not add into the character limit that you have for the tweet text. By allowing users to tag other people in photos, it makes it easier to connect with others and spread the reach of the photo even further. Twitter allows you to adjust notifications and specify who can tag you. You can make these adjustments in your Settings. If you're the one being tagged in a photo, you will receive a notification just like you would on Facebook. Twitter also made a recent update that now allows you to include up to four photos in a tweet.

A Twitter card allows you to attach videos, photos, or other media to your tweets. These attachments are great for driving more traffic back to your website. How it works is, after adding a few lines of HTML to your webpage, when users tweet links to your content, they will have a "card" added to their tweet which will be visible to all of their followers. There are different types of cards including the summary card, summary card with large image, app card, and player card. Each card includes something different. A summary card includes a title, description, thumbnail, and
Twitter account attribution. A summary card with large image is the same as a summary card but with a larger featured image. The app card is used to advertise and describe a mobile app with the ability to download directly. The player card includes video, audio, or other media. Getting started with Twitter cards is pretty simple! Here's how to do it:
Select the card type that you're going to use.
Add the meta tags to your page.
Run your URL against the validator tool to test it.
Tweet the URL; the card should appear below your tweet.
Use Twitter card analytics to measure your results.

Twitter Lists.
Twitter lists allows you to create your own lists or subscribe to lists created by others. The list is a curated group of Twitter accounts which will show you only the tweets from the accounts on your list. The Twitter list is an excellent tool for connecting with others in your field and for making yourself an expert in your field. Creating a Twitter list is easy. Follow these steps:
Click on your profile icon to show the drop down menu.
Click on lists.
Click Create new list.
Title your list and include a short description of it.
Make your list private or public.
Save the list.
Twitter Targeting.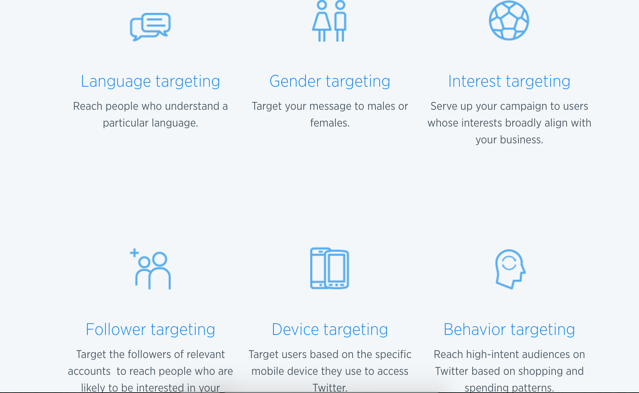 Another great feature of Twitter is the tailored audiences. This feature allows you to specifically target the audience that you are wanting to reach. In order to use Twitter targeting, you will log into Twitter ads, click on the Tools drop down, click on the Audience manager, and then click on Create new list audience. You will want to give this tailored audience a descriptive name and select the type of data file that you are going to share with them. After uploading your list of contacts to target, you will select whether or not you want to include them in your campaign targeting.
Using any of these Twitter features will help you get your brand out there. These features were made to connect you to more people, to drive more users to your website, and to more efficiently share your knowledge and content. Use these features, and you'll be sure to rock the Twitter world.