Wowza, I just got back from the intense Tony Robbins Business Mastery, a five-day interactive experience that really helped me understand the critical factors that impact business. It allowed me to refocus and realign EVERYTHING.
Good thing he kept the room cold in there, because the knowledge bombs were 🔥🔥🔥
One thing I can say for sure: I drank the Tony Robbins Kool-Aid and it tastes good! This event was one of the best investments of time, money, and energy I've done, to-date.
Here's why.
There was a perfect mixture of lessons to strengthen me as a leader (and my team) mentally, physically, and spiritually and it was broken down in a way that just makes sense. Not only were we able to learn from Tony, but we were able to learn from so many other leaders in the room. They truly shared their struggles, triumphs, and lessons with us.
Here are some of my favorite takeaways (via Tweetables) I learned from the Tony Robbins Business Mastery class.
Lesson one: It all starts with building your A-Team!
My first "Holy-Whaaaat" moment was finding out that 97 percent of businesses fail within the first 10 years! This blew my mind, notably because NOW Marketing Group is celebrating it's 10 year in 2020! I am so thankful for those who have been grinding through the tough times and celebrating the good with me, helping to get us to the milestone we are today. Many businesses' success, or lack thereof, is because of the team they've invested in.
Longevity in business circles around the tribe you build to be part of the business.
"You need to hire leaders, not employees"
@TonyRobbins (click to tweet)
Stop hiring employees and rewarding them just for being there another year. If your team members aren't growing, you've got a real problem. Taking this thought one step further, it's not who you hire but who you fail to fire that KILLS businesses.
Just think, A+ employees love report card days, but C employees hate it. Anyone who doesn't want to be measured doesn't want to be held accountable. And, if you can't hold them accountable, nothing can change.
Encouraging your team and allowing them to lead are marks of a great leader, supporting their goals will help to live and breathe your businesses' WHY.
Lesson Two: Becoming a True Business Takes a lot more than a Tax ID Number
Often, we overestimate what we can do in a year, yet underestimate what we can do in five, 10, or 20 days! In order to make the most of our time, we need to invest in a bit of obsession with the process.
Many businesses give up if their short goals aren't met, instead of pushing forward for the long haul.
"Masters don't dabble, they become obsessed with a goal and keep showing up to reach it."
@TonyRobbins (click to tweet)
Leaders find a way, no matter the current circumstances, to keep pressing onward.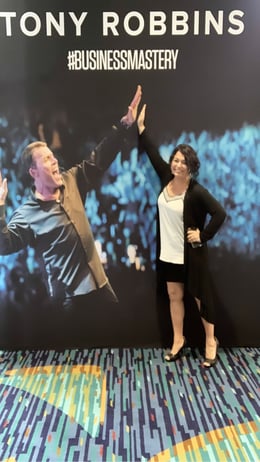 One way to ensure you hit big audacious goals is to focus on one key area of your business per week and it's goal.
Business owners build a system that can be duplicated and can find themselves stuck in the to-dos of the everyday. Getting wrapped up in those everyday tasks will keep you from growing to your full potential.
The start is easy. What's hard is to keep showing up to build an unstoppable, value-driven brand built on grit. Let's face it, while there are more networks than ever before, attention is even more difficult to obtain and keep your ideal audience is a challenge.
On average, it takes 16 touches (interactions with your ideal audience) before a lead becomes a customer.
To build a craveable brand that keeps your audience coming back, we must focus on having innovation and offering more value than anyone else in our space. We must know what we're really in the business of making our customer the hero of the story. Today successful brands are built on passion, integrity, care, and hard work!
FIND A WAY TO OFFER MORE VALUE THAN ANYONE ELSE!
Here's how you do that:
Innovate

Know your audience
Know your "why"
Create and operate by your brand manifesto
Determine what business you are "REALLY" in. In other words, saying you sell eyewear isn't inspiring and doesn't set you apart from others. For example, at NOW Marketing Group, we don't say that we're a marketing agency, we say that we help brands build relationships and ROI using online relationship marketing.
Our elevator speech goes a little something like this: "We help inspire others to love more, be more, and give more through the art of authentic relating with their audience online to grow repeat and referral business."
Lesson Three: The Ingredients of a Successful Business
Even though there are thousands of different kinds of businesses, there are a few key components that are integral to success, regardless of business type.
Innovate constantly—what can you do better? What service(s) can you add

Incorporate world-class marketing with delight—the only way to have a sustainable and growing brand is by building raving fans.
Implement systems that help your business run smoothly—especially sales mastery systems.
Anticipate the future by knowing exactly where your finances are—make accounting your best friend. You don't need an accountant, you need a CFO!
Constantly optimize and maximize—be in a constant cycle of implementing, reviewing, and refreshing techniques. Learn from the past to move forward in the future.
Create raving fans and build a fun, unique culture!
One last key aspect I'm going to touch on is probably the toughest as it requires introspection. Look inwardly and figure out your own role in the business. You are the head of the company and the leader, but not every leader leads the same.
What kind of leader are you?
Are you a skilled producer who can make projects happen from start to finish?

Are you a manager who can provide structure and guidance to help your team succeed?
Are you an entrepreneur who is the creator and keeper of a vision; someone who wants to develop leaders?
Lesson Four: Communication is Key
If you've ever felt like you were trying to make a connection with someone and felt like you were failing, don't worry, all is not lost. Many of us have been there. Connection with others is built by the way we communicate.
As a leader, you want to be able to influence people. Ideally, you're recruiting people and getting them to "buy-in" to what you're offering, whether that be employees, partners, or customers.
Your beliefs—and how you communicate them with yourself—will drive your outcome in everything. After all, how you feel affects how you perform. Check into how you're feeling and make sure your communication is matching your beliefs. That's how you build connections.
Lesson Five: Play to Win
Playing to win starts with acknowledging when you don't know something. Piggybacking upon that statement, it's about knowing that other people know more than you.
If you're the smartest one in the room you need a new room!
Surround yourself with people who are smarter than yourself. Find a mentor you admire and learn from them. Successful leaders are obsessed with lifelong learning.
Lastly, invest during periods of winter in your business. That's when learning is the most important.
---
Have any of these lessons stood out to you? Have you attended a Tony Robbins event and if so what did you think?