One of the most important and common characteristics of strong leaders is confidence. Leaders believe in themselves and their vision.
Another common characteristic of a strong leader? >> They are adaptable. Leaders understand the importance of being able to pivot when circumstances call for it.
If you want to channel your inner leader, it's all about tapping into your power.
"Businesses don't sell products, they sell solutions." - Sarah Kelsey
That quote is exactly why we invited our friend, and past Social Media Week Lima speaker, Sarah Kelsey, owner of Rhinestone Lipgloss, to join Jessika Phillips and Mike Gingerich onto Magnet Marketers to discuss the topic of channeling your inner leader.
Sarah Kelsey left a tumultuous marriage in early 2014 after being told that her "bedazzle idea" was stupid. Fast forward to today, she has an incredibly supportive husband, a healthy happy marriage, and a six-figure crystal design business with creations all over the world. She doesn't just create jewelry, she creates tangible proof that you can make a living doing anything you set your mind to, provided you're strong enough to break away from those holding you back.
How Challenges Make Leaders:
While it's easy to be a leader when everything is going great, the sign of a true leader is how they respond when challenges arise.
"That's what makes a leader is when the pressure is put on. That is where leadership comes from." @JessikaPhillips (click to tweet)
Sarah's story truly exemplifies just that and is one of the most inspirational that we've ever heard.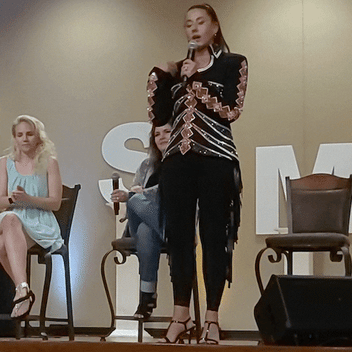 After starting her business from a true place of passion for bedazzling, she ran into a huge challenge with the pandemic. You see, her business was built on the brand Swarovski crystal and when the pandemic happened, the brand decided to stop selling the flat-backed crystal to their house accounts.
This meant that Sarah would soon be unable to purchase the one item that she critically needed to make the pieces that she had already agreed to make for customers in that coming holiday season.
As a result, she immediately went into problem-solving mode.
That's what leaders do: when challenges arise, they figure out what the next steps are.
She decided that leaning into transparency was the way to navigate the issue with her customers, and in a beautifully authentic move, she took to Facebook Live and shared the entire situation with her audience.
"We've all been there where something happens and it's outside of our control and the pressure is put on. How we show up is what shows who we are as leaders." @jessikaphillips (click to tweet)
Even when the worst of the worst happens, real leaders step into their power and show up with courage and vulnerability. They share authentically and truly let their audience in to let them know what the situation is.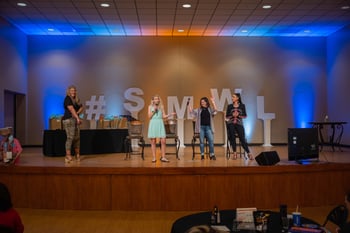 In Sarah's case, she was honest in saying she didn't know what the answer was but that she was committed to finding one.
We see who true leaders are when things get hard and people still decide to follow.
Just Sarah sharing that with her audience was enough for them to show up and support her.
When you've taken the time to pour into your community and invest in relationships, they will help support you and be there for you when things get tough.
When you build relationships, people embrace you with open arms when you share vulnerably and let them into your world.
How To Channel Your Inner Leader:
If you want to channel your inner leader, you have to be ready to take action.
Leaders address problems head-on and figure out what steps they need to take next when met with challenges.
That's exactly what Sarah did. She was understandably really nervous to work with a new crystal brand and potentially get burned again.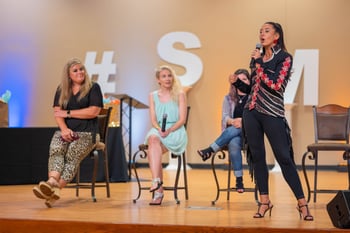 She didn't just think outside of the box, she made her own box. (Aka crystals.) After a lot of research, and hard work, she started making her OWN crystals.
"Nobody is coming to save you. That doesn't mean that nobody cares, though. People care, deeply. But it means that as a leader, it's up to you to figure out the solution." - Sarah Kelsey
Strong leaders don't let challenges stand in the way of their goals. They rise to the occasion and create new, innovative solutions to meet their needs.
"When you're a leader, you find a way no matter what." @JessikaPhillips (click to tweet)
Well-versed leaders work to find ways to solve their own problems vs. relying on someone else. They find creative ways to avoid putting their eggs in one basket.
By thinking creatively and having the solution at the forefront of your mind, you have the ability to open up entirely new revenue streams. That is the true mark of a leader.
How To Get Started:
If you want to channel your inner leader, it's all about giving yourself permission to step into your power.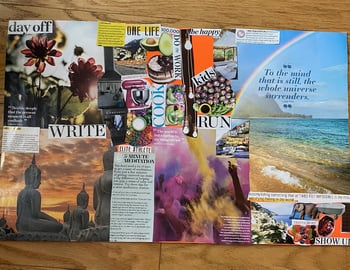 One idea to step into your power? >> Make a vision board.
In fact, our first level-up challenge as a team for 2022 was to make a vision board!
The key? >> Jessika encouraged our team to write and put things on the board as if we already had them. Leaders understand that it's all about stepping into it as a possibility.
Take the time to truly envision the things that you want and believe in your ability to have them; this energy sends a strong signal that helps drive you to action to make it possible.
Another idea to step into your power as a leader? >> Understand that it will be uncomfortable.
"Growth is never comfortable, but it's a constant for any leader." @jessikaphillips (click to tweet)
In fact, there is a lot that goes into the making of a strong leader.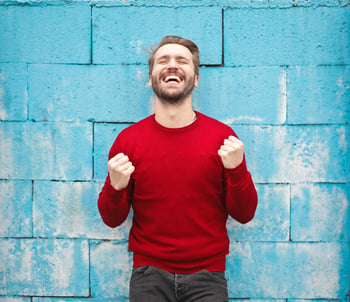 A strong leader is someone that is all about:
embracing change
being ready to pivot when needed
investing in your development
constantly learning
practicing self-awareness
understanding when it's the right time to put yourself first vs. when to put your clients, team, and/or community first.
At the end of the day, leaders do the scary work of claiming the things that they want because they believe that it's possible.
By believing in yourself, you create the desire to take the necessary action that helps get you to where you want to go.
So, are you ready to step into your power? What's one thing you commit to doing this week that will make you a stronger leader?
Let us know in the comments below!