There's no doubt that laughter is a universal language.
But have you ever heard of laughter yoga?
It's a practice - that eases physical and emotional stress - through the combination of laughing and breathing exercises.
That's why we were excited to dive into the power of laughter yoga with certified laughter yoga instructors, Laughing Lovebugs. We found these two on Clubhouse, an incredible app that we're loving for its ability to bring likeminded people together to create real bonds quickly.
Their mission? >> To build social connection and create human connection via laughter. (And we all need a little more human connection right now!)
The Science Behind Laughter:
Laughter is medicine.
Beyond just providing endorphins, laughter has huge benefits to your physical and emotional health.
Scientific studies have shown that laughter yoga fosters brain connectivity, strengthens the immune system and infection fighting antibodies.
It's known to alleviate pain, relieve tension, lower blood pressure and keep the heart healthy.
The thing we love most about laughter is that it doesn't discriminate. Real or fake, the body benefits from it regardless.
"The body and brain don't know the difference between real and fake laughter, so even if you're doing it and don't mean it, you're still benefiting from the laughter." -Alik Colbert
The story of how Lauren and Alik got into laughter yoga is a real testament to the power of laughter.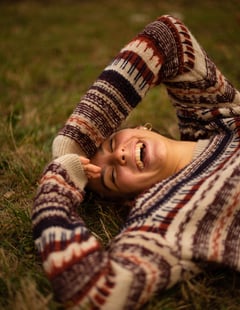 After doing a 30-day laughter challenge, Alik was a changed man. Despite being laid off at the time, he was finding joy everywhere. (Which is what led the two of them two get certified.)
"The stress that we were dealing with and had prior to going into the session was still the same, but we felt better. It felt good to feel good." -Lauren Colbert
Laughter helps us think more clearly; it's an emotional release that reduces stress and boosts oxygen in the body.
"I feel like there's this need to break down the corporate speak and get to the heart of things we should be doing in our business to make us all better." @jessikaphillips (click to tweet)
Not only is laughing fun, but it's good for you. It's good for your soul and your heart. It's good for the spirit.
"Even when you're fake laughing, you end up laughing at yourself." @jessikaphillips (click to tweet)
While some might say we look silly doing it, Lauren and Alik inspire us to get out of our heads about it.
"We need to stop thinking that something is wrong with us for laughing! It's not weird… we want to normalize laughter and looking happy instead of looking stressed." - Lauren Colbert
That quote really made us pause.
How easy is it for us to mentally brush off seeing someone look blank-faced or busy, but we think it's weird if we see someone smiling to themselves?
Lauren and Alik are all about normalizing walking around with a joyful presence so that it doesn't look strange.
Any brand or business can get behind creating more joy because at the end of the day more joy means better experiences all around.
The Role of Laughter In Business:
The best thing about laughter, it's hugely beneficial for teams.
"After two minutes of laughter in a group, it becomes contagious." - Alik Colbert
Laughter fosters social connections and is proven to be central to relationships. Think about the closeness that you feel after sharing a joke with someone; it creates a bond.
"The happier your workplace is, the happier your team is." - Lauren Colbert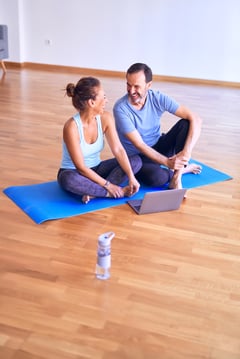 According to research from credible institutions such as Wharton, MIT and London Business School, every chuckle brings with it a "host of business benefits," writes Alison Beard in the HBR article, "Leading with Humor." The article states how laughter boosts engagement, spurs creativity and collaboration, and relieves stress and boredom.
Laughter makes for a more enjoyable working environment. And given how quickly business moves, combined with the fact that people are isolated, we need laughter now more than ever.
"We need to do a gut check and say how are we really feeling? 2020 has brought that to light - the importance of checking in with ourselves" @jessikaphillips (click to tweet)
Laughter sessions can be a powerful tool to help boost creativity and morale, reduce workplace stress and create a happy, focused and energetic workforce.
Given all of the research that points to stress reduction, improved productivity (increases 10% after watching a comedy clip) and reduced absenteeism, it feels like laughter isn't just beneficial - but almost necessary - for the workplace.
The Laughter Challenge:
If you're up for it, we're here to challenge you to laugh for 30 days straight with us.
"You don't need a yoga mat. You don't even need a sense of humor or to be in a good mood. You just need to bring an ability to laugh and an open mind." - Lauren Colbert
It's easy, simple to do and all you need is yourself.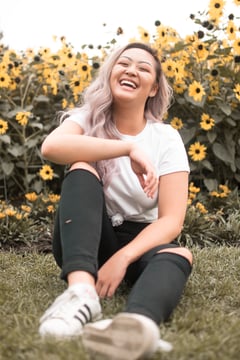 The best part? >> You don't need to be in a good mood to receive the benefits of laughter yoga.
It's all about VOLUNTEERING your laughter.
"We're empowering people to choose to laugh." - Lauren Colbert
It's showing up with the willingness to laugh even if you're not in the mood.
It's about making the active choice to laugh because it feels good - because it is empowering and improves your mental health.
This simple and free routine can help ease physical, mental and emotional stress all at the same time.
"Even if you're faking it, let it out! It helps." - Lauren Colbert
We can vouch to all of this. We were cracking up watching the exercise that Jessika, Mike, Lauren and Alik did at the end of the show. So, be sure to scroll up and watch that if you haven't already!
To find out more about what Lauren and Alik, the Laughing Lovebugs, can do for you and/or your team, head to their website!
Do you think you're going to try to incorporate laughter yoga into your routine? Have you ever tried laughter yoga? Are you going to join us in this 30-day laughing challenge?
Share your thoughts on laughter yoga with us in the comments below!