Do you keep getting a warning to apply a new template to your business page? Don't panic.
Facebook has been making a lot of changes lately to ensure they are helping businesses market themselves. One of these updates includes several new templates with the goal of helping people connect with businesses more easily.
Facebook automatically updated businesses templates for them on August 23. If you didn't choose a template beforehand, they chose the one they felt was best for your business type.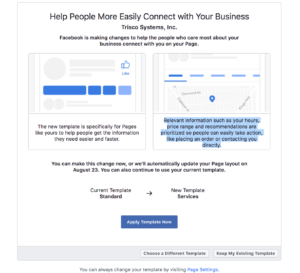 The new types of templates are:
Standard– Good for most businesses and what the current default is
Services– Made to help people find you, learn about services, and get in touch
Business– Helps manage the business with tabs for special offers and job postings
Venues– Makes it easy to highlight location, hours, and events
Movies– Highlights movie times
Non-profit– Helps you by encouraging people to support and donate to your cause
Politicians– Engage with voters and build your online community
Restaurants/Cafes– Easily highlight your menu, hours, locations, and photos
Shopping– Help people shop online by showcasing products
Video– Perfect for featuring video content
This really isn't a big deal at all. It's pretty much just cosmetic in nature. These changes will include:
The page name and category are smaller and not as bold
Your profile picture will be much smaller and won't hang over the cover photo
The page "tabs" or "apps" are now under the cover photo further to the left
You'll find the Like button below the cover photo
The Share button is will also be below the cover photo
And, the "see more" button is below the cover photo now
The call-to-action (CTA) button is now blue and much wider– There are more CTA options as well
Lastly, the Message button is below the cover photo, too
This is what Facebook had to say about these new changes:
"Relevant information such as your hours, price range and recommendations are prioritized so people can easily take action, like placing an order or contacting you directly."
Each template is specifically designed to support and help the type of business it represents. For those with menus, it places priority on that. For eCommerce or retail businesses, it focuses on products. Et cetera, et cetera.
It's pretty simple stuff, really!
---
Did your business template switch? How are you finding the new layout? Let us know.
We talked about this during our #TrainingTuesday. Check it out below.