Amazon has something for everyone, whether you're a mom in need of a last-minute gift or a creator looking to create an alternative source of income.
Given that Amazon's share of the US eCommerce market is 45% and that millennials are the biggest audience, it's an entity with a ton of power and influence.
There are so many opportunities for individuals and brands to take advantage of Amazon's features and functionality like the influencer program and live video.
We all know that diving into a new set of features or functionality can be overwhelming, so we invited Chris Stone onto our monthly live show, NOW & Them, to share his expertise with us about Amazon.
What Is Amazon's Influencer Program:
Amazon's Influencer Program is a tremendous program that allows content creators and influencers to monetize their Amazon-related content by earning commissions on products they recommend to their followers.
Here's how it works and how to apply:
You must have an Amazon Associates Account: You need this to create your Amazon storefront which lets you create affiliate links for products where you can earn a commission.
After signing up for an Associates account, you want to sign up for the influencer program. In this process, you will pick 1 of 4 platforms

(Instagram, TikTok, YouTube or Facebook)

to apply with. Chris recommends picking your most influential platform, ideally with 2,000 followers or more.
You will either be approved or denied into the program after applying.
Important to note: Just because you get denied the first time doesn't mean you can't get in. Wait a few days and keep trying!
"If you get rejected from the Influencer Program, keep up posting on the social account you applied with, wait a couple of days and re-submit." @aheadcast (click to tweet)
Once you've been approved and accepted into the program, it's time to set up your Amazon Storefront.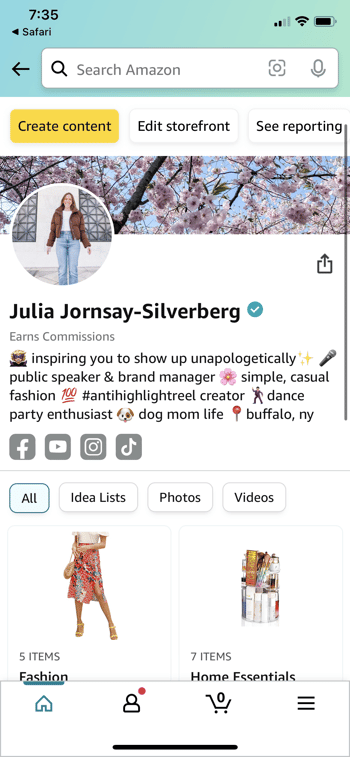 This is where you'll add products that you've purchased and loved, create lists to group your products, and add a banner image and profile photo to make your storefront look awesome.
Note: whatever your handle is that you applied with will be your storefront handle. If you don't like the handle, you can always add a redirect to make it a simple URL.
Once you've got your storefront set up, it's time to dive into the power of Amazon Live Video.
Amazon Live:
We all know that live video is one of the most powerful ways to showcase expertise and enhance your online engagement.
Live video is the most authentic content that we can produce because there's simply no faking it with live.
"Live selling is a great way to grow influence for your brand." @aheadcast (click to tweet)
Thanks to Amazon Live, you can start a live show - focused on having real conversations - AND allow your audience to buy relevant products that you mention while on video.
The best part? >> According to Chris, the pool of influencers tapping into live video is tremendously small. This means there is so much opportunity to start going live, because many people in the Influencer Program have never done a live video show before!
Why Amazon Video Is Powerful:
The real power of Amazon Video is that you can create shoppable videos.
While Amazon does control where they are placed, whenever you go live or create a shoppable video, Amazon populates it on the shop page.
Head to dealcasters.shop and you'll see the shoppable videos that Jim Fuhs and Chris Stone have made together.
"Shoppable videos are a great way to make incremental revenue when you're not live... they are 2 minutes in length, product-focused videos that explain what the product does, why you love it, and what it looks like." @aheadcast (click to tweet)
Pro tip: To get started, record 3 of these 2-minute product videos that you can post to Amazon. While it'll take about 4 weeks, afterward, you will get approved by Amazon to post more of these kinds of videos which can be a huge secondary source of income!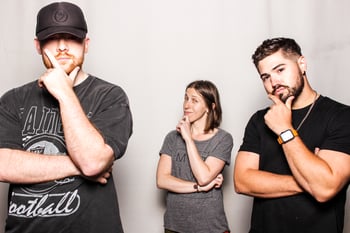 Because let's face it - why NOT talk about the products that we love and use?
People trust people they know, like, and trust; people make purchases based on recommendations from those in their network.
"Always look to see whether there is an affiliate code, link or opportunity with brands that you purchase from and love." @aheadcast (click to tweet)
Not to mention, people are going to Amazon to shop. When someone is on Amazon, they're in a virtual mall.
So, what better place to show up and talk about products you love than LIVE in the mall!?
There is so much opportunity to start showing up as an authentic human and sharing products you love that help you in your job. People love that content because it's relatable, informative, and trustworthy.
What You Need To Get Started:
In addition to taking the steps to get approved for the Influencer program, there are a few things you need to get started with Amazon video.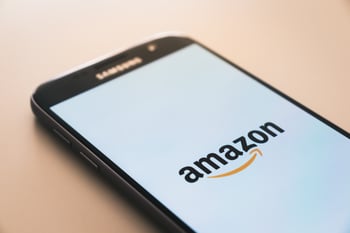 First, you need third-party software to execute your live show through. (For example, Wave.Video has a specific option for going live straight through Amazon!)
Second, you need an iOS device and the Amazon Creator App to sign into your account. (The show is driven off that device.)
Third, you've gotta start going live. Once you've gone live for 90+ minutes, Amazon will move you into the Insider Level within the program which means that when you click on products, your live stream will have the ability to show up on that product page.
"You're likely already talking about things that you love...figure out which products are worthwhile talking about so that when you're approved from Amazon, you're steps ahead of the game." @aheadcast (click to tweet)
The most important thing to remember: if you get denied, keep working on the social platform that you applied with and then reapply.
Putting It All Together:
Both Amazon Live Video and the Influencer Program represent huge opportunities to grow your influence online and with the growth of live-stream selling, there has never been a better time to tap into the functionality.
By streaming live video content on Amazon, you can connect with customers and followers in a more personal way, establishing yourself as an authority in your field.
By joining the Influencer Program, you have the chance to start generating some extra income by earning commissions on products that you love.
There is really no reason to not take advantage of these features today!
Have you started using Amazon Live or the Amazon Influencer Program?
We'd love to hear about your experiences in the comments below.