Are you thinking about using live selling? If so, you're not alone - plenty of brands have turned to live selling in recent years, and for good reason.
Live selling is an incredibly effective way to reach potential customers and build relationships with them.
That's why Jessika Phillips and Mike Gingerich invited special guest Jim Fuhs onto Magnet Marketers to dive into how to be successful with live selling.
Jim Fuhs is President of Fuhsion Marketing and does Marketing the Marine Corps way. Jim is a retired Marine LtCol turned digital marketing consultant, speaker, live streamer, podcaster, remote live stream, and virtual event producer with over 30 years of business and social media experience. Jim fuses Marine Corps Leadership with next-level digital Marketing. His 20-plus years of highly successful leadership experience as a Marine Corps Officer lets him bring that to bear in the ever-changing world of Marketing and Technology.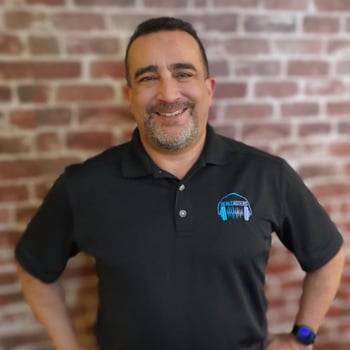 Jim is an expert in using live selling to solve people's problems, gain trust, discuss things he's passionate about and build relationships.
Why Live Is Powerful:
There is no doubt that live video is extremely powerful. Live video is real-time, relatable, and authentic.
As the popularity of live video has skyrocketed in recent years, there has been an even greater rise in live selling as well. Statistics show that live selling can increase conversions by up to 20%.
A few other noteworthy statistics about live selling:
The live stream market is estimated to be worth $35 billion in the US by 2024
China's live stream selling market grew from $3 billion to $171 billion in three years
Apparel and fashion account for 36% of live-stream shopping events
78% of businesses use live commerce to build deeper relationships with their customer base
Companies report live commerce conversion rates are up to 10x higher than conventional eCommerce
There was a 76% increase in live-stream shopping purchases during the pandemic
28% of shoppers said that more live stream commerce would encourage them to buy through social
Live selling represents a tremendous opportunity for brands to drive conversions and build relationships with their audience.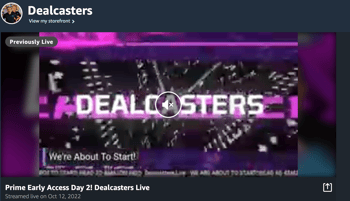 Because of the instant gratification element that allows viewers to purchase products right then and there on a stream, it's extremely influential in driving conversions.
The live format benefits both creators and viewers because it allows for an immediate visual demo of the product.
Not to mention, the live aspect creates a sense of urgency, increases transparency as buyers can see exactly what they're getting before they make a purchase, and provides an immediate and personal connection between the creator and viewer.
Why Amazon Is The Prime Platform:
When it comes to live-selling, Amazon is the prime (see what we did there 😉?) platform. Amazon offers so many opportunities to creators because people go to Amazon to shop.
When you think about the customer's mindset, they are ready to purchase when they arrive at Amazon; that doesn't hold for any social media platform, be it LinkedIn, Twitter, TikTok, Instagram, or Facebook.
"When people go to Amazon, they are ready to buy. They've already given Amazon their payment information." @fuhsionmktg
Similarly, because not many influencers are currently making videos and using live streaming, you can jump into this space and have an impact.
Jim shared that Amazon found that products with videos are 3x more likely to convert to a sale.
"Those videos on Amazon answer the questions about the products for the potential consumer, and the visual demonstration is incredibly powerful." @fuhsionmktg
Videos on Amazon translate to conversions because it's incredibly powerful to see someone walking you through exactly what a product looks like.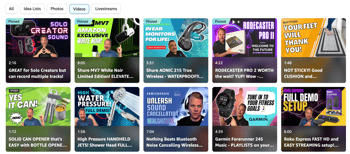 Live video provides a way of engaging with the audience and being the solution provider for them; that is exactly what Chris and Jim do with their live show, Dealcasters.
Not to mention, Jim and Chris will go so far as to look at products they love and see what people are asking, and then make a video specifically answering those questions.
By doing that, they help people solve problems and grow trust, successfully building relationships with people online. (Oh, and they make a commission from the sale. Aka it's a triple win, and we're here for that!)
"Live selling is opening up to the ability to provide a service directly to people. It's far beyond just apparel." @jessikaphillips
For instance, a woman named Geraldine has a quilting show, and everything she uses to make the quilts is available on Amazon. That's why she hosts her show there; the platform has easy fulfillment and returns, and customer trust.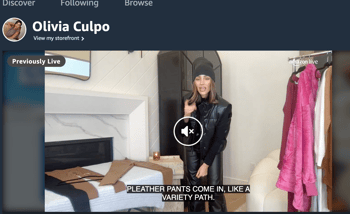 People feel comfortable buying on Amazon.
Another example of the power of Amazon is Jim and Chris themselves. On Black Friday, they did a show that had 10k live viewers! Those numbers are hardly ever seen organically on any social media platform.
The best part? >> With live selling, you can build relationships and gain followers in real time because you're able to show up to solve problems and show people how to use products they've been thinking about.
How To Start Live Selling:
When it comes to getting started, the best thing you can do is use what you have. Grab your iPhone and just start filming some b-roll content and practice talking to the camera so that you're comfortable before you press that "go live" button.

Another tip? >> Work with products that you like. It's a no-brainer place to get started because you already know that you love talking about the brand.
Don't just say yes to any opportunity because your reputation is on the line. Your audience trusts you and your recommendations carry influence, so use them wisely.
"Build relationships with the companies that you want to work with." @fuhsionmktg
In the instance of Jim and Chris, they have said no more than they have said yes to brands that have reached out to offer to work together. By doing that and being selective, they have maintained, and even grown, their audience's trust. They also have built real relationships with the brands they say yes to.

"Sometimes brands look to work with people that have big numbers rather than looking for people that actually love their brand." @fuhsionmktg
Focusing on vanity metrics - as a brand, or as a consumer - is always a short-sighted move and never pays off.
The best brands focus on working with loyal customers and people they know like them. The smartest influencers focus on working with the brands they've been loyal to and know they love.
When you co-create with like-minded people and work with people who you know love what you have to offer, it doesn't feel like marketing. It doesn't come across as salesy, because it is genuine.
"You can feel the difference between someone passionate about something vs. someone that has been hired. Plus, your true brand fans can answer people's questions intelligently." @jessikaphillips
This is why relationship marketing works; when we have a community that is passionate about us, and we empower them to do more, it has a far bigger impact and reaches than hiring an influencer.
"You build your influence when you work with people who truly love what you're doing." @jessikaphillips
Rewarding loyal customers and working directly with them is always the best place to start as a brand.
Putting It All Together:
To be successful with live selling, focus on building relationships and showing up to be a solution provider for your audience.
Your goal should be to help guide your audience to the things that they need and show them in real-time how things work.
"We don't do live selling, we do live solving because we are explaining to people how to go about solving their problems and considering what they need." @fuhsionmktg (click to tweet)
It's all about embracing the live solving mindset.
To learn from the best, we highly recommend seeing Jim in action and watching his and Chris's live show, Dealcasters live. They make things easy for people, so tune in or visit their shop!
What do you think about live selling and live solving? Are you going to dip your toes into live selling? We can't wait to hear from you!