2021 is going to be a big year for Lima's downtown, and we're excited to be a part of the action.
We began NOW Marketing Group in a small office in downtown Lima—located in northwest Ohio— back in 2010. We loved being a part of the buzz then, but we quickly grew out of the location and moved to a larger office space in Elida, which had been our home for quite a few years.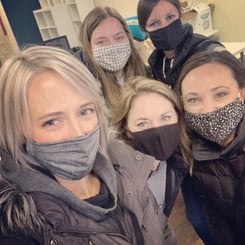 But 2020 had a habit of changing things. As teleworking became the new norm, we realized we could still successfully build our clients' brands while having a smaller physical footprint. Consequently, that bigger office space just didn't make as much sense.
At the same time, we absolutely love inviting students into the agency for internship experiences, offering training for local community-minded businesses and seeing our clients. While we've been able to keep up with those conversations virtually, nothing will ever replace real authentic face-to-face connections.
With everyone social-distanced, 2020 only seemed to really stress the point that relationships are the real currency in business.
So, when the opportunity for us to get involved with the Legacy Arts District, we were more than excited to be aligned with such a vision and are pumped to see what our new "home" will mean to the community.
And why are we so excited about it? To get an idea straight from the sources, listen into this incredible conversation that we had with our partners in the community.
SPOILER >> it's a collective of business owners with a shared vision for making downtown Lima an incredible place to live, work, play and visit.
Picture a place where you're surrounded by creatives, musicians, writers, artists and business owners who share a passion for bringing more life to Lima, and all of them are hoping to help each other grow and flourish.
That's exactly what Legacy Arts District founders Marc and Angie Bowker, are envisioning for their downtown block.
"We've decided that now is the time to develop the building and be the home base to entrepreneurs and artists that have the same vision of helping to grow small business in downtown Lima." @marc_bowker (click to tweet)
Currently home to Alter-Ego comics, the building will soon welcome our NOW Marketing Group team, Alisa McPheron and Melanie Kirchenbauer's newest venture—The Purple Feet Wine Boutique—as well as Omar Zehery's recording studio and record label, RustGaze Records/Legacy Sounds!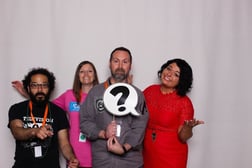 The goal ? >> First and foremost, show people the incredible talent in this community and exemplify what coming together as a community of aligned entrepreneurs can do.
"Find a group of people who challenge and inspire you, spend a lot of time with them, and it will change your life." – Amy Poehler
It's all about bringing people together to create something that is truly focused on serving the creative hub of our community.
From Jessika's marketing expertise, to Marc's love of comic books, to Omar's passion and talent for music, to Alisa and Mel's culinary ingenuity, they all have diverse backgrounds, but they find commonality in their passion, ingenuity and the type of entrepreneurial perspective that drives change.
It's not the skill set that unites this group. It's the passion for building up Lima and growing the region.
"It's really cool to see everyone that's involved and what they're involved with in the community, and just bringing all of this together." - @jessikaphillips (click to tweet)
"We've all run into people from outside the community, who didn't grow up here, but now they live here and I'm willing to bet that 99% of those people love Lima." - @marc_bowker (click to tweet)
"So much of the work that we're doing is in the retention of young people… you shouldn't feel the need to leave your community to experience what you want." - @legacysounds419 (click to tweet)
The end goal is to inspire other business and building owners to open up their minds and doors to these kinds of opportunities, because it's amazing what can be created when people work together.
"It's about creating the change and the things that you want to be a part of. If you don't see it happening, create it!" - @jessikaphillips (click to tweet)
Looking Ahead:
By April 2021, you can expect to see a lot of life at the building.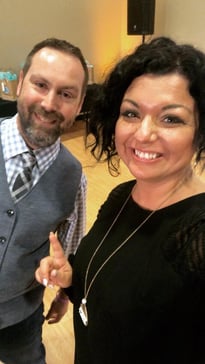 If you walk by the space, you'll see our NOW team chipping away at work, Purple Feet will be operational and sharing space with Alter Ego Comics, and RustGaze Records/Legacy Sounds' studio will be set up and running.
At the back of the building will be "the lab," which will see a major facelift. The lab is essentially going to be the live event space for the building, with a gorgeous glass garage door that opens onto a next door green-space. At the new space, we expect to host a few outdoor events and feature some incredible music and serve some great food.
By the time that summer rolls around, we hope to be able to do larger events where people can enjoy live music together outside. (Doesn't that sound dreamy?)
Which reminds us, you might want to mark your calendar for Saturday, Aug. 7, 2021 for the Legacy Arts street party! (Also, free comic book day will take place the week following on Saturday, Aug. 14!)
One word that we have on the brain? >> EPIC.
Bringing people together—to feel the energy that exists in downtown Lima—is the shared passion of all of the business owners involved in the Legacy Arts Collective.
"It's the same foundation as what's happening in the studio, you know? It's like, you are a talented individual doing cool stuff by yourself but can you imagine the energy that's created when you have multiple people working with each other?" - @legacysounds419 (click to tweet)
By working together, we have strength in collaboration and that gives us the ability to truly change the community and do what we love at the same time. Feeding off each other's positive energy, having a place to meet and solve problems together is what this group is most excited to do.
We think it's time to really grow our community and change the perception of it, and by focusing on the opportunities that Lima can cultivate, we have the ability to keep young people in the city and allow them to truly flourish. It's all about building a foundation for growth, and as we tackle the challenges that put a damper on our community, we are actively setting our trajectories for growth and supporting a new vision for what Lima can be!
"It's taking time to listen, nurture and support kids so they do want to stay here. There are so many creators in our community! Lima is a town of entrepreneurial spirit." - @jessikaphillips (click to tweet)
---
At the end of the day, the reason why we're so excited is because the Legacy Arts Collective is essentially a living and breathing example of the power of relationship marketing.
It's because of our shared passion for Lima that we were able to find "our people"— these people that we will be sharing space with through the Legacy Arts Collective.
These are the people that we get to work together with to leave our mark!
Our major takeaway? >> By opening up, being vulnerable and sharing your vision, you grow stronger and open up doors that you might've never imagined!
Want to stay in the loop on everything happening? >> Check out the Legacy Arts Collective Facebook Page! Also, join in on the movement on social media by using the hashtag #LeaveYourMark!
Are you excited to see what we're doing at Legacy Arts District? Do you know of other cities doing similar community-building projects? Share your thoughts in the comments below!