COS - The Future of Web Site Development?
There is a new buzz word floating around the Inbound Marketing scene..COS. COS (Content Optimization System) It's being called "Next generation of Inbound Marketing"? So, why are people excited about COS? Why is this the next generation of web development?
Let's just say we call COS- Refreshing. It's a long due change in the website development scene..
The Past of Website Development
Over the past few years we have been working hard to utilize the new and emerging practice that make a highly effective web site. We have seen many new technologies that have sprung up claiming to be the future of web site development. Some of these technologies include Wordpress, Drupal, Joomla, DotNetNuke, Umbraco, and Square just to name a few.
Do you remember the days where web sites were just simple "business card" style sites? Ten years ago everything was build with simple HTML code. As computers advanced so did web site applications. Building a web site was just the first step followed up by hiring an SEO (Search Engine Optimization) expert. Over the past 5 years we have been working with much more complicated web site applications known as CMS (Content Management Systems). These have allowed the average human to utilize GUIs (Graphical User Interfaces) to edit web sites within their web browsers.
Even with the best CMS people experience marketing frustration! It's the same website experience every time you visit the site...
The Future - Goodbye CMS…Hello COS

79% of website visitors want a site that "makes it easy for me to find what I want."
Imagine having a web site where your home page was specialized for your users based on their status in the buying cycle. The next generation of inbound marketing will allow users to have a compete customized experience.
Your marketing team and sales team will be able to finally work in harmony. The new COS (Content Optimized System) allows marketers and sales reps to customize the buying process with a complete user focused funnel. Making emails, landing pages, web pages, and blog post customized for the user is just as easy as creating a new page in Wordpress!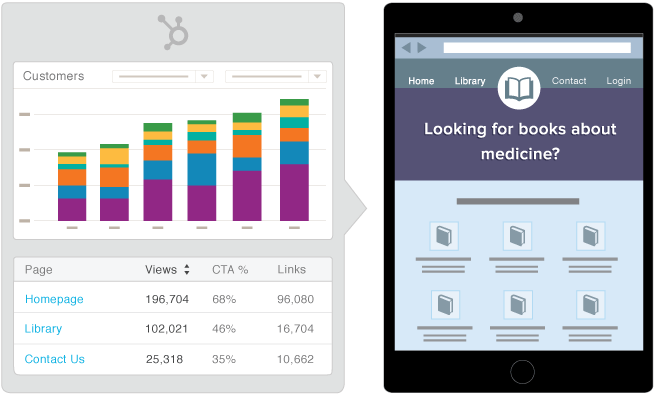 Over the last year, HubSpot has been using Smart CTAs to customize calls-to-action depending on where someone is in their decision-making process. We just looked at the data for more than 93,000 of-these calls-to-action and hundreds of millions of views and found that calls-to-action targeted to the viewer had a 42% higher submission rate than calls-to-action that were the same for all.
So with this latest release, HubSpot decided to spread that relevancy through the entire website. Now on the new Content Optimization System, you can use Smart Content to swap out whole modules of content (text, images, and video) based on who the viewer is and where they are in their decision-making process.
What's the point?
Using the new Content Optimized System will all your marketing team to target specific industries and individuals? Web site visitors that go from strangers to leads can then begin to start the nurturing process and be converted to Sales Qualified Leads (SQLs). After the marketing team does their work the sales team can step in and start building content that speaks to SQLs resulting in higher sales conversion.
I'm sure now your wondering how you can get your web site to spit out personalized content based on the users actions on your web site.