What are the NEW Rules of SEO in 2014
Anyone who knows anything about search engine optimization knows to keyword everything, link to other sites and purchase additional domain names and point them to your site to help bring your website to the top of the search engine results. But what are the NEW rules of SEO in 2014?
OH WAIT!! Insert screeching tire audio!! Google just changed the game!! I'd like to introduce you to the new Google algorithm… Hummingbird. Google Hummingbird is now looking and ranking on user-facing content, affecting over 90% of search engine results. No more short cuts to the top of the page! Does this mean the "Page Rank" system is out the window? Nope, not entirely. Page Rank is still one of the over 200 major pieces that fit in the Hummingbird search puzzle.
The Hummingbird update is changing how Google is finding search results. Search activity is now taking a conversational approach. For example, instead of searching iPhone 5s, changing your focus a bit to "What's the closest place to buy the iPhone 5s to my home?" will find more precise results. A traditional search engine may focus on matching words by finding a page that says "buy" and "iPhone 5s." Hummingbird will focus more on the meaning behind the words. If you've shared your location with Google, your search results will be targeted toward your geographic location, matching "place" with a brick & mortar store down the street, rather than an Apple carrier across the country.
So… what's out? Paying to Play – no more keyword stuffing, put your credit card away and stop buying up hundreds or even thousands of dollars of domains for SEO results, and save your money on paying for inbound/outbound links. You've got better things to spend your money on, right!
What's left? How am I supposed to compete online with every other business like mine? The best way is a play to play model of simply providing solid, true content. Use a "they ask, you answer" type of writing style. Be sure to write your web copy to answer questions, and focus on your buyer. It's easy to brag and get carried away about how awesome you are and how everyone should buy YOUR products and services… hey, feel free, but change the way you are doing it. Instead of run-on paragraphs heavy with industry jargon (ahh keywording), talk about how to solve a "pain point" for your buyer's persona. Don't forget about social media, it's conversational marketing at its finest!! YouTube is the #2 search engine out there. It's easy to have your social profiles established, but make sure you are consistently updating them. Blog!! Use your blog as a "how-to" or as your FAQ section. Blend your blogs with your website and your social pages. Driving your customers to your website from your social pages and vice versa provides your customers with all the information they are looking for. Use your YouTube Channel to provide product information, tips on how to use your services or hear from satisfied customers. Create a tumblr photo gallery or start an Instagram profile to share everything from your products and services to industry tips and education info for your consumers.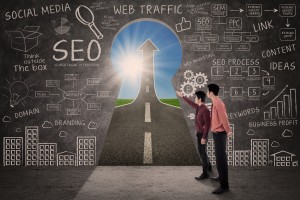 The trick to keeping up with Hummingbird is to be sure you are staying relevant and engaging in conversational marketing. If Google is jumping on board… shouldn't you be a part of the conversation? Let the experts at NOW Marketing Group ensure you are fully engaged and your business is on track to lead the "conversation."
For more information on SEO and how to improve your website let us provide you a free SEO analysis.
Resources:
About Hummingbird:https://searchengineland.com/google-hummingbird-172816
Resource links:https://searchengineland.com/2014-seo-playbook-part-1-hummingbird-175860