There's no doubt that 2020 brought its fair share of changes to the way business owners are navigating their day-to-day... one major shift has been transitioning to a work-from-home model with teams being either fully remote or employing a hybrid approach.
While pre-2020 work-from-home opportunities weren't as mainstream, and while many businesses weren't immediately prepared when the time came, there has a notable shift in the realization that working from home can be a new way of operating and operating successfully.
We understand navigating this new way of life has its challenges, we've been there, however we have been living this life for years within our agency - we've taken a hybrid approach with a balance between working remotely and spending time with the team in the office. There are plenty of tips and tools to help your team stay connected, motivated, energized and efficient during the day.
According to a recent report by Global Workplace Analytics, there was a 159% increase in remote work between 2005-2017.
Then, 2020 happened and we saw the following statistics:
88% of companies have required their employees to work from home
18% of people work remotely full-time
99% of people would like to work remotely
Seeing that 99% of people would like to work remotely, this topic is pretty important to cover.
Challenges of Working From Home
Even for those 99% of people happy to adjust to working remotely, it brings its own set of challenges.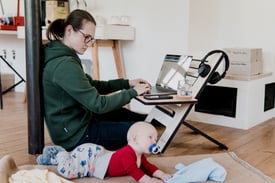 Remote work can be isolating and lonely for team members and employers that are used to working in an office together.
"We miss each other, which is why so many of us have been loving #Clubhouse. It's like we can hang out and chat." @jessikaphillips (click to tweet)
It's not just the lack of human interaction, though. Remote work brings technology and communication challenges.
In fact, according to the State of Remote Work 2020, 20% of respondents say their biggest struggle with working remotely is collaboration and communication.
Another challenge of working from home? >> The work goes unnoticed.
It's a fine balance between micromanaging employees and giving them freedom to do their work, while also keeping that culture intact.
"Even if your team wants to work from home it doesn't mean that they don't want to be a part of your company culture. People want a sense of belonging." @jessikaphillips (click to tweet)
The culture component has to be put in place in order to create that sense of belonging and keep the team aligned with the overall goals and mission of the company.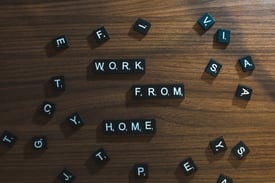 Navigating technology, reinforcing culture and keeping employees engaged in their work AND the culture are the biggest and most important challenges brands face as we continue to work-from-home.
Benefits of Remote Work
While communication can be a challenge, flexibility certainly is not. 32% of respondents say the ability to have a flexible schedule is the biggest benefit to working from home.
Not to mention, remote work allows us to expand our businesses beyond what we could do otherwise!
"You don't have to just hire employees locally anymore. You can expand your talent pool now." @jessikaphillips (click to tweet)
Employees have a greater sense of flexibility during their day which in most cases, can actually help to increase productivity and a sense of satisfaction at work. Plus, thanks to technology, we can stay connected despite the distance.
"We have a weekly call on Google hangouts - our #NOWIEOWIEOW - for our team to just give each other shoutouts." @jessikaphillips (click to tweet)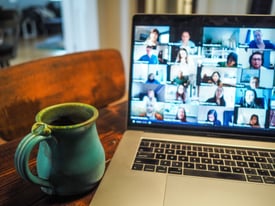 Giving employees the chance to engage with each other and stay connected throughout the workday and week is hugely helpful in reinforcing culture.
It's also a really nice way to provide emotional support, which lets face it - we could all use right now.
Tools We Love
It's thanks to the plethora of cloud-based tools that we're able to do our jobs from home.
In fact, we think it's safe to say that having a suite of go-to tools (and systems in place for how to use them) is the most important thing to maintaining productivity and efficiency when working as a remote team.
We use this tool for every single HR-related step - onboarding, training, managing vacations, organizational charts, employee development planning, organizing resources, and SO MUCH MORE.
Having an all-in-one human resources tool makes life a lot easier, for everyone, especially when it comes to onboarding remote employees. We use this tool to take employees through a step-by-step checklist outlining their first few days, mapping certification plans, HR paperwork and more. This system can keep track of team check-ins, performance reviews and training programs all in a single space, lending important transparency to your team members.
"If someone needs to do an annual review, you can add the notes in there. New certifications are also stored in @HRPartner." @jessikaphillips (click to tweet)
Staying connected to your team is super important. The GroupMe app is our go-to "digital water-cooler." GroupMe is where we have our casual co-worker chats. Read this as > tons of gifs being sent.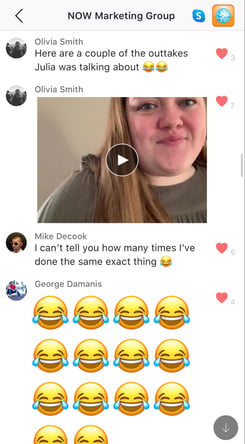 We share wins (personal and professional) and get to know each other's personalities better and are able to stay connected in personal and meaning ways through this app.
"@groupme is our quick messaging platform. We use it for quick updates and a lot of fun conversations. It's basically memes back and forth." @jessikaphillips (click to tweet)
This is our feel-good, employee-centric rewards program. We love this tool as a way to really reinforce company culture. It's points-based, so it totally plays into our inner gaming nerd. We're able to share points for achievements, moments of inspiration, thank you's for project collabs and more.
Through Bucketlist, employees can give shoutouts to each other and engage, which is awesome. It's a great way to give each other recognition for exuding a company core value and you can attach points to these shout outs.
"We do an #uplevel challenge and if team members read the book, they redeem points. Plus, team members can give each other points, too! It's a great way to nurture employee encouragement." @jessikaphillips (click to tweet)
What do the points translate to? It's up to the employee! They can be exchanged for experiential rewards (think Escape rooms in your local city,) OR gift cards!
This tool has become a major part of our workflow.

This is a project management system to track the workflow, assign deadlines, ping each other (and our clients) with progress notes, etc.
It's a tool that allows us to completely streamline our efforts and since it's always updated in real-time, it ensures that all team members are on the same page regardless of location.
"You can track the process of a project and set up reminders within @clickup… it's endless to what you can do… The whole key is to find the tools that solve your pain points." @jessikaphillips (click to tweet)
Say hello to the only tool you need when it comes to virtual meetings.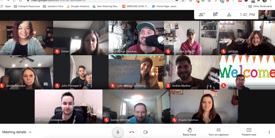 This is where we have our weekly team status and NOWIE-OWIE-OWE meetings and it's where employees meet to collaborate on projects.
"I love using @google #Hangouts for chat pieces, and #GoogleMeet for team meetings internally. We use @Zoom_US for external meetings." @mike_gingerich (click to tweet)
It's easy to share your screen and add notes through the chat. Plus, any meeting you create through Google automatically has a hangout link attached, making it SUPER easy. Bonus: you're able to record your conversation so if other team members missed a training or need to catch up on a client conversation, they can review the hangout by replaying the recording.
It's like the office filing cabinet, but better. Because it's electronic and doesn't smell like mothballs. Google Drive is where we put ALL of our shared work files. Photos, videos, documents, you name it. It's easy to upload to and grant someone access, and it's updated in real-time.
"One thing I love about @GoogleDrive is that we can collaborate in real-time… cloud-based file sharing makes it easy." @mike_gingerich (click to tweet)
We love this tool for storing passwords.
This tool lets you keep a record of passwords that you can add to and change, over time as well as assign administrators access to that password. You can give people the ability to utilize a password to login to a site without them even seeing the password inside of the app!
"On @lastpass, you can also create temporary access to passwords for people, and easily remove and restrict access to passwords as you wish." @jessikaphillips (click to tweet)
We're an Apple family here at NOW, and that's why we love Apple's Lease Program because it ensures that our team always has an updated device.
And while we're all about tools, it's important to streamline what you're using so that you keep things simple for yourselves and for clients.
---
Bonus >> If you're looking for tips to keep up with your community online - here's some of the top apps for Social Media Marketers >> HERE.
Wrapping It Up:
At the end of the day, it's not about the specific tool, but rather the technique that you use.
"How can we make it engaging and inspire our team members to have this sense of connection with us and this sense of belonging?" @jessikaphillips (click to tweet)
Focusing on organizational culture and employee engagement, will go a long way to keeping teams engaged when working from home.
"The key is accessibility and ease of doing business with you, and doing things on the fly as things change, and as your needs change." @jessikaphillips (click to tweet)
It's less about WHICH and more about HOW you use these tools to not only keep employees productive and motivated throughout the workday but to keep customers coming back to you for more.
"Tools like @manychathq are worth looking into to create a chat that guides your customers along to help them self-service a little bit." @jessikaphillips (click to tweet)
And while we can all agree that quarantine has been hard, and we all miss in-person events more than almost anything, it has been a forced lesson in flexibility and adaptability.
We've learned how to utilize technology to maintain, and in some cases expand, our businesses so that we can show up to love more, give more and be more in our workplaces.
What do you think about working from home? Are you doing it? What tools does your team use to stay productive? Share them with us in the comments!