Regardless of the size of your team, when growing a business it is critical to prioritize Human Resources.
There seems to be a common misconception among small businesses that they aren't large enough to justify investing the time necessary for Human Resources.
However, failing to recognize the importance of HR can be one of the most costly mistakes businesses make.
"Getting the right people on board, and looking after your people, is always the best investment a business owner can make. It's one of the most important things you can do as an organization." - Fiona Adler @HRPartner (click to tweet)
We have seen firsthand, that streamlining our HR tasks and creating an employee-focused portal has turned what was once a crazy mix of tools and file shares into an easily manageable HR system and the tool that we used to get ourselves organized... HR Partner.
That's why we were excited to bring Fiona Adler, Director of HR Partner, onto Magnet Marketers to discuss how human resources can be used to level up your team and brand.
Fiona has worked with small businesses for over 20 years, creating and building online solutions that help them operate in the best way possible. She's passionate about helping small and medium businesses get the tools and know-how to grow and streamline their operations. In other words, she's the perfect person with whom to have an in-depth conversation about the difficulties of doing "HR right."
Why Human Resources Matters:
For many businesses, it's easy to focus solely on the product or service that your business provides. While this is important, it's crucial for brands to not lose sight of the fact that our teams are made up of >>>>> humans.
"Investing in your team and showing people that you care within your organization, and providing consistency and clarity and policy, is a direct reflection of your culture." @jessikaphillips (click to tweet)
The incredible thing is, you don't need to do a whole lot to start to make a difference and create that culture of caring from the inside out.
How We Use HR Partner:
One of the primary goals for our agency is FULL TRANSPARENCY and we love having a tool that allows us to be open with our processes both internally with our team, and externally with our clients.
Tools like HR Partner can be incredible vehicles for driving awareness for your brand and recruiting new employees because these tools put all important information in one place.
"Studies show that if you can make the first week really good for a new employee, it has such a big effect on how quickly they become productive." - Fiona Adler @HRPartner (click to tweet)
There are so many ways we use HR partner to provide value to our employees:
Company News + Resources: We have a section inside of our portal where we can post exciting news and share links to training resources for the team. By doing this, we are not only incentivizing our team to learn but making it super easy to access everything in a single, organized place.
>> ProTip: the portal allows us to set up reminders letting a manager know when an employees' certification may be expiring.
Onboarding Checklists: When a new team member joins NOW, HR Partner is their best friend for their first week. Everything related to onboarding is executed inside HR partner; employees can access all necessary documents and paperwork to fill out, training and certification requirements, the organizational chart, and so much more. The entire onboarding process is outlined in a checklist that employees can easily go down to ensure all documentation is complete and uploaded into the portal!
Time-off and Leave: HR Partner is the place our team goes to put in requests for time off and/or leave. It's as simple as filling out a small form inside of the portal which automatically gets sent to the appropriate person on the team to approve the request. This saves a TON of time by eliminating back and forth emails about how much PTO employees have left and what dates are approved to use it.
>> ProTip: there is also a full calendar to see when other employees may be off to help eliminate gaps in coverage.
Expenses: Team members use the HR portal to submit any business-related expenses for reimbursement.
Grievances: This is the place that we welcome our team to post about any issues they are having and/or suggestions they'd like to make. This is all executed privately, which helps to build trust.
Reviews + Check-Ins: Reviews have never been so easy. The portal knows the date each team member was hired, allowing us to be prompted for quarterly or annual reviews. Not to mention, documents can be uploaded and notes can be added to the portal for simple tracking and organization of these important milestones and conversations.
The biggest benefit? >> Everything is in one place.
"Pulling all of these things together in one place, in one portal, like @HRPartner does, is really good for employees." @Mike_gingerich (click to tweet)
When considering how valuable and precious time is, making the decision to use a portal like HR Partner was a no-brainer for us.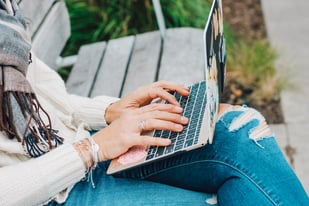 "The right systems can give you leverage - so even if you can only spend half a day a week in HR, you can still have a big impact." - Fiona Adler of @HRPartner (click to tweet)
Having one portal, and one login, to access everything relating to human resources as a team member and/or a business owner saves so much time and energy. This has a direct impact on creating a strong culture of caring.
How To Get Started As A Brand:
The best thing about HR Partner is the simplicity of getting started.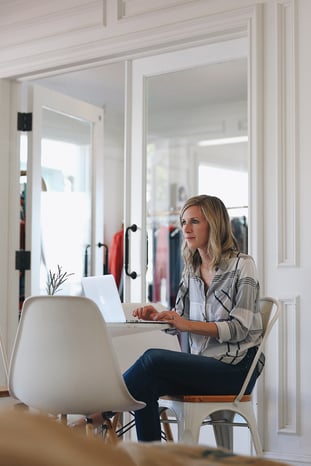 You can begin with a simple onboarding process and continue to expand it, and tap into other features and functionality, as you grow.
The point is that by using a tool like HR Partner, you have the ability to save so much time as a brand while also providing so much clarity and confidence to your team in regards to onboarding, training, and requesting time off.
It's portals like these, plus so many other ways that brands can strengthen employee engagement and confidence.
"You don't have to big this huge organization to have processes in place. We started with a Google Doc! It's about starting to write out your processes!" @jessikaphillips (click to tweet)
By investing in a human resources tool, whether it be HR Partner or another alternative, sends a strong signal to employees that you care about them.
"Investing in Human Resources is good for business and it feels like the right thing to do." - Fiona Adler @HRPartner (click to tweet)
Here are a few other ways that HR Partner can help your organization:
Organization: Having everything organized in one place creates so much seamlessness when it comes to approving time off for employees, onboarding employees and conducting reviews. Not only does this level of organization save us time, but it makes us a lot more confident in our processes. Having a clear path makes everything easier.
Recognition: A little recognition goes a long way! Making your team feel seen and appreciated for the work they do is a great way to make them feel cared about. Not to mention for remote teams, shout-outs and reviews create connections and bring the team together. Since those little daily exchanges don't take place as easily as they would in an office setting, it's important to find small ways to make your team feel celebrated. That's why we put together videos for our team members' birthdays and work anniversaries and do a weekly call with the sole purpose of giving each other shout-outs.
Culture: These systems truly help to strengthen the culture because they help us emphasize the humanity in our team. When people know and like whom they're working with, they feel more motivated and work harder. The more we encourage people to work together and support each other, the more fun work is!
At the end of the day, empowering employees to have all of this information at their fingertips not only helps to strengthen the culture of the team but saves employers time.
"Business owners tell us that they sleep better when they have all of this #HumanResources information organized." - Fiona Adler @HRPartner (click to tweet)
Human Resources isn't all about processes and paperwork. It's about the people and making your work environment and culture one that is employee-centric and team focused.
"You don't have to be physically together to have a team huddle and have fun as a team! That's why we do monthly Wellness Challenges at @nowmg." @jessikaphillips (click to tweet)
By investing in human resources, brands set themselves up to be able to grow their teams with less friction AND create a work family that feels excited, empowered, and supported.
What do you think? Is your business using a Human Resources tool?
We'd love to hear what you're using! Share with us in the comments below!