The strongest organizations and brands are ones that not only have a strong brand manifesto but a culture rooted in happiness.
When you create a culture based on happiness, it comes through in your marketing, and in all that you do. People can sense it when they talk to the organization's leader and employees. Happiness is FELT in the interactions with the people that work for the brand.
Aimee Bucher is an expert when it comes to creating cultures rooted in joy. As the founder of Harrison Latham, Amy is ALL about crafting a legacy of smiles and causing ripples in the world that make the world a better place for everyone.
Defining Systemic Happiness:
Before we can dive into how an organization can build its culture around joy, we have to understand what systemic happiness IS.
The reality is personal happiness and systemic happiness are not the same thing. Personal happiness occurs at the individual level, where systemic happiness is about what happiness looks like in an organization, town or community.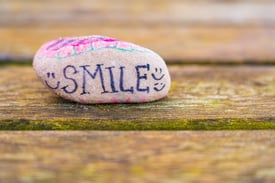 "We spend so much of our time at work, so if work is a happy place, it bleeds over into everything that we do." -Aimee Bucher (click to tweet)
When an organization focuses on creating systemic happiness, both the employees AND customers can feel it.
"It's that ripple effect. When you are happy, people want to be around you. We can create more happiness by being intentional and just checking in with people." @jessikaphillips (click to tweet)
Happiness impacts every single aspect of an organization. Happiness impacts productivity, motivation, relationships among employees, churn and the ability to attract and retain talent.
"People are going to buy from happy people. It's all about the experience." @jessikaphillips (click to tweet)
Starting From The Inside Out:
To create strong cultures rooted in happiness, leaders have to start from the inside out.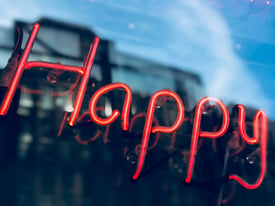 Understanding who you are as a company, what your values are and WHY you do what you do will allow you to get clarity on exactly who is (and isn't) a good organizational fit from a customer AND employee standpoint.
"With each employee you are either adding culture credit or culture debt." @jessikaphillips (click to tweet)
The reality is that work has shifted over the course of the last year. What we need now— more than ever—is humanity in the workplace. We need to shift the focus away from data and onto humans.
"We are all more human now as a result of the pandemic. We're seeing people's dogs and homes…we've all been in the same boat of having a crisis thrown at us that we have to deal with." -Aimee Bucher (click to tweet)
People have lives and issues, and whether we like to admit it or not, they show up at work and impact productivity and happiness.
The strongest leaders are emotionally mature enough to understand that. That kind of transformational leadership trickles down and impacts the entire organization's culture.
"This - your culture and how you show up and treat people - is the difference that makes the difference." @jessikaphillips (click to tweet)
A few of our favorite examples:
Southwest Airlines

:

This is an exceptional example when it comes to a culture based around happiness. There are SO many

articles

about just how well Southwest has done at creating a strong culture that people are proud to be a part of. Southwest was founded with a vision of employee happiness at the core. The founder saw happiness as a trickle-down effect and man, did it work! Southwest is the only major airline in the world to turn a profit nearly every single year. How do they do it? By empowering their employees to do their jobs and make decisions on the fly. There is TRUST in the

Southwest culture

and that is why the airline attracts so much talent and is now known as a wonderful place to work.
REI

:

This is another incredible company that values employee happiness. REI is all about creating a balance between profits and corporate social responsibility. The company is known for their community-centric efforts and as a result, people feel good about shopping there.
>>> Just think: how likely are you to want to work for a leader who hasn't asked you once about how you're doing over this past year? Safe to say, we think the answer is "not likely."
"I hate that quote of 'it's not personal, it's business.' Things do feel personal! It isn't just about business and numbers." @jessikaphillips (click to tweet)
Organizations hurt themselves by focusing solely on productivity and efficiency without understanding just how crucial happiness is and how much it impacts everything.
The strongest cultures are ones that show that they care.
"Some things just make common sense because we are human, and we need to approach it at that level. Some people might be having a hard time and we need to show up because we care!" @jessikaphillips (click to tweet)
THAT is how you create a strong culture.
How To Measure Happiness:
Measuring happiness comes down to understanding the right questions to ask and what specific tools can be used.
"You can't change what you don't know, so take the time to ask questions and get data." -Aimee Bucher (click to tweet)
Aimee swears by FridayPulse as her favorite free, go-to tool. This is a quick and easy way to find out how happy people are and how connected they feel to each other.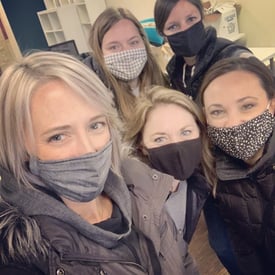 "It measures 5 key areas and as a leader, you can start to get insight into how your team is feeling in various areas." -Aimee Bucher
It's also why Harrison Latham conducts interviews with leadership and people at all levels of the organization. It leads to a deeper understanding of how people are feeling and where there are gaps and opportunities.
We've seen that first-hand here at NOW.
Through team surveys, we've been able to learn about some small things that make a big difference in our team members' day-to-day. Small changes that we never would've known to make unless we took the time to ask.
Asking your team questions will lead to so much insight not only about how happy they are but about what types of perks and incentives matter most to them, and how much trust they have in the leadership and their teammates.
Here are some ideas for questions to ask your team:
Do you feel as though you are a good fit for your role?
Do you feel challenged in your position?
How inspired do you feel in your work?
Do you feel that you have room to grow at the organization?
Are you connected to and/or inspired by the mission of our organization?
Do you feel connected to your teammates?
How do you feel about our organizational communication?
Do you have enough space to do your work?
Do you feel appreciated for the work that you do?
Do you feel like your boundaries are respected in the workplace?
These questions are just a starting point for the kinds of prompts that can lead to more open and honest conversations within an organization.
Why Intentionality Matters:
Intentionality is key. Leaders have to be mindful about the kind of culture they want to create and what action can be taken to move it forward.
"Acting intentionally attracts the right people and when you build that, it's creating culture credit. That's why we have a weekly team call at NOW that is JUST for fun and to give shoutouts." @jessikaphillips (click to tweet)
Here are some ways that organizations can act with intent when creating a happiness culture:
Get buy-in:
Get everyone in the organization on board. Ask them questions and get their input!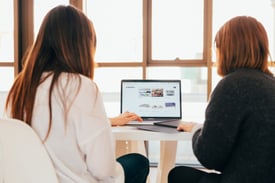 You might lose people along the way, but that's OKAY! You'll gain the right people in the process. This is important because you want everyone working together and moving in the same direction to support the overall mission.
"The words that people use and the way they interact all determine the culture. It's about taking it beyond just words on paper." - Aimee Bucher
Talk about it:
As an organization, you want to talk about your culture a lot. Include it in your social media content, on your website and definitely put in in your job descriptions!
"For most jobs, you can train for the task for the most part. The skills are not nearly as important as the culture fit." - Aimee Bucher
Start conversations:
One of the most effective ways to start to shift the culture to one of happiness is to just start having open conversations with your team. Just start asking them questions and showing that you care.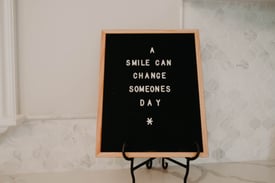 If you have a culture rooted in trust, people will answer honestly and openly. If you don't it's about starting with anonymous surveys which can help to create that trust which will lead to more transparency.
Putting It All Together:
The relationships that we have at work play a huge role in our lives.
"There's this old school idea that you shouldn't be friends with people at work and that is garbage. You spend SO much time at work!" -Aimee Bucher (click to tweet)
All of us are leaders, whether we are acting intentionally or not. This means that as individuals, we all have the ability to create more happiness in and our of our workplaces.
By taking small and intentional action as both employees and leaders to express gratitude, laugh more and share our appreciation, we create a strong culture that is rooted in joy.
These are the kinds of companies that people want to work for and stay loyal to.
Have any questions for Aimee? Feel free to shoot her an email: Aimee@Harrisonlatham.com
What do you think? How do you think we can create more joy inside of our workplaces? Share your thoughts in the comments below!