In today's world, if we want to stand out among the sea of samesies, we have to do things differently. It's all about starting from the inside-out and creating a company culture that is infused with passion and heart.
I mean, we all know that:
We've heard the adage "we do business with people that we know, like and trust." But anyone can sell someone but if our clients and customers truly love our brands they aren't just going to keep working with us, they're going to insist their community does too.
When word of mouth influences 86% of purchasing decisions- the relationship marketing focus is all about the "Referral." But that's the thing, referrals and community is one thing that's not for sale. So in order to generate that "Know, Like, Trust and Refer" (KLTR) factor, we have to roll up our sleeves and get to work.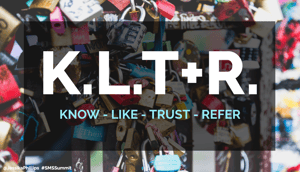 Establishing trust:
Building trust in today's digital age can be tough. You'd think that with the amount of accessibility it would be easier, but the truth is, there is an oversaturation of information and people are often skeptical with what they're seeing online.
Building awareness and becoming KNOWN is the first step and there is no quick-fix or sure-fire way to fast track awareness, it takes time. At least when it comes to building awareness with the audience that matters most to you. It also takes self-awareness. Whether you're working at the individual OR company level, you have to understand who you are. It's about asking yourself questions like: why do we do what we do? Who do we do it for? What do we believe in?
Getting clear on your WHY, and developing a brand manifesto, is critical. It's the cornerstone of your brand personality. We won't be able to craft compelling, engaging content if we don't know who we are.
Infusing our brand personality into our content is truly the only way to become known in today's cluttered digital world.
Making that connection is critical in establishing the LIKE. Being genuine with your message and offering transparency as to who you are will build that feeling of "I know them." That familiarity that gives them warm fuzzies when they see you or your brand… moving them from knowing you to liking you. In order to be liked, we have to be willing to put things out there for the joy of putting them out there.
As Marie Forleo shares in this amazing YouTube video of an interview with Seth Godin, if we have an idea that we want to get out into the world, we're living in a miraculous time where we have all of these free tools at our disposal.
"Free is this magical thing that the internet has supercharged," Seth Godin shares in the interview.
We're living in a beautiful time where we can put something out there, that is valuable - that makes people better, and it costs us nothing; yet by offering a solution to a need, we earn attention and trust.
Here's the thing... It can be scary because we open ourselves up to being disliked. Here's why that's a good thing: people don't remember brands that they feel neutral about.
This step is all about becoming memorable. Tons of businesses often take a timid approach because they're afraid of not being liked by everyone. Targeting an audience of everyone means you'll be making an authentic connection with no one. (Cue: palm to face emoji. 🤦‍♀️)
Marketing is all about differentiation. Translation: how do we cut through the clutter?
We absolutely love what Seth Godin has to say in this interview with Marie Forleo. That mindset is selfish. That's what we call being a bullhorn. The reality is that the person that you seek to serve is already overwhelmed. There's a lot of noise around them.
So, rather than be a bullhorn and add to the noise, it's about being generous and helping that person decide if what you have to offer is a good fit for them.
Regardless of business or industry type, it's about letting people know what you have to offer and if that isn't for everyone, that's OKAY!
There's enough business to go around when we take the time to stand for something.
The critics exist because what we do is not for them. What we do is for someone else. That's a good thing. Trying to please everyone is a sure-fire way to please no one. There's power when we realize that we are not for everyone.
Establishing this "like" factor is done when our brand is clear about our mission, vision and values. When we infuse our brand personality into the heart of our messaging.
But let's get back to the concept of attention and trust.
In the interview we shared above between Seth Godin and Marie Forleo, Seth mentions that attention and trust are the two building blocks of the modern economy. We can't bring change into the world unless we have people's attention and their trust. When we get attention, we reach people. When we have trust, we get the benefit of the doubt from those people.

But how do we create trust?
Trust comes from experience, and experience comes from free samples, Seth shares in that interview. (In case you can't tell, we're big fans of Seth Godin.)
Call it free samples, call it delivering on your promises, call it going above and beyond. Whatever you want to label it, it's about doing the right thing.
For us at NOW, we're all about doing the right thing, which isn't necessarily the easiest path. That brand belief translates into how we approach relationship-building. It's the WHY behind how we engage with our community. It's why we're advocates of the conversation, and truly listening. It's about SHOWING that you care by contributing to those conversations, positive or negative.
Here's an example of one of our "free samples."
We want to give people the tools necessary to make their lives easier which is the WHY behind the Relationships & ROI Masterclass. We WANTED to deliver quality content that our community could watch on their own timeframe that would help them understand more about why it's worth adopting a relationship marketing mindset. And deliver it to them for FREE.
By taking these client/customer/community-first kinds of actions, and focusing on increasing the longevity of current clients, you'll find you are generate repeat and referral business. Your brand advocates.
Walking the walk:
It's one thing to say that we care. It's another thing to show it. It's another thing to live it.
Creating exceptional, memorable, experiences for customers doesn't have to be complex. Often, it's the simple things - like responding to tweets you're mentioned in - that go the longest way and show that you're a brand that cares.
This leads us to a story…
For years, we used a specific SAAS video email product (we're not here to throw anyone under the bus, so we're going to leave names out of it... we play nice) to help personalize our messages and communication via email. The tool allowed us to embed a video into an email as a way of further humanizing the message. Totally our jam. We love being able to personalize our communication with video messages.
Here's where it gets interesting. We were big fans of the tool and raved about them... a lot. We'd mention them on podcasts, in blog posts and tweets… but after a while, we caught onto the fact that the company didn't seem to care. Not one of our mentions got a response. Weird, we thought.
We gave them the benefit of the doubt because we loved the tool. We continued to use the program and would refer our friends and partners to it, because we saw how effective it was in allowing us to really convey heart into our communication.
After multiple people told them that this company, the one we were referring to people, was hard to get ahold of, we started to put the pieces together. Not only did this company fail to do any community management, but they dropped the ball for prospective customers.
THIS was the breaking point. We couldn't believe that after years of working together, they just didn't care.
Insert: a competitor of this company (a similar SAAS video response tool, the name doesn't matter) saw our dozens of un-responded-to messages and swooped in like a knight in shining (digital) armor. They offered us a package to use their tool, and let's just say we rode off into the sunset, happily ever after. (Not really, but it makes for a cute end to the story.)
Our point in sharing? The customer experience is critical.
The competitor GOT it. They understood the importance of responding. And subsequently, they got our business.

Paying attention to the conversations happening online about our brand is the only way to generate a sense of community. Not paying attention to what people are saying about us online is not only tone deaf, it's shortsighted. It's the quickest way to lose a customer.
If we want people to care about our business, and utilize our product or service, we should care about them too. Crazy notion, right!
Relationships will always be more powerful than marketing. (click to tweet)
We've said these two things so many times because they are at the core of what we believe:
Our message is bigger than our product or service.
It's not about the tool, it's about the technique.

Here's the thing: we're sending a message by NOT sending a message to our customers. Not responding to customers sends the message that we just don't care. Similarly, tools are replaceable; our technique, especially if it delivers an exceptional experience, is not.
We believe that if we want to grow our brand, we must out-CARE our competition.
Show up with clarity, conviction and creativity. It's about getting back to the heart of why your brand exists and who you're here to serve. It starts from the inside out. Being a good company and caring at your about core... your team and customers.
Companies That Out-CARE:
We believe that the strongest brands are ones that delight, deliver and do it again. It take time and effort.
We wanted to share a list of companies that our NOW Team LOVES. NOT because of what the company offers, but because of HOW they offer it.
Here are some of our favorite brands who care:
When it comes down to pleasing customers today, it's about personalization. The brands above truly out care the competition because they take the time to personalize the experience.

Customized interactions go a long way in making people feel seen, heard and cared about.
It's about showing up for our customers and engaging in conversation. It's about creating interactions that meet them where they're at, and show that we truly care. At the end of the day, it's all about that know, like, trust and referral.
Word of mouth has been replaced by WORLD of mouth. It's all about delight. It's about fostering your community and creating relationships that have depth. THAT is what makes our brand memorable and craveable.
What are some brands that you think do an excellent job at out-CARING the competition?
Let us know in the comments below!