Creating a company culture - one that supersedes the ping pong table in the breakroom starts with fully understanding your brand's WHY.
Your company mission and purpose should be felt throughout all you do as a company and through all the people who represent who you are to your customers and clients >> through your employees.
Your employees should be a living representation of that brand purpose. Having a team fully engaged in your purpose will, in turn, empower them to live that purpose for your audience. At the end of the day, that's whom we work for, amiright?!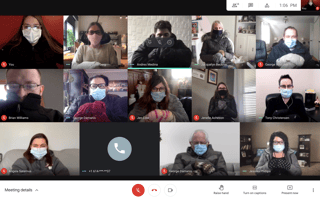 Those audience members, those clients, customers, ideal buyer personas who advocate for your brand... Sure you'll build a customer base by having a great product, but you'll have ADVOCATES because of the experience you gave them.
That engaged team is the key to building those advocates. They are creating the experience your audience is craving; solving their pain points. All because they believe in your WHY.
Sounds great, doesn't it? Having an engaged team who "gets it." We all know it isn't as easy as just a snap of a finger, or putting in that ping pong table (which we do have, btw).
As an agency with a remote team, we've had to leverage tools to help us build a happiness culture. And Happiness Culture is 100% a thing.
Not only do the tools we invest in helping us create transparency with clients, but they serve to strengthen our relationships and communication as a team.
Below we've outlined some of our top ideas for strengthening employee engagement and company culture:
Rewards Program:
Having some form of rewards program is a great way to celebrate your team and strengthen your culture.

What we use: Bucketlist Rewards
We use this tool to reward, recognize and encourage each other for achievements and collaborations.
What it is: This point-based system allows both leaders and employees to give points to each other which can be cashed in for experiential activities (like escape rooms, winery tours, or family-friendly day trips,) gift cards, or company-specific rewards such as vacation days, or lunch with the boss (or ON the boss).
Why you'll love it: Bucketlist is likely to become your team's favorite tool to use to cheer each other on. It really allows your organization to strengthen its culture by letting employees give shout-outs to each other and thank each other for demonstrating core values.
Our team is always working above and beyond for each other and our clients, however, this is an amazing way to incentivize employees to hit that "next level." One of our favorite applications of this tool has been using it specifically for our Uplevel Educational Challenges where team members earn points for personal/professional development.
Regardless of what tool you use, rewards programs are an incredible way to keep employees engaged.
Virtual Water Cooler:
One of the strongest ways to keep the "in-office vibe" intact when working with a remote team, is to bring in a virtual "water cooler" where employees can socialize and engage in a casual way.
What we use: GroupMe
We have remote team members and this tool makes it feel like we are chatting in the office. We use GroupMe for group messaging and staying in touch about everything from the latest social updates, new client successes as well as shout-outs and check-ins.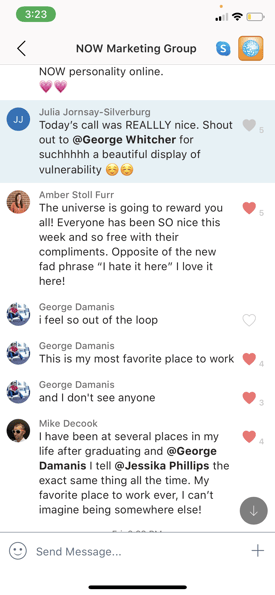 This is our most casual platform (think tons of selfies, jokes, and GIFS) when it comes to communication. Think of this tool as the perfect fit for organizations looking to really keep that culture alive despite working remotely. It's our "proverbial water cooler" of tech tools.
What it is: This is a messaging tool that lets your team stay connected which, is critical in order to keep culture strong. You can create different groups as well as send photos, videos, and gifs.
Why you'll love it: This is where you can encourage your team to have fun, get personal and make each other laugh. For us, this is where the banter flies.
While we definitely DO talk business, this is also where we go to share personal wins and really get to know each other.
GroupMe is a great tool to encourage your team to share photos of their families - furry or human - weekend happenings, and the occasional random throwback photo from way too many years ago.
For virtual teams, having some sort of chat tool that allows your employees to stay connected in a CASUAL way is incredibly helpful in keeping your organizational culture strong.
Digital Human Resources Office:
A digital human resource platform has been the best thing to happen to our business office manager since sliced bread. With a remote team model, ease of use and access to employee information, training materials, and other necessary support materials are crucial.
What we use: HR Partner
When it comes to seamlessly and painlessly keeping all the wheels spinning as it relates to HR for our agency, this is our TOP tool. We literally use it for every single step relating to human resources.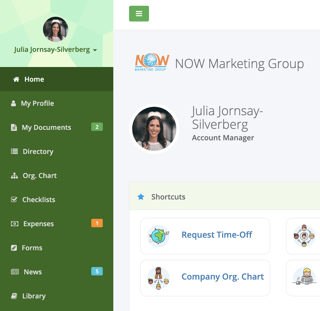 Whether it is onboarding or training new employees, managing and keeping track of vacation time, storing passwords and organizational charts, or having a library of employee development materials and tracking employee certifications and training programs, HR Partner is our one-stop-shop.
What it is: Think of this as your virtual HR department. Managers are able to store notes, track training programs, manage time off and so much more. You can store everything relating to meetings, requests, and certifications in one place.
Why you'll love it: HRPartner makes it so much easier for any organization - virtual or not - to onboard new employees and share access to important organizational information, necessary paperwork, as well as a step-by-step checklist that outlines their tasks. Having ONE tool makes the process seamless for everyone AND creates transparency that only serves to strengthen your culture.
Having a user-friendly, robust tool to execute Human Resources-related items is critical for any organization that is growing its team of remote employees.
Gifting:
Last but certainly not least, we believe in taking time to strengthen relationships with our team and/or community. One of the best ways to do that is to let them know that we're thinking about them!
What we use: SendOut Cards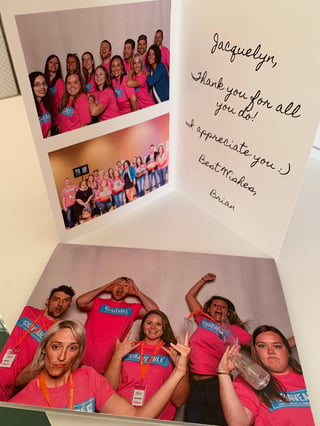 We use SendOut Cards to thank special guests that come on our weekly Magnet Marketers live video show, to celebrate exciting milestones for our team members, reach out and share a personal touch with clients, and so much more.
What it is: Think of this being a fun twist on sending a card, without having to go to the store to get one! You can customize your card completely OR pick from a template. Change the message in the card, add pictures and/or your real handwriting, and then press a few buttons and you're golden! AND they have gifts you can add on if you're looking for a sweet treat or a little item to make someone's day.
Why you'll love it: Snail mail seems to be a forgotten art and we KNOW from experience how getting a customized card just puts a smile on someone's face. Plus, this tool is set up so that you never forget a meaningful moment. There's a database inside of this tool where you can add contacts' birthdays and/or other special dates to remember.
There's no doubt that getting a customized card in the mail is one of the best ways to make someone feel cared about.
---
We can't think of a sweeter way to show your employees or community that you love them than with treats.
What we use: Sugarwish
We've been using this tool for years and have gotten so many others hooked. Our favorite part? >> The recipient gets to choose what they want!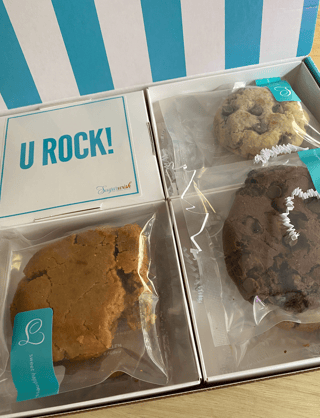 What it is: A treat gifting service that couldn't be easier - for both YOU and the giftee. Enter the email of the recipient, as well as your payment information, and Sugarwish will take care of the rest by emailing them a link to a digital candy store where they can select the treat they want. After selecting their treats and entering their mailing address, within a few days, their treat gets shipped to them from Sugarwish.
Why you'll love it: Sugarwish lets you put your customer in the driver's seat by letting them pick what treat they want. You can set the budget and they get to pick their favorites! You're able to customize the message to pair with the treats, and the overall delivery is SO freakin' CUTE!
We've used Sugarwish to send sweet treats to new team members and/or celebrate special events for people we care about!
Whether you decide to send cards, treats or something else sweet, customized and personalized gifting is an amazing way to deliver exceptional experiences for people that you care about.
Gifting makes people feel appreciated which serves to strengthen both employee engagement AND company culture.
Putting It All Together:
Regardless of what tools you use, it's more important than ever to find ways as an organization to keep your employees engaged, regardless of if they are working in-office or remotely.
By implementing employee-centric tools and systems you are showing up for your team members, who will then feel engaged, appreciated, and connected. A happy team = a happy brand.
Working remotely can be isolating and staying motivated and feeling connected can be a challenge for employees; with tools like these, it's easier to create that feeling of camaraderie and accountability.
What does your organization do to show your team that you care and keep culture strong?
We'd love to hear about some exercises OR tools below!