Wow... Social Media Week Lima 2022, the tenth year of our annual conference, took place on June 15 + 16, 2022, and we are still riding the amazing energetic high!
We are amazed by how much value was shared in just 2 short days. There were a lot of connections made, and it made our hearts swell.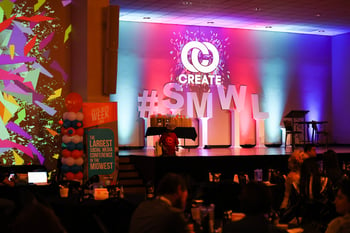 Not to mention, our incredible speaker lineup blew our minds and got us ready to truly step into the metaverse and Web 3.0 with more clarity, confidence, and conviction.
There was a feeling of collaboration and creativity in the air between all of the attendees, speakers, sponsors, and NOW team members! It truly was one of the most interactive and community-oriented years we have ever had for our conference, and it was clear to see that everyone was in Lima with a goal of connecting.
Co-Creation At Its Finest:
The theme of this year's conference was #CoCreate because the future of digital marketing and Web 3.0 is all about community.
Brands have more opportunities now than ever before to lean into their community and start to collaborate on content and marketing messaging.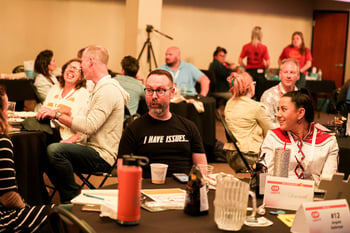 With creator monetization and audiences being the ones who determine the value of a piece of content, now is the time to truly amplify your brand's presence by collaborating with others.
By coming together with your customers, team members and/or other industry peers, you have the ability to create value for all of your audiences in ways that you never could alone. This expands your reach and awareness, while also serving to showcase your knowledge/offerings.
Co-creating content, experiences, messages, and moments is how we set ourselves apart and truly show our people that we care.
This is how brands become memorable and develop loyal customers that help drive repeat and referral business.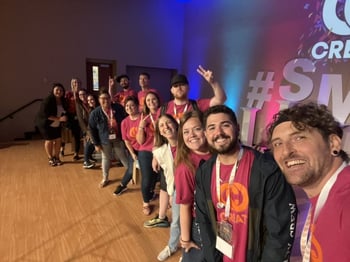 The Top Takeaways:
Not only did our speakers deliver by sharing so many raw and personalized stories on stage, but they each took their own unique spin to tieing the theme into their specific area of expertise.
The result? >> SO much value for our attendees, who got to learn from a diverse group of speakers with different areas of expertise, experience, and background.
We encourage you to check our speaker lineup out and start following them on social media because the best part is these speakers don't just shine ON stage.
These speakers truly shine everywhere they show up, which is why we asked them to be a part of our event. They are heart-centered and deeply passionate about what they do, and MAN did they drop value bomb after value bomb at the event.
Here are our top takeaways from Social Media Week Lima 2022!
Day 1: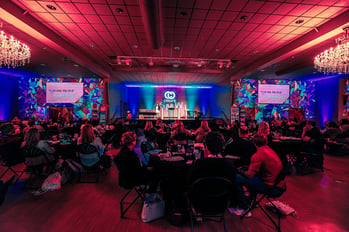 Entering the Metaverse: A Co-Create Commerce
Jessika started off the day with a bang, sharing all about the power of the metaverse and how a new way of interacting is opening up as a result of these technologies.
What's truly important for brands to realize is that humanity is at the forefront of what the customer wants to see. The brands that show up to out-care the competition will be the brands that become memorable.
It's all about getting invited into the conversation that is happening about our brand online. By treating our customers like VIPs and working to collaborate with them on content, we can shrink the distance between ourselves and our community.
"If we know what we're truly here to do and how we want people to feel about us, then we know who to hire and work with." @jessikaphillips

(click to tweet)
We can't create an amazing experience unless we start from the inside out. When you invest in your brand's culture, you effectively turn our followers into fans, clients into advocates, community into collaborators, and team members into evangelists.
Our biggest takeaway >> Relationships are the currency of business and experiences are the way transaction is exchanged. The metaverse is just showing up to give us another way to shrink the distance between us and our customer.
Follow Jessika on LinkedIn, Twitter, Instagram, and Facebook.
---
Mark Suter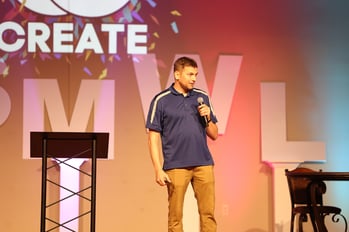 The Future of VR In Business
Mark successfully demystified the world of virtual and augmented reality with his presentation that truly opened our eyes to the power of these technologies and how brands can start to use VR in meaningful ways.
VR is exploding right now and commercial use is only growing, which means there are so many different ways that your brand can start to conceptualize how you could use these technologies to solve problems and provide interactive experiences.
For instance, by using interactive demos, you're able to provide ease of access and exposure to things your audience would have never seen before!
"To be immersive, it does not need to be photorealistic" @garlicsuter

(click to tweet)
Our biggest takeaway >> VR is not a magical bandaid to solve your problems, rather it's an incredible opportunity for brands and it's much more approachable than you think.
Follow Mark on LinkedIn, Twitter, Instagram, and Facebook.
---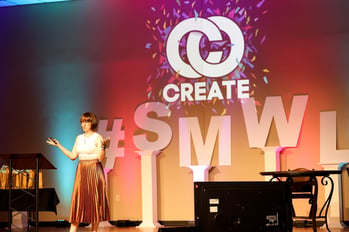 How To Generate More Leads By Crafting Your Unapologetic Message
During her talk, Bri inspired us to remember that we get to be ourselves in business and it's critical to let go of who we think we should be because we are the biggest superpower in our businesses.
By being your authentic and unapologetic self, the right kind of customers gravitate towards you.
When you truly know what makes you unapologetic in the world, you get to do the fun and creative work of figuring out how to express that online.
"The biggest blessing of entrepreneurship is that we get to make our own rules and dance to the beat of our own drums." @briseeley

(click to tweet)
Our biggest takeaway >> Spend time figuring out what makes your brand unapologetically unique and what it looks like to be more unapologetic in your business.
Follow Bri on LinkedIn, Twitter, Instagram, and Facebook.
---
Brian Fanzo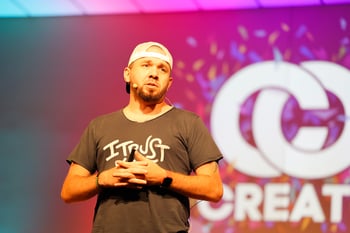 NFTs for Small Businesses And Entrepeneurs: Why You Should Care Even If You Don't Want to Collect or Create Your Own!
Brian had the entire audience interested as he discussed NFTs, non-fungible tokens, and the direction that we're heading as digital marketers.
Right now, we're all going on a journey but it's truly not even about technology. It's about utility, ownership, creativity, and community.
"We're moving towards an area and a place in digital marketing where we can put technology in the background." @isocialfanz (click to tweet)
NFTs aren't just a fad; this is the direction that we're moving as an industry and there are so many opportunities to dip your toes into the metaverse world!
Our biggest takeaway >> NFTs are about digital ownership and creating a sense of community more than anything else.
Follow Brian on LinkedIn, Twitter, Instagram, and Facebook.
---
Juntae DeLane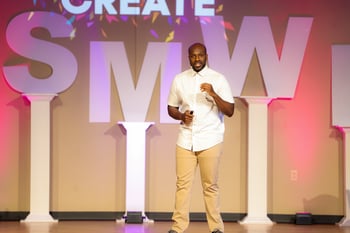 Future-Proofing Your Digital Brand: 3 Ways To Prepare for Post-Pandemic Marketing, the Metaverse and Web 3.0
Juntae's talk was all about the evolution and growth of the digital marketing industry and how looking at it can truly help to future-proof your brand in today's marketplace.
As the marketing industry has evolved, we've seen a shift towards brands being more human in their marketing.
Consumers now hold brands accountable for who they associate with, which means brands need to focus on their audience and the experience they are providing.
"A superior experience is what is going to make your customers loyal." @juntaedelane (click to tweet)
Our biggest takeaway >> Preparing for the new normal - which means constant shifts and evolving to a more human approach to marketing - is the first step to future-proofing your brand. AKA adaptability is key!
Follow Juntae on LinkedIn, Twitter, Instagram, and Facebook.
---
Julia Jornsay-Silverberg and Andres Medina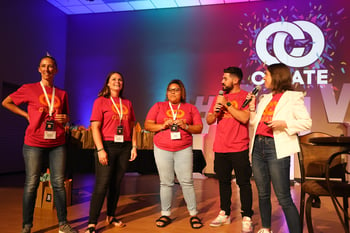 LIVE NOW & Them Show
Julia and Andres took our audience through an in-person version of our monthly laugh and learn live video show, NOW & Them!
They shared the latest updates and news across various social media platforms, gave some shout-outs to shine a light on our NOW team, and then had a lot of fun by playing our favorite game that we play every month, "This or That." (We also played Hired or Fired with the team. ;) IYKYK)
Be sure to tune into the next episode of our show! We go live on the first Thursday of each month at 3:30 pm EST!
Our biggest takeaway >> Having fun and bringing both your personality and expertise to the table is the best way to create a memorable show that makes people want to tune in again!
Follow Julia on LinkedIn, Twitter, Instagram, and Facebook.
Follow Andres on LinkedIn, Twitter, Instagram, and Facebook.
---
Katie Brinkley, April Spencer,
Sarah Kelsey and
Andrew Wehri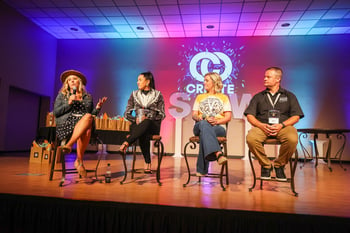 PANEL: CoCreate Collabs, Commerce & Community Advantage
This panel discussion was all about the power of Co-Creation for brands and how asking questions and learning from our audience is gold when it comes to collaboration and content creation.
By listening closely to both your audience and your vendors and about what they need, want, and care about, you have the chance to show up for them and deliver.
Right now, there seem to be more chances than ever to lean into the power of community and come together with like-minded individuals to solve problems and make the lives of your customers better.
"Once you get a customer, it's up to you to treat them like gold because they truly are." - Sarah Kelsey (click to tweet)
Our biggest takeaway >> There are so many opportunities to work with other local businesses, and/or complementary businesses as a way to offer value and solve problems for both sets of audiences!
Follow Katie on LinkedIn, Twitter, and Instagram.
Follow April/Spencer's Sugar Shop on Instagram and Facebook.
Follow Andrew/1820 BrewWerks on Facebook, Twitter, and Instagram.
Follow Sarah on Instagram and Facebook.
---
Phil Pallen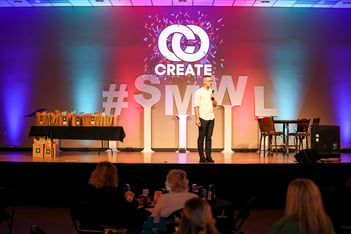 Steal My Content Strategy
Phil's presentation was all about developing a strong, sustainable, and effective content strategy.
During his talk, he shared the importance of building brand advocates and using your time wisely.
Think about time like recess; it's the limited commodity that everyone is chasing, whereas content is an unlimited resource.
Given that your brand's audience truly exists on every single social platform, the most important thing you can do is pick the platform that you most enjoy creating content and spending time on, and going all in there.
"A brand is your playground; it's the way you show up and the consistency you achieve between the in-person experience and the online version of ourselves." @philpallen (click to tweet)
Our biggest takeaway >> A strong content strategy starts with research, then writing, filming, editing, and then finally, posting. Take the time to think through your strategy and don't rush the process because that's how you'll end up standing out.
BONUS: Phil made an awesome FREE guide for you!
Follow Phil on LinkedIn, Instagram, and YouTube.
---
Ryan Koral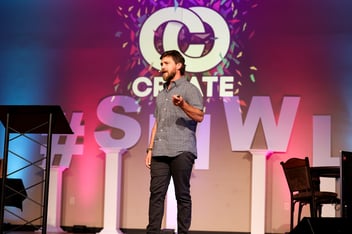 Why Video is Essential To Marketing in The Metaverse & How To Get Started
During Ryan's vulnerable talk, he shared about imposter syndrome, how each one of us truly has a gift, and how video can be what helps us translate that gift to the world.
"Every voice matters; every gift that you have matters." @ryankoral

(click to tweet)
He inspired us by reminding us that if we don't do the thing that we feel we were made to do, we're truly doing a disservice to the world and all of those that we could help.
Here are a few different kinds of videos that you can start to create to get started: stories that share a transformation or positive review for/from your clients, showcasing your capabilities/how you do business, and social content to show a process and/or feature you/your team.
Our biggest takeaway? >> Start creating video content because it's the most human kind of content that you can create and it's what will set your brand apart from most because of its humanity.
Follow Ryan on LinkedIn, Instagram, and Facebook.
---
Crystal Tosh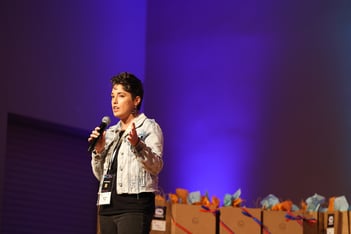 Authenticity Is Your Superpower
This inspiring talk was all about removing the mask of who you think you should be and living in your truth because you are your secret sauce.
Crystal shared that the best way to transform your business is by being your true and real self because what you have inside of you is exactly what you need to share with the world!
This talk was a permission slip to have the courage to say the things that you want to say and do business the way you want!
"When you live in your truth and do things that make you feel good, you create marketing material that attracts the right people." - Crystal Tosh

(click to tweet)
Our biggest takeaway? >> Your vision will grow over time and when you go to conferences like SMWL, you will meet other speakers who speak light into you.
Follow Crystal on Instagram, and Facebook.
---
Jordache Johnson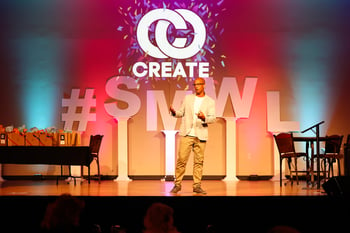 A Relationship Growth Engine: How To Consistently Unlock Power Friends That Maximize Your Impact And Scale Your Revenue
This session was all about building relationships and creating connections and how doing so will change your life and transform your business.
Jordache inspired us to start to treat our business like a machine and work to create systems.
"Busyness is not business. You don't need to put 12 or 16 hours if you're working on the right things." @jordachejohnson (click to tweet)
By thanking others and showcasing your appreciation and being an authentic and honest human, you have the ability to create relationships that open up doors for years to come.
Our biggest takeaway? >> The best way to get over imposter syndrome is when someone tells you that you made an impact in their world or life. This is a game-changer to start applying to your life; think of the impact you could make by just thanking one person per day!
Follow Jordache on Instagram, Facebook, and YouTube.
---
Judi Fox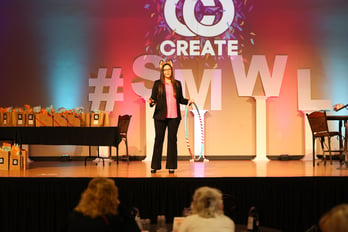 Creating a sustainable online strategy using LinkedIn
Judi's session was informative, engaging, and inspiring, as she kicked it off reminding us that people will never forget how you make them feel. Oh, and did we mention that she had a hula hoop!?
The best marketers think about how their content makes others feel. If you want to make people feel good and also create a sustainable social media strategy, you have to be willing to shine a light on others and invest in building relationships.
A few key tips >> focus on being visible, growing your network, and creating evergreen content.
"#LinkedIn is giving you power, so give it that focus and spend a few days on focusing on LinkedIn." @judi_fox

(click to tweet)
By making it easy for people to work with you, and by actively engaging with others, you play into the law of reciprocity and encourage people to take reciprocal action to support you!
Our biggest takeaway? >> Turn on the bell and encourage people to turn notifications on for you because the bell, and hashtags, outweigh the algorithm and have lasting power on LinkedIn.
Follow Judi on LinkedIn, Instagram, Twitter, Facebook, and YouTube.
---
Rich Brooks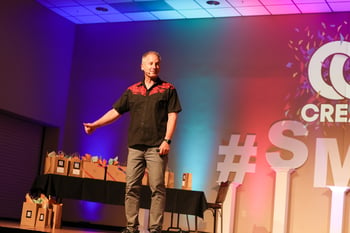 The Remarkability Formula
Rich's session inspired us to figure out what makes our brands remarkable and to bring that front and center in our businesses.
The reality is that what makes us remarkable already exists, we just have to name it and speak it out into the world.
Rich shared a great system to keep in mind - the 4 f's - find, focus, forge and frame.
With focus, we niche down until we're the only person offering that particular thing. With forge, we're going to offer something extrinsic, and through frame, we'll reposition the offering in a new and powerful way.
"Marketing is rarely a differentiator. It's an amplifier and a multiplier, but if you have nothing of value to share, your result will be zero." @therichbrooks

(click to tweet)
Our biggest takeaway? >> You have to be incredibly clear about exactly how you communicate your remarkability to your audience. Be yourself and frame your message with intention, because that is how you're going to make it meaningful and become memorable.
Follow Rich on LinkedIn, Facebook, Instagram, and Twitter.
---
Day 2:
Dorien Morin-van Dam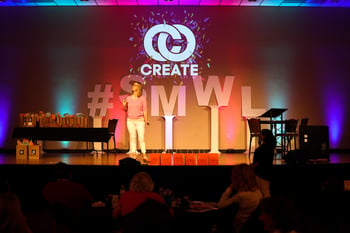 Agile Marketing: The Ultimate Co-Creation Framework
Dorien inspired us to roll up our sleeves and take action to adopt the agile mindset in her valuable talk to kick off Day 2.
Agile marketing is making relentless improvements, exploring and discovering new things, collaborating with clients and team members, and having a willingness to fail early and learn from it.
The values of the mindset are: individuals and interactions over processes and tools, working software over comprehensive documentation, customer collaboration over contract negotiation, and responding to change over following a plan
"Agile means responding to change instead of following a plan." @moreinmedia (click to tweet)
Adopting this mindset is a game-changer in business because it transforms your approach. Rather than trying to complete a project on the first go, it means understanding that the best thing to do is put in minimal effort so that you can gain feedback and continue to iterate things based on that feedback.
Our biggest takeaway? >> The biggest benefits of being agile are productivity, transparency, measurability, prioritization, adaptability, customer satisfaction, and competitiveness.
Follow Dorien on Twitter, Instagram, and Facebook.
---
Kim Garst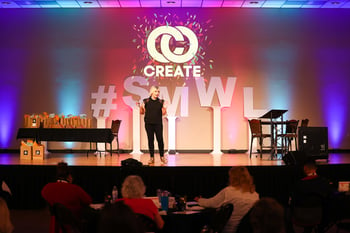 The #1 Digital Marketing Shift You Need To Know About
The digital marketing landscape is shifting and Kim Garst is someone that can truly speak to the change in the industry and inspire all of us to take meaningful action for our businesses.
Right now is the time to truly look around and see what your competitors are doing, what is driving engagement and interaction, and not being afraid to test out new tools and approaches.
"It might be time to rebrand your homepage. By taking the time to invest in your website, you make it more workable for your business." @kimgarst (click to tweet)
Our biggest takeaway? >> The most important thing your brand can do is get really clear on exactly what your brand message is so that you can use it to attract the right customers.
Follow Kim on LinkedIn, Facebook, Instagram, Twitter, and YouTube.
---
Tony Christensen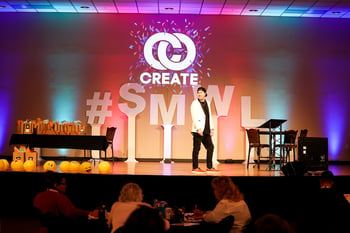 The 5 Keys To Successful Facebook Ads
In this high-energy session, Tony shared all about the keys to creating successful Facebook Ads.
It all starts with the foundation of goal setting and thinking about what you want to spend or achieve with your ads. Just like building a house, you can't skip the foundational elements of the process.
Once you've created goals, you can move on to the research phase. Research is so important because it's how you uncover so much useful information about our audience and our competitors!
"It's so important to find out why people love working with you and love coming to your business, so talk to your customers and find out what they need and are looking for." @tonydoesads (click to tweet)
Our biggest takeaway? >> Look at your competition and do research on what their customers are saying as a way to understand how you can better show up and serve your audience. Narrowing in on the keywords and terms being used in reviews can lead to so much insight!
Follow Tony on LinkedIn, Twitter, YouTube, and Facebook.
---
Jacquelyn Beckner, Olivia Smith, George Whitcher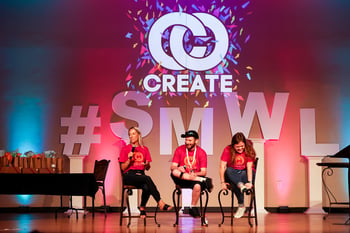 PANEL: Growing your Business From The Inside Out
Our NOW teammates Jacquelyn, Olivia, and George took to the stage to share all about building a brand and how it truly starts from the inside out.
They shared about how they each approach their various roles on the team and how our culture shapes how we show up for each other and our clients. For instance, one of the things that we pride ourselves on at NOW Marketing Group is not saying no. We work really hard to create custom solutions that best fit the client and what they need.
"We're working more strategically in helping brands to establish their goals and execute them." - Jacquelyn Beckner (click to tweet)
With the industry changing so much, so has the role of the traditional account manager. This means that our team is constantly learning and investing in training so that we stay on top of the new tools and trends.
Our biggest takeaway? >> Working at an agency means that you have to be able to pivot really quickly and jump onto something to help a client as needed.
Follow Jacquelyn on Facebook, and LinkedIn.
Follow Olivia on Facebook, and LinkedIn.
Follow George on Facebook, and LinkedIn.
---
Owen Hemsath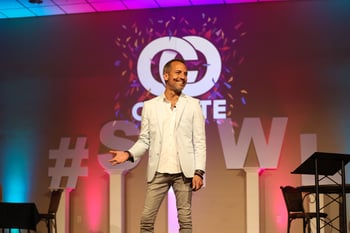 10x Your Influence with Strategic Video Collaborations
In this super informative session, Owen inspired us to lean into the power of collaborations as a way to grow our video marketing efforts and drive more views and engagement.
Collaboration is truly the foundation of business and now is the best time to start to map out a plan for how your brand can collaborate with others.
Content collaborations are memorable; watching them takes us back to a moment in time! Not to mention, this content is an incredibly effective way to drive growth because you're expanding your audience AND the value provided.
"Collaborations scale growth because when you collaboration with another industry expert, you're immediately introduced to their audience with credibility and authority." @owenvideo (click to tweet)
When you start collaborating by partnering on pieces of content with defined or expected outcomes, you're able to 10x your industry, credibility, and followers!
Our biggest takeaway? >> There are so many kinds of collaboration to try. We recommend partnering with clients or teammates to share success stories, interviewing industry or local leaders, and sharing stories from your best customers to name a few!
Follow Owen on YouTube, Twitter, Instagram, and Facebook.
---
Jeff Sieh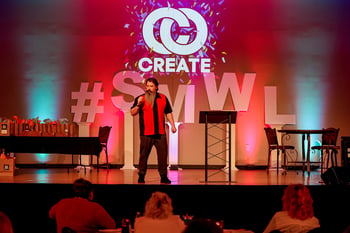 Repurposing with Purpose
In this talk, Jeff reminded us of the power of stories and how having a signature story that you use and share with your audience is a great way to build relationships.
Jeff discussed the power of repurposing content and how the goal of repurposing should always be to shine a light on the guest and highlight them. He also shared a number of ideas for how to start repurposing content such as turning a live show into a podcast!
"3 R's of #Repurposing: is it still relevant? Does it need to be refreshed? How can you make it more remarkable?" @jeffsieh

(click to tweet)
Our biggest takeaway? >> Find creative ways to start taking content for one channel and turning it into content that suits another channel to have a bigger impact.
Follow Jeff on LinkedIn, Facebook, Pinterest, and Twitter.
---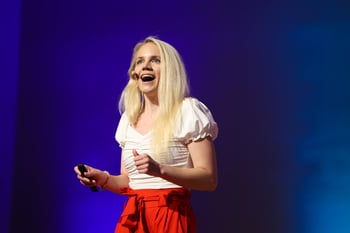 The Secret to Achieving Hypergrowth by Focusing on the Customer Experience
In this engaging session, Jennifer talked about how relatability is a huge driver of success.
Right now, brands have the opportunity to be leaning into their humanity and as a result, creating content that is more relatable than ever. Relatable content shows your audience that you care about them and their experience, which is key!
A great exercise for brands >> Ask yourself what the best customer experience we ever had and why. Doing this will help you tap into the mindset of a customer and have ideas for how to show up for them in meaningful ways.
"Focus on the customer experience in all aspects of your business." @jenniferweather

(click to tweet)
Our biggest takeaway? >> Do a mid-year audit as a way to focus on what you need to create from a brand content perspective so that you're hitting all of your goals.
Follow Jennifer on LinkedIn, Twitter, Instagram, and Facebook.
---
Kate Paine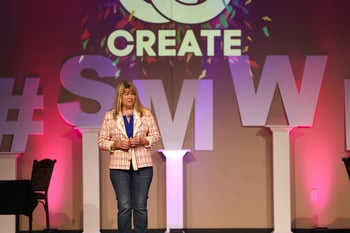 Grow Your Reach & Influence with LinkedIn Creator Mode
Kate's talk really got us thinking about how to create better content on LinkedIn and utilize Creator Mode as a way to grow our reach and influence.
She inspired us to ditch the "resume talk" on LinkedIn and truly start to show up as a real person. While it's easy to think you have to be extremely professional, she reminded us that we can be both human and professional on the platform.
The biggest untapped functionality >> Creator Mode. This opens up doors for growth because it gives you instant access to tools and features to grow your audience base.
"See yourself as a resource vs. a resume. This is where thought leadership begins on LinkedIn." @kpaine66 (click to tweet)
Our biggest takeaway? >> Creator Mode grants you access to these 5 features turn the connect button to a follow, display topics you post about, see activity and featured highlighted, get access to LinkedIn live AND be eligible to be featured as a creator by LinkedIn.
Follow Kate on LinkedIn, and Facebook.
---
Matt Johnston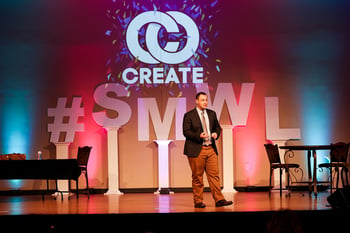 How to Co-Create with your Customers for the perfect Video Ad
Matt ended our conference by diving into the art of creating the perfect video ad and how using empathy in our videos is a true superpower that will set your brand apart.
Matt shared his 4 c's of the family brand: conversations, credibility, celebration, and care. All of these truly help our brand to build relationships with our team, clients, and community.
A great idea for brands >> Start gathering testimonials from your team, clients and community. The important note is that your brand must direct/be a part of the conversation/testimonial gathering because otherwise, they'll likely end up lacking emotion.
"If you don't direct your testimonials, there will be no emotion in that video and emotion is the only thing you need in that video." @bymattj (click to tweet)
The best questions to ask your audience are: what was the problem you faced before using our brand? How did that make you feel? What was it like using it for the first time? How do you use this in your daily life? How does it feel to have the problem solved?
Our biggest takeaway? >> Throw a party for your clients and invite them all to come to a studio for a day! This way, you can direct the shots to ensure you get emotional clips, AND save time and money by recording all of the testimonial footage that you need in one place!
Follow Matt on Youtube, Twitter, and Instagram.
Post-Conference Action Steps:
It's all too easy to get information overload after attending a conference.
That's why we want to help you implement everything that you learned!
Or hey, maybe you're reading this and didn't even attend the conference! We're here to help you too ;)
We encourage using our post-SMWL action plan below as a way to tap into the power of the ideas generated in Lima for your business!
Here is our post-SMWL22 action plan:
Week One - June 20-26, 2021:

Make your "critical three" list - aka write out the 3 most critical action items that you want to take as a result of listening to all of the amazing speakers. (Here's a tip for one item: join our SMWL22 Facebook Group if you haven't already!)

Some other suggestions for action items that you can take:

Follow our speakers on social media
Exchange phone numbers with someone you met at the conference that you'd love to have as an accountability buddy for taking action
Revise your website copy or social media posts to be more authentically you

Week Two - June 27 - July 3, 2022:

Now that you have a plan, it's time to take action. Co

mplete every single item in your critical three list. Ideally, do the first item on your critical three list today and work at it until it's finished!
Week Three - July 4 - 10, 2022: Connect with people from the conference and be sure to follow up with those that you think could be a great fit for co-creating with! We recommend that you reach out via email or social media and start a conversation about how you might be able to work together or help each other with your goals!

Week Four - July 11 - 17, 2022:

It's time to open your notebook from Lima and browse back through the notes you took. It's amazing how quickly time flies and there's a good chance that you haven't been able to follow up with everyone you wanted to and/or take action on everything you had in mind when you left Lima. Now is the time to make sure you do them!

Pro tip: Put these to-do list items in your calendar. This is a great way to hold yourself accountable.

Week Five - July 18 - 24, 2022: Mark your calendar for SMWL23! Before you know it, June 21 + 22, 2022 will be here and we'll be doing this all over again!

Tickets will never be priced as low as they are right now, so snag yours!

(You know the FOMO will be brutal if you don't.)

Week Six - July 25 - 31, 2022: Now that you've acted on your critical three and followed up with some folks, give yourself time to let everything just marinate in your head. Soak it all in and be proud of yourself for everything you did to get to Lima AND take action afterwards. You're a rockstar, friend!
Conferences can be overwhelming at times, and the emotional crash afterward is totally "a thing," which is why we're here to help you keep that momentum going!
---
Sponsors:
Our event truly would not have been everything that it was if we didn't have the generous and incredible support from this amazing lineup of businesses:
Thank you SO much for all of your support! Our conference would not have been what it was without you.
What's Next:
We already feel excited as we look ahead to #SMWL23 which will be taking place on June 21 + 22!
You're going to want to snag your ticket today, as we have a HUGE sale going on until the end of June 2022! Tickets will never be priced as low as they are today.
Do you have a takeaway from SMWL22 that you want to add to our list? We'd love to hear it! Share it in the comments below!