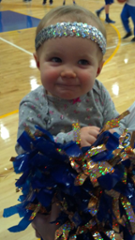 We live in a visual world and I'm a visual girl… oh excuse me while I quiet down my inner-Madonna.I want to introduce you to one of the two cutest children I have ever seen. Meet my model for today's blog. This is my baby, she is about 9 months old in this photo, so between my photo archives and Spotify playing Madonna in my ear I'm having a "Flashback Tuesday."
My little cheerleader is going to help me introduce you to Aviary, one of our top 5 killer apps to make you an Instagram phenom. I happened to stumble upon Aviary, then doing a little digging (and after reading Ross' blog linked above) I found it to be a pretty awesome photo editing tool for my iPhone. Android offers the app as well, through Google Play. I think Mashable described it best and simply as: "A one-stop shop for any photo editing need."
Aviary is free - which I love - however it does have enhanced package options available in their shop for a small, nominal price (the most expensive purchase would be $1.99).
It is pretty much a powerhouse when it comes to photo editing. It offers all the basics, such as changing the photo orientation, cropping, and adjusting the lighting, color and sharpness. What makes this app so amazing is the seemingly endless amount of filter options. We all love a good filter to pop on a photo before posting, just to give you a quick "polish." With these filters you can make your everyday photo look like you took the shot with a professional camera… not your phone! The app offers everything from lens flares and soft glows, to ombre tones and color changing techniques. My cheerleader is showing off a few filters: "Food," "Comic," "London," and "Grit." I tried to show a lens flare, because I love them, but my model wasn't having it.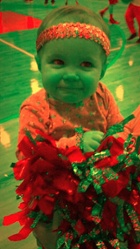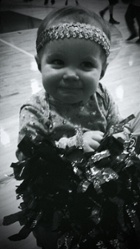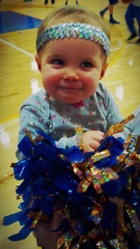 Aviary doesn't just stop at filters and basic editing, they offer frames, stickers and overlays to customize your photo. The frames come in a variety of options - clean professional lines, corner pieces, designed scroll pieces, or fun accents to polish off your edges. Stickers come in every style, design, and even have seasonal options to make your Fourth of July photos pop with a little firework action, or you could turn grandma into an elf for your Christmas photo.
Just like the frames and stickers, the overlays also come in a variety of options. Check out my little cheerleader modeling the "Star" frame-only, the "Star" frame and the "You are my Sunshine" sticker and she also got a little crazy and combo'd the "Star" frame, "Amour" sticker and "Bokeh" overlay.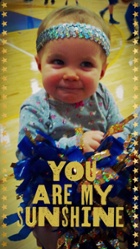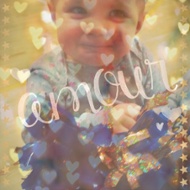 If you'd like to customize your photo yourself and not use a pre-set filter, Aviary has that option also. Again, referring back to those basics mentioned earlier, you are able to modify with those tools, but also you can do a pinpoint focus using a radial or linear point, or create different vignettes - as modeled.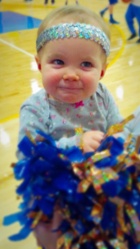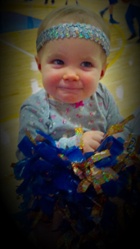 Want to add a pop of color... my favorite editing component are the Splash options as the Cheerleader is showing with her pompom. You can also Meme anything, should you want to add some quick text. While my little cheerleader is a little young for a blemish, but should you have one you'd like to hide, or are suffering red eye from a camera flash, Aviary can take care of those too!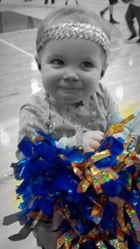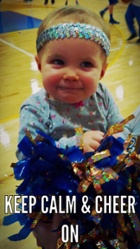 Aviary is literally the easiest and most comprehensive photo editing tool I've used and it is socially integrated. Once you save your edits (by the way if you make an edit and don't like it, swipe right and it'll undo your mistake) your photo will save to your camera stream. From there you can upload your photo to your social platforms, send as an email, text OR you can send your photo directly to your local Walgreens to have prints made.
Hopefully my cheerleader and I have sold you on the benefits of Aviary: Now download the app, and start making your Instagram followers jealous of your Insta-game!!
To learn how successful business use social media click the image below and download some great tips!!