Social media marketers are quickly realizing the power of short-form content.
With the explosion of TikTok, there has been a huge rise in the consumption and creation of short-form videos. It's real, relatable, human, and easy to consume.
However, many small businesses find themselves overwhelmed when it comes to getting started with Instagram Reels. They don't know what to create and fear the amount of time it takes... we're here to help break it down because the reality is, Instagram Reels are extremely powerful.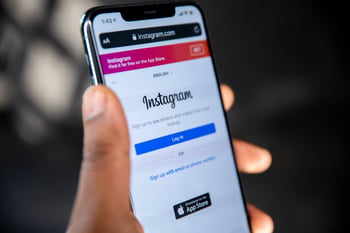 Not only are Instagram Reels popular with users, but the algorithm prioritizes video content, making it more likely for your videos to be seen by your target audience.
It's no surprise that reels have become Instagram's fastest-growing feature worldwide.
So, here are 6 ways to experiment with content for Instagram Reels.
Use Templates:
Instagram recently launched templates on Instagram Reels, creating a framework of clips that match the timestamps of the video.
Templates make it so much easier to get started with reels because you don't have to worry about clipping videos to match the music's beat.
(We used a template for a recent Reel here!)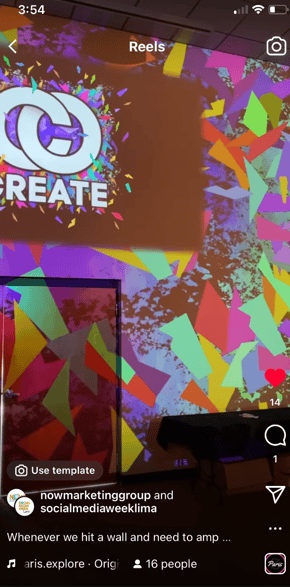 While this functionality was launched for Instagram to incentivize users to make more short-form content, aka compete against TikTok, we love how it's helping small business owners save time in creating content.
We know that Instagram is prioritizing Reels in the algorithm, so it's no longer a matter of whether you should create them. The question is how quickly and creatively you can create them in a way that provides value to your audience and drives engagement.
Templates serve as a way to save time without sacrificing quality, which is something we're always here for.
Do Team Takeovers:
Put your team in the driver's seat and let them record a short video, 90 seconds or less, where they're talking to the camera and sharing a tip, tactic, or tool that they have expertise in. You could also let them record a little "day in the life" reel, showing what it looks like to work at your company.
We love takeovers for so many reasons!
Takeover content is a fantastic way to showcase your culture and give people a feel for your brand. This can help with recruitment AND community-building.
Second, this kind of content is informative and valuable, helping to showcase your expertise and help your audience solve problems.
Third, it is humanizing, as you're shining a spotlight on someone on your team.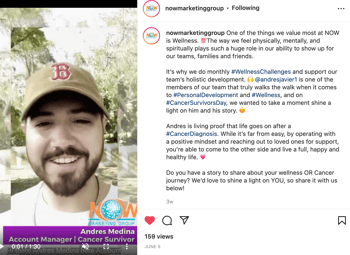 Team tips and takeovers are an incredible way to drive engagement and set your brand apart from your competition because, at the end of the day, people work with you because of your WHY, not your WHAT.
Add Captions To Reels:
This is something to start doing immediately, especially for those Team Tip and takeover videos we suggested above.
Whenever you can, add text to your reels because 69% of video viewers are watching without the sound on.
Most people using social media are browsing and consuming content without sound, so if you're doing a talk-to-camera video without captions, you're missing the chance to provide value through that piece of content.
Not to mention, captions are huge from an inclusivity standpoint.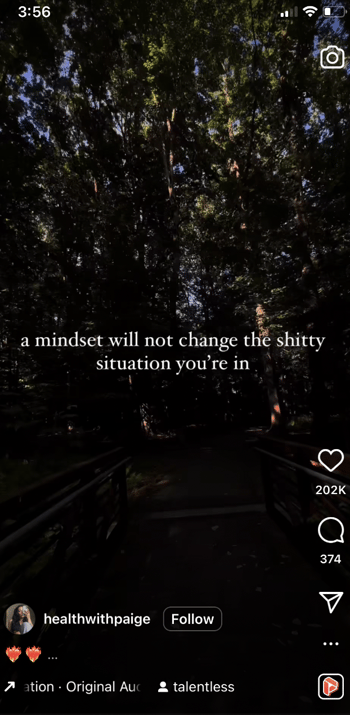 Adding captions to your videos has never been easier thanks to Instagram's caption sticker. Just head to the stickers option in the top right and hit captions to maximize the chance of having your video enjoyed and engaged with.
Try Out Transitions:
Transitions are absolutely something that you should be experimenting with in your Reels, are they are a great way to infuse creativity into your videos and capture eyeballs.
While it takes some practice in both the filming and editing, transitions are eye-catching. Transitions are what capture, and keep, someone watching your Reel.
The idea of a good transition is to show movement.
This means that when filming content, you have to think of having a before and after scene or setting - whether that is transforming from a bare face to one with makeup, going from one location to another, or handing something off from one person to the next.
Here are a few ideas to try for your transitions:
Stomp: Place the camera on the ground for the first clip and record yourself walking over to it and "stomping" on the lens. For the second clip, once you've changed "scenes" or wardrobe or set your next shot, you're going to want to film it the same way, except this time, you'll be pulling your foot up from the stomp on the camera, pick it up and pan around to show where you are or do a fun dance of some kind. (We LOVE

this reel

from Rianne as an example.)
Blur: To create this transition, pick the camera up and move as soon as you're done doing whatever you're doing in the video - showing your outfit or sharing a tip. You can move it up, down, or to the right or left. The idea is to create a blur with the camera. When you record your second clip, you will want to start it with movement. If you had moved the camera up in the first clip, you'll want to move it down in the second clip. (We love how Jera rocked out the door knock transition in

this Reel

.)
Jump: This might be the easiest transition, as all you have to do is set the camera down and capture yourself jumping up in the air for both clips! People love to do this to show a before and after, and/or a change of location.

(We love how Jessica Ollie does this in

this Reel

.)
The key to great transitions is truly in the editing, so be sure to take the time to play around with editing and watch the video back.
It won't come naturally at first; we can promise that. We can also promise that with each Reel you create, you will get better!
Co-Create:
If you haven't caught on by now, we're co-creation fans. It's why it was the theme of #SMWL22 and is a focus of ours in everything we're currently doing.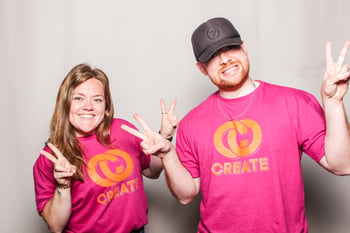 Collaborating with others is a fantastic way to provide value to your audience as well as that of your collaborator and expand your reach in the process. Not to mention, Instagram has made it easier than ever to start doing this!
You can now add a collaborator to a post so that the content appears on BOTH of your profiles.
This is SO powerful and something we've been experimenting with. We have shared feed posts and Reels to our NOW Marketing Group AND Social Media Week Lima Instagram and it's neat to see that we get engagement from different people on different accounts.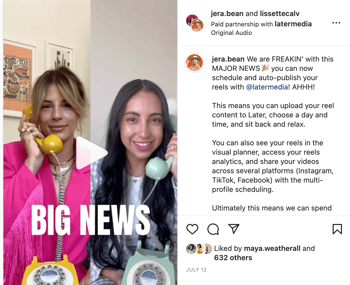 Start thinking about how your brand can use this feature by creating a list of people with shared values, interests, or industries that would make sense to collaborate with. (We love this example of a collaboration between Jera and Lisette.)
Have Fun:
It might sound silly and like a no-brainer, but we're hearing a lot of complaints about Instagram these days.
We understand how frustrating it can be as a brand to see your reach decline, and it can feel overwhelming to think that you have to shift your strategy entirely to video and short-form content.
While we think feed posts are here to stay, it's important to pay attention to the signs we're seeing which is that short-form content is extremely powerful and popular right now.
Embrace the opportunity to jump in with both feet and have FUN!
Start experimenting as a team with how you can provide value to your audience, co-create with your community and showcase your culture and humanity as a brand.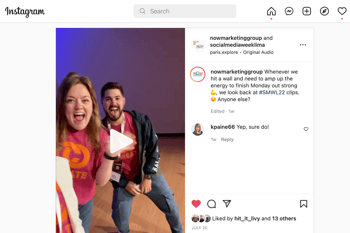 Something to keep in mind: While it can be tempting to jump on Reels using trending audio sounds, keep the Reel related to your core business and how you help people.
We love this Reel by Sydney Claire because it's a great way to show that you can totally rock out with your unique personality AND share value with your audience. (Oh, and the fact that she's sharing 20+ ideas for Reels IN the Reel is a total bonus.)
Putting It All Together:
There's no doubt short-form content will continue to rise in its power in the algorithm and popularity with consumers, making it a huge opportunity for brands to jump on.
By using templates, doing team takeovers, using captions, testing transitions, co-creating, and most importantly, having fun, your brand will be on the path to creating a sustainable short-form content strategy that provides value to your audience, humanizes your business, and drives more engagement!
Are you creating Reels yet for your brand?
We'd love to see what you've made! Share the link in the comments below!