When it comes to putting on digital marketing events, we've gotta tip our hats to our friends Agorapulse.
Given that the Social Pulse Summit: Twitter Edition AND their LinkedIn Summit blew us away, we weren't surprised to have an even better experience with their Instagram edition.
The event was structured similarly to their previous summits in that there were 2 live keynotes and 30+ breakout sessions.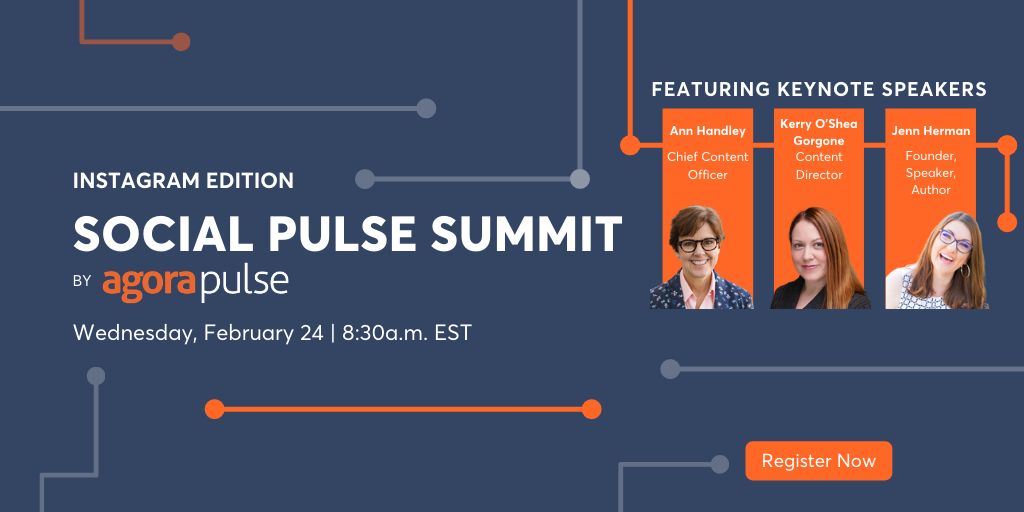 The role of a social media manager is all about testing the newest features and functionality on our favorite tools. We love any opportunity to learn from the best.
The Summit speakers inspired us to put humanity into the forefront of our content creation efforts so that we can really use Instagram for what it's there for: building relationships.
Oh, and did we mention that the summit is FREE!? You can access all of the sessions until March 24!
While we haven't been able to tune-in to all of the incredible sessions yet, we put together our top takeaways from the ones we have watched:
Blending the Personal + Professional...Without Getting In Trouble or Being A Jackhole - Opening Keynote
Ann Handley + Kerry O'Shea Gorgone
Follow Ann on Instagram
Follow Kerry on Instagram
Ann and Kerry dove into the delicate art of being personable without being too personal on social media. Ann kept us laughing with her relevant and topical examples like the "I am not a cat." video.
Through her talk, Ann continued to make points that really illustrated the art of storytelling.
The way we share our story is what really matters. It's so much more about how we tell the story than the story itself.
We were also reminded of how important it is to provide context on Instagram. It's a visual app, therefore it's important we take the time to write detailed captions that truly give our image context.
It's all about letting our audience know WHY they should care.
The strongest captions on Instagram are ones that compel the audience to read AND tap into senses beyond just visual. If you can get someone to really think about what something feels, sounds or tastes like, you're going to be memorable.
Top Takeaway >>> Your marketing mindset matters more than your marketing tactics.
Click here to watch their session.
Content Pillars & Instagram
Christine Gritmon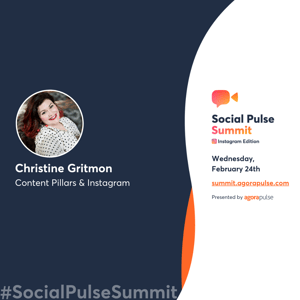 Follow Christine on Instagram
Christine never disappoints when it comes to taking the digital stage and this time was no exception.
She wowed us with her in-depth talk all about content pillars and how we can create them for our brands. Not only did she give epic examples of creators, but Christine reminded us how important it is to be intentional about posting. Keeping that 3x3 grid in mind is crucial!
Her top tips?
Understand your brand voice, tone and colors so that you can really make your content and Stories highlights branded!
Take advantage of templates through tools like Canva
Maximize your video impact by turning Stories into highlights
Oh, and use hashtags! They're super helpful for expanding the reach of your content.
Top Takeaway >>> Your content pillars should be ever-evolving. Decide what they are now, but keep in mind that they'll likely change over time.
Click here to watch her session.
How To Activate Your Online Community To Create Campaigns That Convert
Amy Tischler & Caitlin Jenkins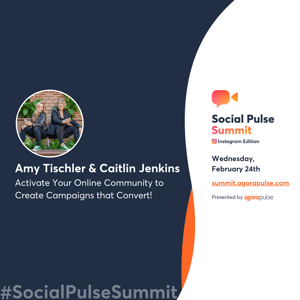 Follow Amy on Instagram
Follow Caitlin on Instagram
Follow Simply Social on Instagram
This dynamic duo did not one, but TWO talks for this event... because when it comes to Instagram, they know their stuff.
As founders of an Instagram influencer agency, these two truly live and breathe the platform and understand how to best tap into its various features and functionality.
Some of our favorite takeaways from their talk on creating campaigns that convert:
Be clear on your campaign goals
Think about what really drives your audience to action (plus, what needs and challenges they have) in order to figure out what you can deliver
Take time to dream big to come up with creative concepts that will excite your community!
They also blew our minds with their in-depth workshop on Instagram Guides!
This relatively new functionality is amazing for micro-blogging, creating catalogues, travel guides, look books, instruction manuals, gift guides, directories, how-to guides and more!
There are three kinds of guides:
Place: This is perfectly suited for when you want to use geo-tagged content. Think > a guide to the top brunch spots to visit in your city.
Product: This is where you can bring together your favorite products and make a catalogue. Think > holiday gift guides!
Post: This is the easiest entry point. You can make a guide from a post you've created OR saved.
Top Takeaway >>> When making a guide, you want to gather the assets first. Each guide needs a title, cover photo and at least 2 items.
Click here to watch their workshop on Instagram Guides.
Click here to watch their talk about How To Activate Your Community To Create Campaigns That Convert (which comes with a FREE WORKBOOK!)
Instagram Marketing Strategy for 2021
Ali Mizra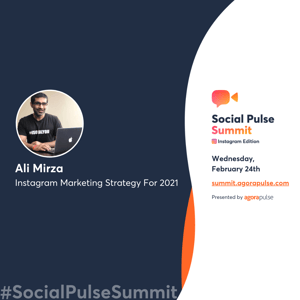 Follow Ali on Instagram
Ali spoke all about how critical strategy is on any platform, especially Instagram. Without a strategy, you won't know whether you're making progress. You need a plan that details the daily action you're taking, and that's what Ali breaks down.
He gets you to think strategically about what your goals are, who specifically your target audience is, where they're spending time on the platform, what hashtags they use, who they follow, and how you can get in front of them in order to capture their attention and give them what they want.
Top Takeaway >>> You have to have a strategy in place in order to truly make progress towards growing your Instagram account.
Click here to watch his session.
How To Use Instagram To Create Deep Connections
Julia Jornsay-Silverberg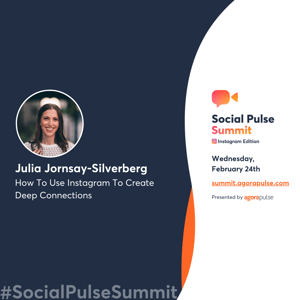 Follow Julia on Instagram
Julia's anti-highlight reel approach to social media reminded us that showing up as we are is the best way to build relationships on Instagram.
In her talk, she dove into what kinds of content to create specifically for the feed, Stories, Reels and IGTV, and shared some examples of her favorite creators that do a good job at being human. Julia shares her top tools to use on the platform, as well as what data to dive into as a way of driving your content strategy forward in a meaningful way.
We love how she ends her talks on an inspirational note, reminding us that we are enough just as we are.
Top Takeaways >>> Be R.E.A.L - post real-time content, engage your community, be authentic and have the long-term relationship marketing mindset at play. That's how to create deep connections on Instagram.
Click here to watch her session.
Where Instagram Is Going, Based On Where It Has Been
Erik Fisher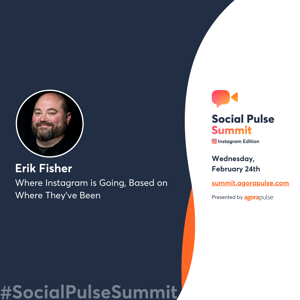 Follow Erik on Instagram
This was one of our favorite sessions because it was done differently and was super creative.
Erik's session was visually engaging and captivating. It takes the audience through the history of Instagram, how it has evolved over the years and where the experts in the industry think it's going.
Top Takeaways >>> Paying attention to how Instagram has evolved as a platform and understanding why new features and functionality have rolled out will be hugely helpful in predicting where the app is going in the upcoming year.
Click here to watch his session.
Insta-Accessibility: How To Create Inclusive Instagram Content
Alexa Heinrich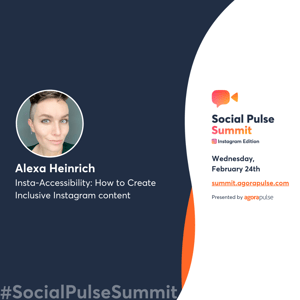 Follow Alexa on Instagram
We loved this informative session all about inclusivity and the importance of alt text and captioning. Without captions or alt text, we are excluding some of our audience and missing out on important conversations and connections.
We learned about closed and open captioning as well as tools that can be used for both.
Some of our biggest takeaways:
Capitalize each word for hashtags to make them more accessible
Place emojis at the end of captions to create more clarity
Use alt text for imagery and include detailed image descriptions
Avoid acronyms in your alt text
There is no alt text for InstaStories so it's a best practice to write out captions and narrate each slide/video to make the content as accessible as possible
Top Takeaway >>> Add keywords to your alt text for SEO but don't pack it inappropriately. Remember that alt text is an accessibility feature FIRST, not a way to hack your SEO.
Click here to watch her session.
How Create FOMO for Your Business On Instagram
MayKing Tsang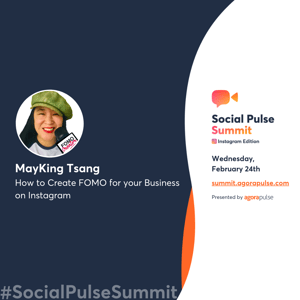 Follow MayKing on Instagram
In this session from the #FOMOCreator herself, shared her 5 steps to creating FOMO: brand awareness, relationship building, authority + prospecting, notoriety + public relations, and direct communication!
MayKing emphasized the importance of being a good person and engaging with others that support you by sharing their posts and leaving meaningful comments on their content. She also reminded us how powerful Stories and behind-the-scenes content can be in creating anticipation for an event.
Top Takeaway >>> It's not about the number of followers you have; it's about building real connections with people!
Click here to watch her session.
Instagram Story School
Lucy Hall
Follow Lucy on Instagram
In Lucy's session, she dives into Instagram Stories and provides a detailed walkthrough of the functionality and features that users can tap into (like stickers, superzoom, boomerang and so many more), as well as ideas that you can use to get started today!
Lucy discusses how powerful Stories are and how they can provide an unfiltered, unpolished look at your business's products and services.
Top Takeaway >>> Place the most exciting frame/shot at the beginning of your story to entice people to watch the entire thing!
Click here to watch her session.
Document, Create & Repurpose - Do Less & Get More With Stories!
Tristan Griffiths
Follow Tristan on Instagram
In his session, Tristan dove into Stories and how the most powerful content creators understand that the platform is all about the human-to-human, and person to person connection.
It's all about showing up and being the best version of yourself, utilizing the various places to post, taking time to really engage with your community, being entertaining and educational, and Tristan does a great job at doing just that in his session!
Top takeaway >>> Content marketing is a long game. It's about raising your visibility and creating digital assets.
Click here to watch his session.
How To Make Your IGTV Series A Success
Rebecca Ward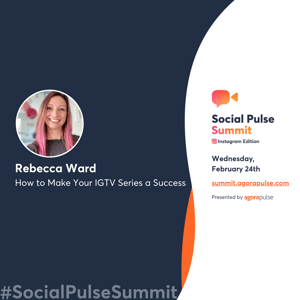 Follow Rebecca on Instagram
When it comes to IGTV, it's all about intentionality! Rebecca dives into the variety of things we can do on IGTV to drive engagement like using hashtags, geolocations, beautiful cover images and clickable links!
She also reminded us how important it is to be thoughtful about the captions that we use for IGTV. We want to really make use of the ability to write out a caption that provides value for the audience. Whether you're sharing a recipe or taking people through something, make the caption interesting and valuable.
Top Takeaway >>> Make the start of your IGTV compelling. The first 15-seconds will show/autoplay, so use that time to capture attention.
Click here to watch her session.
---
We can't wait to jump into the rest of the sessions, which are available through March 24, 2021!
Some of the ones that we are most excited to watch next are:
And there are still SO many more, so we think you should go sign up.
We would love to hear your takeaways! Share in the comments your favorite Instagram tips or which speaker really stood out to you!
If you want to check out Agorapulse and all it's awesomeness, we can't recommend it enough! You can use our link to sign up.