Being successful on social media requires more than just posting regular updates.
Staying on top of the evolving features and functionality of social media is critical to success.
In order to stand out in today's crowded online landscape, businesses need to be strategic and deliberate in their social media approach. Even more, brands need to humanize their marketing and lean into the power of co-creation to stay relevant with their audiences in the years to come.
So, what are the tried and true best practices for using social media as a brand? What steps can you take to become more effective with your efforts?
Here are the 9 tips to follow to drive more success on social media as a brand:
Use Social Media To Build Relationships:
Relationships will always be more powerful and more important than marketing. This will always be where we start when it comes to creating a social media strategy because, at the end of the day, social media is meant for being social.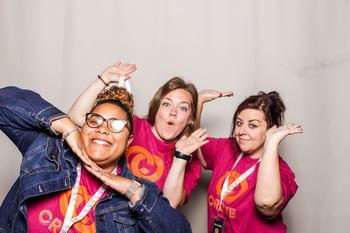 Stop thinking about social media as a tool for sales and instead, think of it as a medium for making connections.
Start showing up with your unique brand personality and letting it shine through your content. Start engaging with every single comment and/or review left about your business online.
Brands seeing success on social know that building relationships with their customers through their digital platforms will create a foundation of loyal advocates creating repeat and referral business. Additionally, potential customers will see how you engage with others and resolve their pain points, thus creating future brand loyalists.
The more human you are and the more you focus on creating connections and engaging in meaningful and authentic ways, the more inviting your brand is.
Have A Strategy:
Having a social media strategy is essential for any brand that wants to succeed in today's connected world. Without one, your brand risks losing out on potential customers and sales.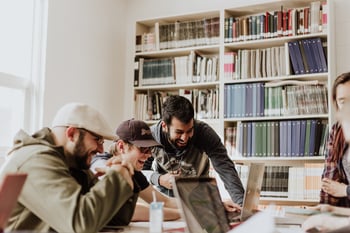 What should your strategy cover?

Goals
Targeted audience
Platforms to use
Posting frequency
Brand tone of voice
Style guide
A strong strategy encompasses research, planning, analytics, and ongoing effort. It's a detailed plan that is tailored to each social platform and serves as a blueprint for how to use the various tools to connect to customers, build trust and drive traffic.
By crafting a social strategy, you ensure that you're spending time in the right places and setting yourself up for success.
Post Consistently:
Posting valuable, educational, engaging informative, inspiring, and original content on a regular basis is critical for brands that want to build and retain a sense of community. Sounds like a bit of a lift, but it doesn't have to be.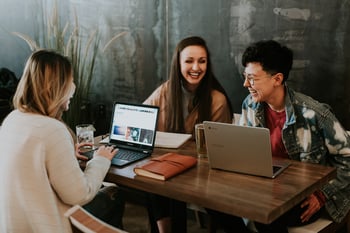 Creating new and fresh content keeps your followers engaged because people are more likely to check back often and see what's new. Not to mention, posting consistently helps your brand stay top of mind.
Pro Tip: create your content in advance so, you aren't reactively posting. This ensures you have content posting consistently and allows you the flexibility to share those "in the moment" pieces of content as they arise as well.
The strongest brands know that posting consistently is critical and they have a schedule for doing so, whether it's every day, every week or even just every month.
Focus On Quality:
While you definitely want to post consistently, you want to be sure to focus primarily on the quality of your content.
Posting for the sake of posting isn't going to drive engagement. Instead, you want to post with a purpose.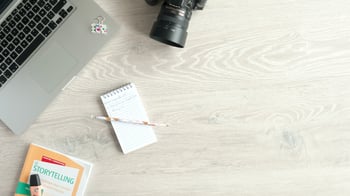 Every single piece of content should be intentional and written for a very specific purpose and for a specific audience. AKA your content should be crafted with a goal in mind.
Being focused on the quality and the purpose behind each post allows you to truly assess whether your efforts are leading to the desired results.
Pro Tip: When drafting your content pause and ask yourself "For what purpose?" and how will your audience react or engage with that content? By putting yourself in their shoes, you'll have a better frame of mind for how to create content they'll find helpful versus what YOU think they'll find helpful. If it isn't going to stop their scroll, take another look at what you're sharing.
Create A Context Mix:
A successful social media strategy includes a variety of content types, such as images, videos, infographics, and blog posts.
This is a great way to keep your audience engaged and deliver a variety of content that appeals to their interests and keeps you top of mind.
The best brands lean into the uniqueness of each platform and craft content specifically tailored to the vibe and atmosphere of that platform.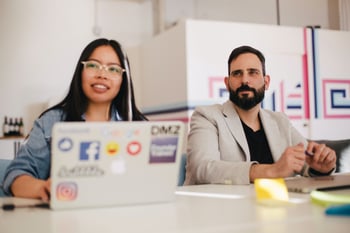 For instance, LinkedIn is one of the most professional platforms whereas TikTok is definitely one of the most casual. It's not likely that you're going to take a silly TikTok dance and post it on LinkedIn because that wouldn't make sense for that platform.
By crafting a content mix that includes a variety of links, videos (both short and long form,) written content, and photos, you're able to find unique and creative ways to utilize each platform to its fullest potential.
Pro Tip: when creating your content think "use case." You could be sharing a new blog for example - use a link to the article on LinkedIn, create a short-form video highlighting key themes or bullet points for Stories or TikTok and create an infographic for Instagram or Facebook feeds. Taking a single piece of content (blog) and strategically thinking about where you're audience lives allows you to create several valuable pieces of content to extend the life of your feature.
Use Hashtags:
Hashtags help to broaden the reach of your posts and give you the opportunity to connect with new audiences when used right.
HOW? >> By adding hashtags to your posts using those keywords you want to show up for, can put you into the news feeds of new potential followers. You can also follow hashtags and engage with others posting using that hashtag to put your brand into the conversation.
It's critical to be extremely mindful of what hashtags you use.
The worst thing you can do as a brand is to use a hashtag without context or jump on a trend that doesn't relate to your brand. At best, this comes across as promotional; at worst, it comes across as tone-deaf and insensitive.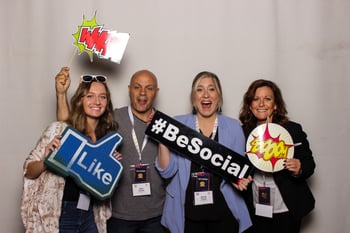 Another worthwhile thing to note is that every platform has a different take on hashtags when it comes to how many to use and when/where it's appropriate to use them.
Be mindful about respecting each platform and the best practices. For instance, Instagram allows you to use 30 hashtags per post. While we don't recommend using 30, it's noteworthy because it shows that the platform is more "hashtag-friendly." On the other hand, the experts say that you want to use no more than 3 hashtags for each LinkedIn post.
It's important to be thoughtful and strategic about how, when, and where you use hashtags but there's no doubt that they are a powerful way to drive more eyeballs and awareness for your content.
Run Contests And Giveaways:
Contests and giveaways are great ways to engage your followers and generate excitement around your brand.
Everyone loves to win things, so find creative and unique ways to bring your audience into the mix by giving them the chance to receive something for free.
The main difference between a contest and a giveaway is how the winner is chosen. With a contest, there's some sort of ranking implied, which means you have to be thoughtful about how you're "grading entries" and whether you're allowing your audience into that process. With a giveaway, it's implied that the winner is randomly selected.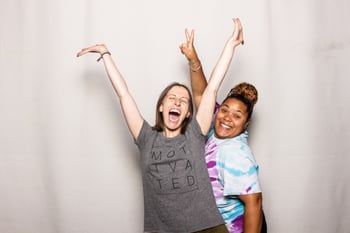 Regardless of which you execute, be sure to make the prize/gift relevant to your brand.
For instance, it wouldn't make sense for a marketing agency to give away a gift card to a spa. However, it *would* make a lot of sense to give away a ring light and/or subscription to marketing software.
Lastly, be sure to follow the terms of service set by whatever social media platform you are hosting the contest or giveaway on. Each platform has its own rules for what statements you need to include so as to release the liability from the platform, so be sure to read up on the policy. Here is a link to Facebook's.
Co-Create And Collaborate:
Two heads are often better than one, right? That's why collaborating is such a great way to grow your audience and drive more awareness for your business.
By coming together with your team, industry peers and/or customers, you can create value for each of your audiences in a way that you truly could not do alone. Not to mention, you can tap into new resources and ideas, resulting in more innovative and effective campaigns.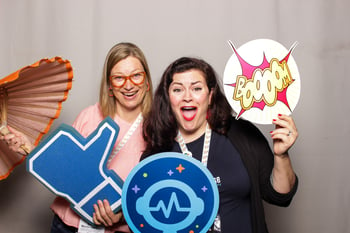 Co-creation is a powerful tool that can help brands to break through the noise and connect with their audience in a more meaningful way. It's a fantastic way to reach a bigger audience, drive more awareness, showcase your expertise and build credibility.
By involving consumers in the creative process, brands can create products and experiences that are tailored to their needs and preferences. What's more, collaboration can also help to build trust and credibility, as consumers are more likely to support brands that they feel are genuine and authentic.
What does co-creation look like?
Pull in industry peers to share a quick tip or best practice in a collaborative blog.
Ask your customers to share a video about their experience using your product or service to incorporate into a larger campaign.
Poll for input on new flavors or design aspects then share your new customer collab item... maybe, leverage the aforementioned tip and turn a poll for input into a contest or giveaway and the best idea submitted gets a free item once created.
In today's competitive marketplace, collaboration is essential for any brand that wants to stay relevant and connected with its audience.
Use Social Listening Tools:
In today's social media-driven world, it's more important than ever for brands to be aware of what people are saying about them online, not only for reputation management but also to help be part of a larger conversation.
That's where social listening tools come in. Social listening allows brands to track mentions across the web and social media, and respond accordingly. Social listening can help brands avoid PR disasters, identify potential customer service issues, and track competitors and keyworded conversations.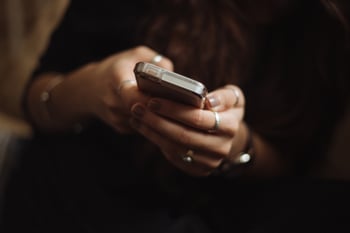 In addition, social listening can help with product/service improvement. For instance, if you hear that a lot of your customers are complaining about a specific feature of one of your products, you can use that information to iterate the next version of that product.
By gaining that information, you get valuable insight into how to improve and by taking steps to address those specific complaints, you show your customers that you really care.
Overall, social listening leads to valuable insights for any brand that wants to stay ahead of the curve, understand what people are saying about them online and build closer relationships with their audience.
Putting It All Together:
So, what does it take to be successful on social media? These nine tips should help you get started regardless of what industry you're in.
What's important to remember is that success is not a one-time event; it's an ongoing journey.
Social media platforms are constantly changing and new features and functionality get introduced every day, meaning staying up to date is critical.
What tip would you add to the list to drive more success as a brand on social?
Let us know in the comments below!