Another day, another update in the world of online marketing and digital advertising.
Staying up-to-date with the latest features and functionality across platforms comes with the job.
For brands, while you may not be utilizing every single new feature that rolls out, it's important to understand the updates and what they mean when it comes to the direction that most social media platforms are moving in.
What we're seeing across the board? >> A move to create better, richer user experiences. Platforms are leaning into the relationship marketing mindset, and the functionality being rolled out shows the importance of using these platforms to create connections.

As a brand, when you stay on top of the changes in the industry, you have the ability to take advantage of content opportunities that truly connect with your customers.
Let's dive into all of the changes your brand should know about:
Twitter:
Spaces:
Twitter Spaces rolled out, giving Clubhouse a run for its money.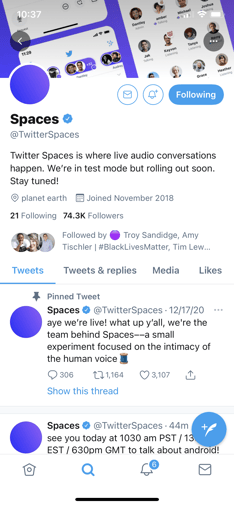 While not all Twitter users have access yet, Twitter is rolling out the functionality to more users every day for this audio-only feature.
The latest updates? Space scheduling and labeling tools, to name a few.
What's nice about Twitter Spaces compared to Clubhouse is the reduced barrier to entry. Firstly, Android-users can utilize the feature. Secondly, it's bringing the functionality we love (real-time, audio-only) to a platform where most of us already have an established audience.
What this means for your brand >>
Keep your eyes peeled to see whether Spaces rolls out to your profile. Tapping into the conversations happening on Spaces can lead to plenty of insight about your customers and your industry!
"Everyone has been saying that every year is the year of video. I think we can finally say that for 2021, it's the year of audio." - @mike_gingerich (click to tweet)
Fleets:
Twitter's version of Stories (called Fleets) is continuing to evolve with the passing day. Similar to InstaStories, Fleets have prime visibility and appear at the top of the app.
"I tried out #TwitterFleets because I'm all for testing - but didn't get much engagement - so I'm continuing to show up and create content where I know my audience hangs out." - @jbethjs (click to tweet)
Our point? Not every single function is going to make sense for your brand, but it's always worth testing it out!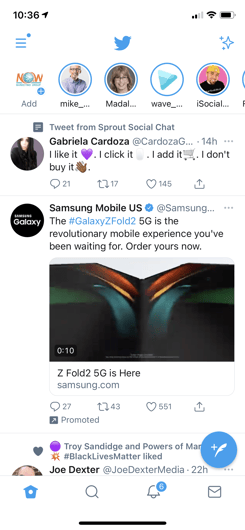 What this means for your brand >>
Give Fleets a try and see how your audience responds! Try to execute some contests or just post something different than what you're already doing in your standard Twitter content.
Super Follows:
Twitter recently announced that they are going to be rolling out the ability for creators to charge their followers for access to exclusive content, which allows users to be paid by their fans.
So many platforms have launched direct payment methods for creators, so it's no surprise that Twitter is following in those footsteps. And while we don't know what cut Twitter will take from the revenue generated by creators, we know that details will be rolling out in the coming weeks and months.
What this means for your brand >>
Think of Super Follows like Patreon, where you're all about creating speciality content for your community. This could be in the form of bonus tweets, access to a special group or even a badge.
TikTok:
TikTok recently launched Business Profiles, plus tools that they're starting to roll out for brands to make the most of their presence on the platform.
Not only is TikTok an awesome platform for brands to showcase their humanity, but it's an amazing place to spend time as a marketer looking to learn.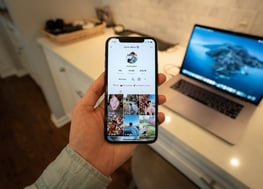 For instance, we have been loving Amber Romero's channel because she shares SO many helpful Canva tips.
What we're seeing with TikTok is that once people find a creator they like, they dive in DEEP and look through all of their content.
"People will scroll on #TikTok, but when they find something and someone they like, they'll dive in deep." - @mike_gingerich (click to tweet)
What this means for your brand >>
It's time to think about whether this platform is a good fit for creating fun, entertaining and engaging content that serves to humanize your brand.
Facebook:
iOS Updates:
The iOS14 update is going to have a major impact on advertisers. In response to it, Facebook rolled out a new ad campaign that helps to explain why personalized ad targeting is a good thing and why people should not turn off data tracking when presented with the option.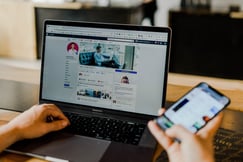 What this means for your brand >>
It's important to understand that your ability to target people with paid ads will change as this update rolls out.
It's going to mean that brands need to pause and really think through the long-term goals of their advertising. It might also mean working with a team of experts who understand the ins-and-outs of these changes so you're not wasting precious advertising dollars.
LinkedIn:
LinkedIn is developing a new freelance marketplace platform that will let users find and book freelancers! This means that platforms like Fiverr and Upwork are about to have some major competition.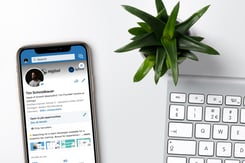 As the established professional social media platform, this is an incredibly smart move by LinkedIn. Not only has there been a huge rise in working-from-home, but there are millions of people actively looking for work.
This feature will allow people to find qualified talent all over the world, since geography isn't a limitation for many marketers.
Part of the update involves the creation of a "digital wallet," which will facilitate payments through the platform.
What this means for your brand >>
This could become a new place for your recruitment efforts! Keep an eye on this feature as it continues to be developed, because we think this has huge potential from a human resources standpoint!
Instagram:
Multi-Person Live Video:
Instagram announced their launch of multi-person live-streams! We're all about it because we used to love Blab!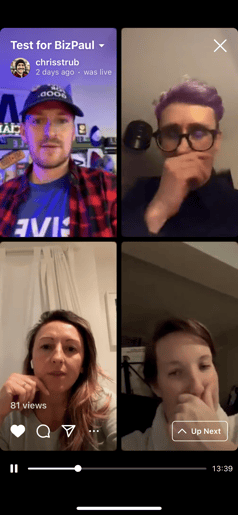 With this feature, users will be able to go live with three others, creating a Brady-bunch style looking cube of four squares.
This has been a long-time coming and we think it has huge potential for brands looking to humanize their content by featuring customers, clients and/or their team!
What this means for your brand? >>
Think creatively about how you can tap into this function to connect and empathize with your audience. Perhaps you do a weekly live show with your employees? Or maybe you bring on a few clients and do an interview-style show?
Think about how you can use this feature creatively to deepen the sense of community!
Agorapulse Social Pulse Summit:
Our incredible friends at Agorapulse put on another FREE Social Pulse Summit and this one dives deep into Instagram!
What we love about these summits (aside from the incredible content of course) is that everyone that speaks has the same mindset of showing up to provide value to others because they care.
With this incredible lineup of speakers like Ann Handley, Jenn Herman, Amanda Robinson and more, it's a no-brainer for those looking to improve their content creation efforts.
"The ladies from @simplysocialnm did a great job doing an in-depth workshop for the @agorapulse #SocialPulseSummit about Guides and how you can use them as part of your strategy." - @jbethjs (click to tweet)
Not only did we learn about Guides and how they can be used to tap into influencers, put together gift-guides and feature your team (to name a few ideas,) but we learned about the importance of Alt-text on your imagery.
"People are using search more and more on Instagram, so you need to use Alt text on your images to take advantage of the SEO opportunity!" - @jessikaphillips (click to tweet)
While every speaker took their own unique approach to what to cover, there was a common theme among all talks: Focus on building relationships.
"My talk was all about how to show up on #Instagram and be REAL. Create real-time content, be engaging, show up authentically and have a long-term mindset." - @jbethjs (click to tweet)
Our point? >> When it comes to Instagram, there is SO much you can do to make yourself stand out.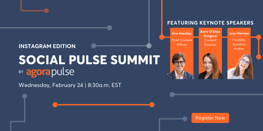 Instagram is an incredible platform to blend the personal and professional when done right.
Tapping into the various types of content (Feed, Stories, Reels, IGTV) and utilizing strong branding like Christine Gritmon does are just two ideas.
What this means for your brand >>
It's time to step up your Instagram game! All sessions are available for free until March 24. Just register and dive in at your own pace.
Also, stay tuned for Friday because we'll be posting a recap blog sharing our top takeaways from the sessions that we've attended thus far.
Putting It All Together:
If there's one common theme to the various social media updates being rolled out, it's this: humanity is at the core of every single new feature.
When a social media platform rolls out new functionality that people love, the other platforms take notice and try to evolve the same functionality to fit their platform.
Taking a relationship marketing approach to using social media is always going to be what works in the long-term because at the core, it's about showing that you care and showing up to build relationships.
Our point? >> It's not about the tool. It's about the technique.
It's less about which platform and functionality you use and more about HOW you tap into these features to create a deeper connection to the people you care to serve online.
What do you think? What features are you most excited to tap into in regards to these updates? Let us know in the comments below!