With over 800 million monthly active users worldwide, TikTok is one of the hottest social media platforms. And for good reason – it's incredibly fun and addictive!
TikTok is a short-form, video-sharing app.
While it's mostly known for being the place for trending sounds and dances, the platform offers a unique opportunity for brands to reach a large and engaged audience.
There is no shortage of content on TikTok in every subject imaginable, from theatre to dentistry to craftsmanship to fitness.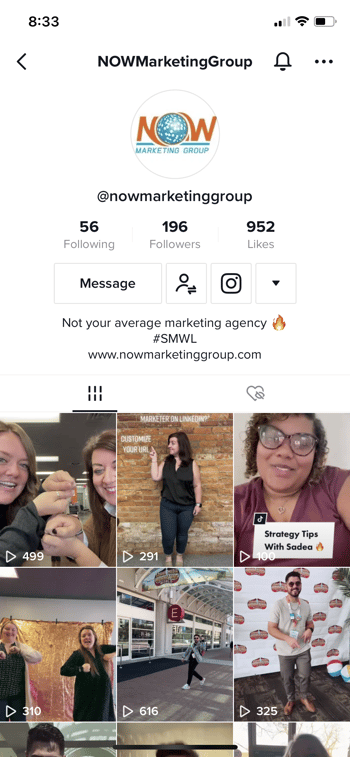 If there's something that you'd like to learn more about you can find it on TikTok and, thanks to its robust search functionality, more people than ever are flocking to the platform to find exactly what they're looking for.
Why TikTok Is Powerful:
Because users are so highly engaged, spending an average of 52 minutes on the app daily, TikTok is an incredible place to start showing up to showcase your products, share your expertise and show off your brand's personality.
The app is an incredible place to drive engagement and connect with your audience; the best part is that you don't have to spend tens of hours creating them.
One of the most attractive parts of TikTok is the low barrier to entry for content creation.
Content on TikTok is real, raw, and human; while you'll find some videos with insanely high production value, the large majority of content is produced by "the average user."
This means that content creation on the platform is more approachable than virtually anywhere else.
TikTok is also one of the leading platforms for creators, which means that brands can discover individuals they can co-create with and collaborate with to provide even more value for both sets of audiences.
Regardless of the industry, you can find a way to use TikTok creatively to showcase your offerings, introduce your team and let your personality shine.
Brands That Are Doing TikTok Right:
There are so many brands that are capturing attention and driving awareness for their products and offerings by having a presence on TikTok.
We decided to showcase seven brands that we think are doing TikTok right.
What They're Doing Well: Yeti is doing a fantastic job of using approachable, user-generated style content on their channels that shows their product in action. A scroll through their feed will show you how they're using their content to target specific audiences with each post, such as football fans, grilling fans, fishing enthusiasts, and motorsports fans.
TikTok To Watch:
What They're Doing Well: Scrub Daddy is GOALS regarding infusing personality into your brand content and creating a TikTok channel that is truly binge-able. The brand finds creative ways to showcase its products without being salesy. Their videos are entertaining and fun-loving, making them a pleasure to watch. You'd never think a company that makes sponges could be so creative!
TIkTok To Watch:
What They're Doing Well: This is one of our favorite brands to follow on TikTok because they truly push the envelope regarding content. DuoLingo isn't afraid to showcase its employees and add a LOT of personality to its content. Their videos are the furthest thing from promotional; the brand seems to have a presence on the platform solely to have fun.
TIkTok To Watch:
What They're Doing Well: Chubbies is doing a fantastic job showcasing its brand's personality, showing off its product, and shining a light on its team. The brand seriously humanizes itself with its team-centric content and it's just a fun, feel-good TikTok that you can't help smiling at when watching.
TIkTok To Watch:
Brand: Amazon
What They're Doing Well: Amazon is SO smart in marketing, as they have been leaning into their influencer network to do their marketing FOR them. An example of an amazing creator is Julianna Claire, whose entire channel is devoted to Amazon finds, hauls and recommendations. It's so smart of the brand to empower individuals to create these videos and get paid because it helps drive people to their site without them having to promote themselves. UGC at its finest!
TIkTok To Watch:
What They're Doing Well: We love the get ready with me features and the way they showcase the details of their product being low-cost and cruelty-free. The content leaves us feeling inspired to be more creative with our content, as well as encouraged to buy.
TikTok To Watch:
What They're Doing Well: We love the brand's creative use of TikTok to take their written news stories and find unique ways to turn them into short-form videos. They post timely and topical content surrounding what's trending in the news and find super creative ways to repurpose this content for the platform.
TikTok To Watch:
Putting It All Together:
Regardless of the industry that you're in, TikTok is a worthwhile platform for you to spend time creating content on.
By infusing your personality into your brand's content and showcasing your teammates, you come across as approachable, friendly, and inviting. This is the kind of brand people want to work for and buy from, which means that your social media content can help in employee retention and recruitment efforts.
Not to mention, with so many people spending time on TikTok daily, it's a no-brainer for brands to start showing up as a way to grow awareness.
What do you think? Is your brand using TikTok as part of your social media marketing mix? What brands do you think are creating awesome content on the channel?
We'd love to hear from you!