Ah, how the world of social media is constantly changing, right?
New apps are introduced often (hello Parler, we'll dive into you in a later post) and features and functionality on the apps that we already know and love are constantly changing.
This week on Magnet Marketers, we dove all of the latest updates and we're excited to share our take with you!
Parler:
First, we've gotta make a quick mention of Parler. We'll be diving into this social media app in an upcoming blog post, but here's the gist of Parler: the app claims to be a "free speech" and unbiased alternative to mainstream social networks. The main feature? Parler doesn't have an algorithm.
The structure of the app is that it's one feed. Content can get echoed (similar to retweeted,), up or down-voted and/or commented on. It's like Twitter mixed with Reddit.
App PROS
Freedom of speech. We all know how frustrating it is to feel like we can't get our message across because of algorithms that aren't showing our content. Thanks to Parler, journalists have the ability to get their content out without worrying about restrictions.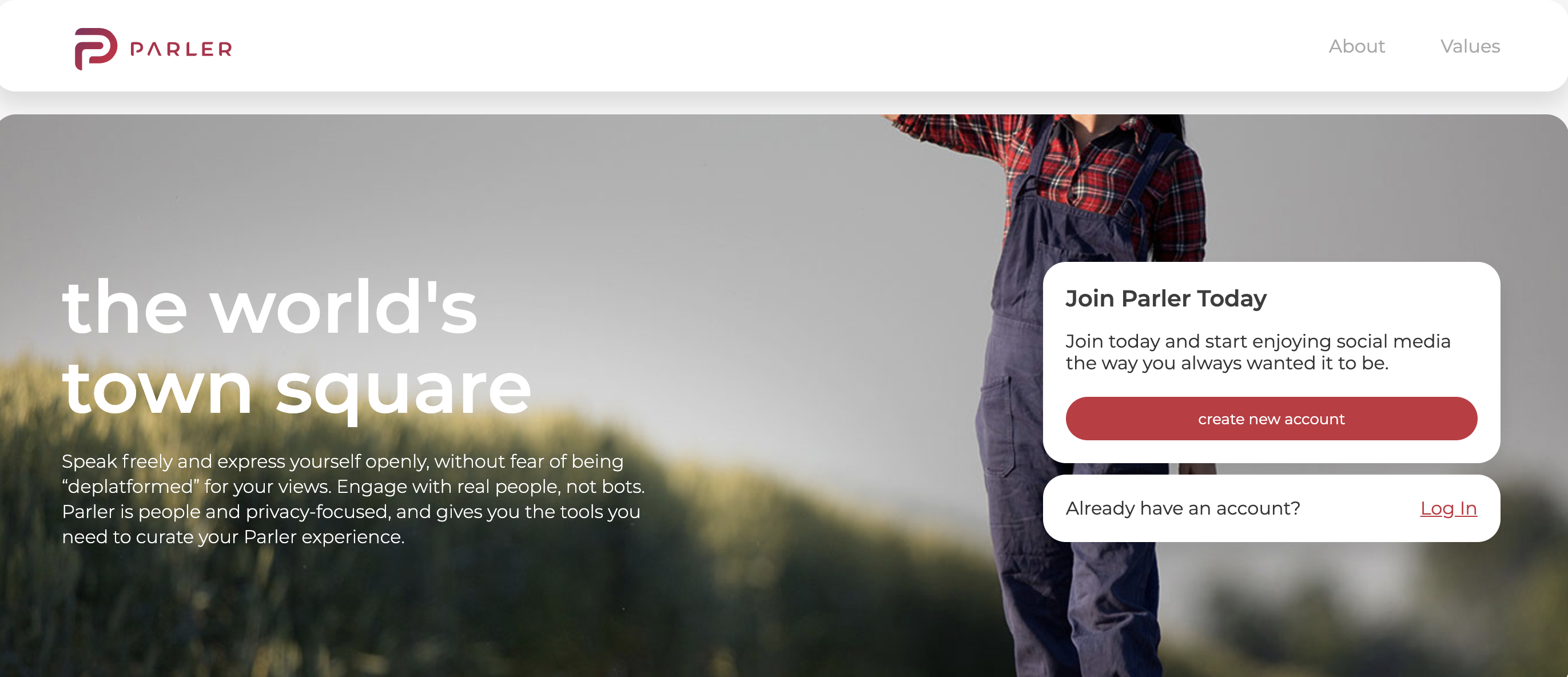 App CONS
Freedom of speech. Yes, we said it. Unfortunately, conspiracy theories can spread like wildfire on social media and without an algorithm vetting content, this kind of messaging can really take off. This could end up being a big fail, like pizzagate. There's a definite danger to not monitoring the content that's being posted.
Our biggest takeaway >>> Read the terms of service for the app. Some of the language is a bit concerning. While we like the idea of the app, we think it could be dangerous if used in the wrong way/by the wrong hands.
Social Media Channel Updates:
Instagram:
Have you seen the latest Instagram changes? … Yea, the app has gone through a total visual overhaul. The main focus is Reels. Instagram completely changed their layout, adding both the Reels and Shop tabs to the home screens.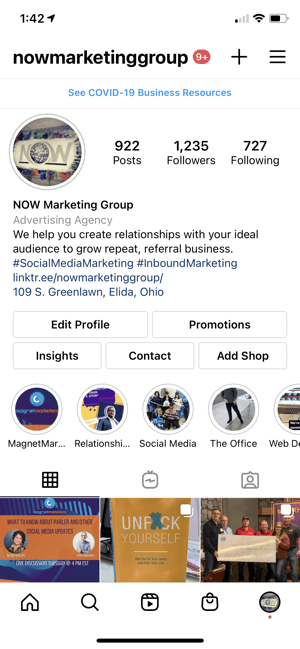 As Instagram's way of continuing to rival TikTok, they added a new Reels tab on the home screen for all users. As Instagram states in the article linked above, their focus has always been "on young people and creators because they're trendsetters."
It's likely that moving Reels to a more prominent placement is Instagram's way of continuing to cater to visual content creators and keep pace with TikTok. (We all know how jealous Instagram is of TikTok's growth.)
"Instagram is moving everything to help brands to make sure that it's easier for your consumers to find, consume and take action on your content." - @jessikaphillips (click to tweet)
Whenever a platform makes things easier for businesses to connect to customers, we're about it.
Another update for Instagram; they recently announced users can opt-out of ad targeting. Similar to Facebook's launch of its 'Off-Facebook Activity' tools, this new setting essentially lets the user choose whether they can be targeted with personalized ads in the app.
These ads come as a result of using data from third-party providers and platforms as a way of better personalizing each users' ad experience. Yunno how you'll see ads for the exact pair of boots you were browsing for online? If you don't want such ads, it's a mere click away now on Instagram.
Facebook:
Facebook recently launched a new video series exclusively on Messenger and Instagram. The series, hosted by Post Malone will be exclusively available through the Watch Together option, which rolled out in September. Essentially, what Watch Together does is allow users to stream specific Facebook-hosted video content within a Messenger video call. The call can have up to 50 people at once.
"The future of social media is private. Meaning, private communities. Private inboxes." - @jessikaphillips (click to tweet)
If you've opted into the new Messenger experience on Instagram, you can easily access Watch Together in your Messenger. By bringing exclusive content to this specific placement, we imagine that Facebook is trying to get more people to try out the Watch Together functionality.
There's no doubt that 2020 has pushed us further ahead than we ever would have been; we are USING these private messaging tools to communicate with each other. Watch Together is this exact kind of tool and we're ALL about it.
"It's all moving towards getting people comfortable hanging out in a spot, and watching shows together. It's getting us ready for AR/VR." - @jessikaphillips (click to tweet)
Our biggest takeaway >>> As businesses, now is the perfect time to think about how we can be bringing people to the inbox and starting these private, meaningful conversations.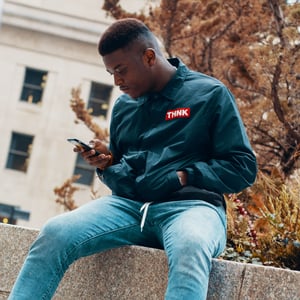 Another update in the world of Facebook: Start-Ups. Facebook announced that a group of 20 start-ups will take part in their new accelerator program with a goal of expanding and maximizing internet connectivity in more regions.
As stated by Facebook,
"The coronavirus pandemic has exposed the hard truth of the digital divide and the critical need for reliable, affordable internet connectivity. The Facebook Accelerator: Connectivity program will strengthen emerging startups focused on the same goal of bringing more people online to a faster internet."
The 20 businesses selected will participate in a 12-week virtual program that helps them scale their operations. It will conclude with a demo day in February where each participant will showcase their progress.
TikTok:
It's no surprise that TikTok continues to grow and this article states that the app is set to surpass 1 billion users in 2021!
"It's important to watch because it's growing astronomically and has tons of engagement. Plus, some brands are seeing success on #TikTok." - @mike_gingerich (click to tweet)
While we think it's safe to assume that the app will still be operational in the United States despite, there's no doubt that Instagram has benefited by launching their Reels functionality as a way to "snag" users that are nervous about the future of TikTok.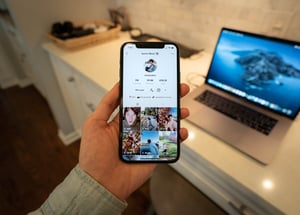 "It's creativity, authenticity and engagement. Many great things can be done on TikTok from a business perspective." - @jessikaphillips (click to tweet)
Another interesting update is the expansion of the @LearnOnTikTok program: the 'Learn' feed. Currently in testing, and appearing for only some users, this new feed is an attempt by the app to boost educational content on the platform, and we're here for it!
"It's geared to engage. It's wired that way. It's almost a default and that's how TikTok was created." - @mike_gingerich (click to tweet)
We think one of the strongest aspects of TikTok is the high-quality, engaging, educational content. That's why we're excited to see this new, dedicated stream of videos within the app.
Essentially, the 'Learn' feed would be an alternative to the current 'Following' and 'For You' streams. We think it's an excellent addition to the platform and it's funded through TikTok's $50 million creative learning fund, which was announced earlier this year as part of its broader $250 million commitment to assist with the impacts of COVID-19.
As stated by TikTok,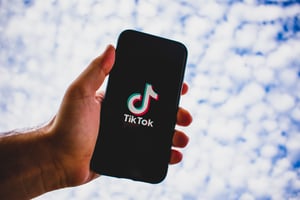 "We've partnered with over 800 public figures, media publishers, educational institutions, and real-world professional experts who've been affected by the effects of this global pandemic to bring learning material to TikTok. We've been humbled to be able to bring these grants to educators, professional experts, and nonprofits who have the power to offer us creative learning especially during this tough time."
We love this update, as we think there's a huge opportunity for TikTok to provide a more direct pathway to educational content for its millions of users, most of whom are home as a result of an uptick in COVID-19 lockdowns.
"When a platform begins to hit all demographics and spectrums, that's when you know it has staying power." - @mike_gingerich (click to tweet)
Twitter:
So, Twitter is officially on the Stories bandwagon, except they call it Fleets.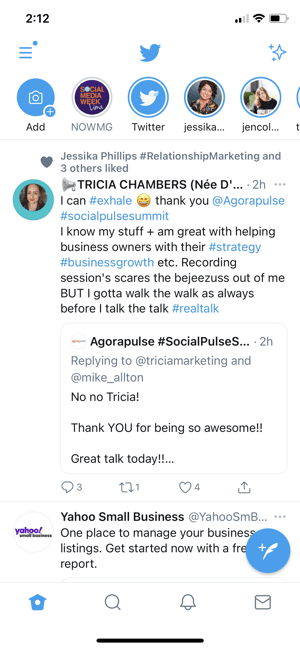 The goal? Twitter wants people to feel more comfortable joining in on conversations "with their fleeting thoughts."
Fleets are for sharing momentary thoughts, and they stick around for 24 hours just like InstaStories. Fleets have a prime position on the app, just like Stories do on Instagram; they're at the top of the timeline. Anyone who can see your full profile can see your Fleets.
Vanish Mode on Messenger

: Facebook added a new 'Vanish Mode' which means that you'll see your messages disappear as soon as you leave the chat in messenger. Why? Allowing you to share more intimate, in-the-moment type of content without any worry that it can "come back to haunt you." With Vanish Mode, you can swipe up on any chat to enable the function and then swipe up again if/when you want to turn it off.

Rights Manager

: Facebook added more ways for creators on the platform to be able to track and monetize their content on both Facebook and Instagram. Thanks to Rights Manager, it's easier for creators to set up rules for detecting duplicate content and claim ad revenue from that content. The tool will help users better manage their content AND maximize their revenue potential. Win, win, right?

Pinterest Gift-giving Guide

: We're HERE for this Holiday Gift Guide from Pinterest, filled with the most-searched holiday gift ideas on the platform. The guide is separated into 10 categories which you can click through for more specific gift ideas. Each listing in the guide has up-to-date pricing information and a direct link to make a purchase. Not only is this a great resource for finding

gifts for clients

and loved ones, it's an awesome resource to help improve ad campaigns, as it gives insight into the most popular products and categories that people are searching for this year.
It's clear to see that as social media evolves, things move towards HUMANITY. Instagram's focus on Reels, and TikTok's rapid growth rate, show our collective desire for short, creative, engaging video content.
So, what do you think of the latest updates? Are you creating Reels on Instagram? Are you going to watch the new Facebook video series hosted by Post Malone?
Share your take with us in the comments below!