Delight and customer service are often used in the same breath. Which we totally get, but there is a distinct difference between the two.
Customer service is something you HAVE to do, like eat. Delight is something you GET to do, because you want to… like cooking that special pan of homemade Italian manicotti you know your best friend loves for her birthday because you want to see them smile… (and get to have a pan for yourself.) It's that little added bonus of extra happiness that makes you, or in the case of what we're talking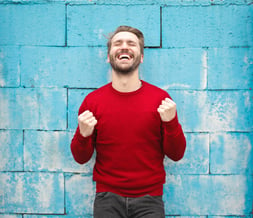 Our customers expect us to do what they've hired us to do. Simply doing our job at 100% isn't special, it's essential. Over-delivering on in a way that's unexpected and personalized, leaving the "what's in it for us" completely out of mind, is delight!about today - your customer, feel seen and feel like the VIP they are.
The holiday season is naturally one of those key times we think to show an expression of gratitude and to make clients feel special. It lets them know that we consider them as part of our tribe.
The best part? We can add holiday client delight without it breaking the bank and without it taking up a lot of time. When done right, it can, and should, be fun!
Below is our cheat sheet of client gift-giving delight tools:
Send a card:
Idea: Traditional meets the unexpected. Send a Christmas card that will be sure to be hung up well after the holidays.
SendOut Cards
What it is: A fun twist on sending a Christmas card… customizing it! We've been using SendOut Cards for YEARS because it's freakin' awesome. It's similar to a traditional card but the best part is that it's completely customizable. You can change the message in the card, pictures, add in your real handwriting, etc…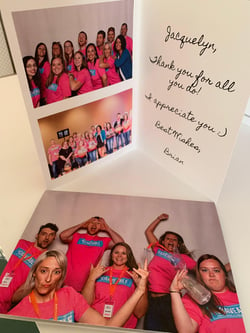 Have fun with the platform, we all dressed in ugly Christmas sweaters for a team photo and guess what was on that year's Christmas card? Yep. Ugly Christmas Sweaters. Coming up with a creative idea doesn't have to be tough, share an image of a special event you helped to host for a client or a picture of a memorable client moment they had throughout the year. The thought behind the gift is what is most important.
Why we love it: One of the coolest features is that there's a database for your clients that allows you to add in customers' birthdays, anniversaries and/or other dates you want to remember. Then, you can have a reminder that prompts you to send out a card - or set up a campaign - for this specific moment. The card gets sent out by the company and arrives to your customer in the mailbox.
What it costs: there is a free plan, as well as monthly plans for $17, $37 and $97.
"These cards create memorable moments, and that's what it's all about during the holiday season." - @jessikaphillips (click to tweet)
Bonus idea: send a hand-written card. We all love getting snail mail that's meaningful.
Send a personalized message:
Idea: Send a customized video message via email as a way to add humanity to your message! As a holiday gift we shared a video message expressing our gratitude for them and for trusting us with their business. In that video we also explained that a donation would be made in their name to the charity of their choice.
"I feel good when I've received a personalized video email from others. It's personalized and creative. Something simple that has a big impact." @mike_gingerich (click to tweet)
Bonjoro
What it is: We love Bonjoro for so many reasons. It's a simple, easy-to-use mobile app or web recorder that allows you to send engaging videos to your contacts via email. With Bonjoro, we can send customized videos (with our own branding) and calls-to-actions. We can also track the opens, views and click-throughs of our video messages. BombBomb is another option for video messaging platforms, we used them in the past and Mike Gingerich loves them!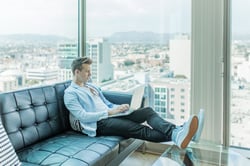 Why we love it: We're ALL about delivering personalized communications, and video is such a powerful way to do that. With Bonjoro, you get your message across in the most HUMAN way. Who has email relationships with people that you haven't actually met? It happens. Video messaging lets customers hear inflections, get a sense personality and is a great way to put an actual PERSON in the relationship, not just an email address! These email video messages get opened a LOT!
Bonus idea of how we've used it: We've used video messaging to say thank you after a phone call to recap a proposal we're sending, to respond to a tough email so our client can hear our tone and see our expressions, and/or show a client how to do something like add an admin to their Facebook page. There are SO many applications for this type of tool, which is why we think it's one of the best, and most cost-effective ways, to deliver delight.
What it costs: There is a free plan available, as well as monthly plans that range from $12.50 - $66.
"What better way to show someone you're thinking of them than to send a personalized video email." @jessikaphillips (click to tweet)
Bonus ideas:
Video: even just a video sent via text message can make someone's day
Audio messages: it's such a simple and easy way to share what's on your heart and make someone smile
Send a personalized gift:
Idea: Allow the giftee to be involved in the process!
SugarWish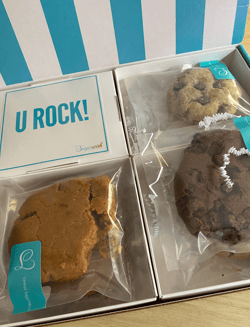 What it is: Sugarwish is literally one of the sweetest ways you can deliver delight, we've been using it for years. With Sugarwish, you can send anyone a sweet treat via email. It's as simple as going online and filling out some information about the gift you want to send. The recipient then gets an email with a link to a digital candy store with tons of options to choose from like candy, cookies, popcorn and more. The individual gets to pick out what type of treat THEY want and we get notified when they've placed their order. Within a couple of days, the box of goodies is shipped to the recipient.
Why we love it: Sugarwish puts the customer in the driver's seat by giving them the option for what treats they want to put in their box. We can customize the message that goes to the individual, plus it gives people so many options to pick from, which helps the person you're sending a gift to feel like you're in tune with them. It really doesn't have to be just during the holidays; we've used Sugarwish for new team members as a sweet way of saying welcome to the team!
"The gluten-free cookies from @sugarwishgirl are incredible. I can vouch!" @jbethjs (click to tweet)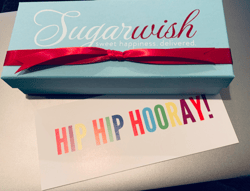 What it costs: Prices range from $16.50 - $95. Taxes and shipping are included.
"One that I use a lot today is @sugarwishgirl. It's fantastic for gifting." @mike_gingerich (click to tweet)
Client Giant
What it is: Client Giant is essentially an automated client concierge service that delivers thoughtful gifts and memorable experiences to your clients. You can set up gifting on a recurring basis with the option to pick a themed time of year to give an ongoing gift. Think: planners for the new year or umbrellas for the springtime. The gifts are themed to the season and this platform is an exceptional way to let your client know that you're thinking of them.
Why we love it: Essentially, it serves as our memory; it's a constant gift-reminder. We love the idea of delivering timely and topical gifts to our clients on a consistent basis as a way to show that we care throughout the year.
What it costs: Prices range anywhere from $10-$300/month.
Shaker & Spoon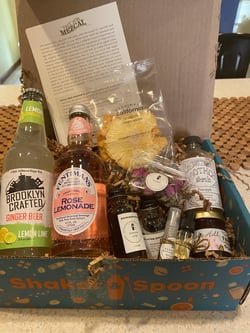 What it is: We're LOVING this customized mixology drink kit provided by Shaker & Spoon. You can either send it as a subscription box OR do one-off gifting, which is great. It also allows the gift recipient to be involved in the process because they're able to go in and pick out what THEY specifically want. The box includes recipes plus everything needed to make some fantastic and creative cocktails, minus the alcohol. Before the box arrives, the recipient will get an email with suggestions for a bottle of alcohol that'll work well.
Why we love it: This is such a fun way to surprise and delight your cocktail-loving clients or friends! By exposing customers to new flavors and combinations, while showing a range of what each spirit can do, Shaker and Spoon makes for a stimulating and tasty treat.
What it costs: $40-$50/month.
50 Strong
What it is: 50 Strong is a water bottle manufacturer, however they put their heart into their products and into the customers they serve. Yes they make an exceptional water bottle, but their mission is to help others live an extraordinary life.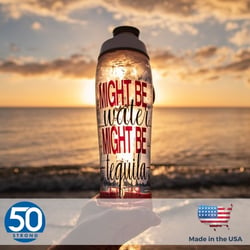 Why we love it: 50 Strong bottles are clever. They are a high quality product but they are funny, trendy, and customizable. We had a client whose office mascot happened to be a flamingo. They ran with it. Flamingo everything. Pink office apparel. The whole works. As a "we're thinking of you moment" we gifted each member of their team with a pink flamingo water bottle from 50 Strong. Not only were we able to create a fun touchpoint with one client, but we able to support another in doing so.
What it costs: $16.99/18.99
Personalization Matters:
When it comes down to it, it's all about the personalization!
"The customized bobbleheads that you made as a gift for those of us who spoke at #SMWL is extremely memorable." @mike_gingerich (click to tweet)
Think about what will benefit your clients.
Have they started working from home? Then we recommend checking out BRUMATE. Regardless of your beverage of choice, they've got something for everyone. As stated on their website, these products keep all of your favorite drinks perfectly chilled and look epic while doing it.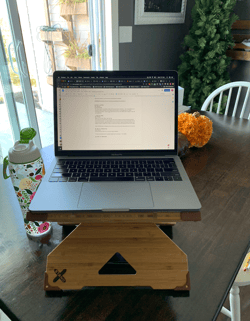 Another example: our NOW team is a completely remote team. So this year, as an early Christmas present, we were all gifted an X-Stand standing desk. (Which just happens to be the side-hustle business of our very own Jen Cole!)
Are they doing more live video? Then we recommend thinking about the Lume Cube. This is a great, inexpensive way to get your clients ready to dip their toes into the world of video. This snap-on laptop light was made to be portable!
Quick example… a few years ago, we were talking about video nonstop to a number of our clients. So, for the holidays, we put together a video-centric gift basket. The basket was filled with video equipment: a ring light, lapel mic, snap-on accessories for their phones. The entire basket cost less than $70 to put together and it was such a nice way to encourage our clients to dip their toes into video, something we'd been encouraging them to get started with for months!
Supporting Local:
Another nice way to create a personalized and memorable experience is to think local. Shopping local is a great way to support small businesses and show your customers that you care.
For instance, last year, Mike was gifted a gift card to a local coffee roaster in his area. In the card, the individual included some history about the business and the woman's story. It was such a nice touch to show they know where Mike is from!
We have a client -Coons Candy- which is a generational business spanning over 100 years and 5 generations. They make the most ridiculously amazing toffee and fudge and Buckeyes (it's an Ohio-thing) and are creating a personalized mail order gifting experience. Not only will your giftee get a super sweet treat, but also a personalized note. Purchasing from a locally owned-family business not only supports their business, but the communities in which they invest back into.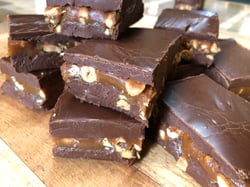 Find ways to collaborate with businesses in your community! This can be both inexpensive AND super meaningful.
A non-profit local to our area hosts a charity shopping event each year to raise funds to make sure foster children in our region have a Christmas. We were able to support their mission by helping them move their event online and create thoughtful messaging to create additional awareness. Our investment - time. Their benefit - children who might not have otherwise had a Christmas will now have one.
Give your team the opportunity to bless others.
For the past few years we have given each member of our team a donation of sorts. They were able to take the money we had given them and use that to offer support as to where they felt led. Some donations were made to help pay overextended lunch accounts at a local school, to purchase gas cards for their church to give to members in need, to adopt a family, and purchase groceries for an elderly neighbor. We were able to then share with our clients the message that because they supported us, we were then able to support others.
Don't hesitate in taking the time to find a local business that specializes in delighting customers; this is the perfect business to work with for gifting!
Delivering Delight:
We know that it can be easy to get caught up on how much the gift is; it's easy to think that you have to send branded swag. However, the reality is that gifting should be something personal between you and your clients.
"You don't have to overthink it and break the bank with client gift-giving, it just has to be meaningful." @jessikaphillips (click to tweet)
At the end of the day, we believe that gift-giving is something that you can, and should, do throughout the year. It doesn't need to be reserved for just the holiday season. It also doesn't have to cost much. Regardless of what you decide to do to add delight, stay focused on the client and have fun with it… it will be perfect.
What do you think? What are some of the best gifts you've ever received or given?
Let us know in the comments below!