Events aren't just a supplement to a brand's marketing channels; events ARE their own marketing channel with powerful content and community-creation capabilities.
Whether in-person or online, live events are an incredible way to share knowledge and create connections.
2020 transformed the event industry with a huge emergence of digital and online events. With that transformation came so much knowledge about how to truly execute online events well, which is why we invited our friend Megan Powers onto Magnet Marketers to dive into the topic.
Megan Powers is a creator who thrives on helping people learn. While she has worked in a variety of industries, her main vertical over the years has been meetings and events.
Founded in 2013, her company Powers of Marketing is a boutique strategic marketing communication agency, providing product marketing, podcast hosting, event planning & production (online and in-person), strategy consultation, training, and content development to organizations seeking to strategically market themselves through content and events.
Megan is passionate about being face-to-face for events AND about the opportunities digital spaces also give us to interact, learn, and grow revenue. Her podcast Making a Marketer has been going strong since 2017 and covers all aspects of marketing and business.
The Power Of Events:
The power of events is truly the ability to build relationships and create connections that transform both our lives and businesses.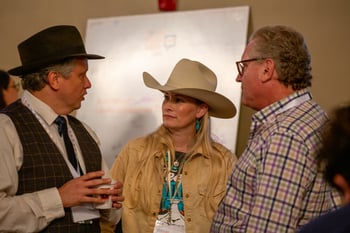 One of the coolest things about the emergence of online and digital events is that it presents us with multiple options for how to execute events today.
In-person events are hugely impactful because of the energetic exchange. However, they are incredibly hard to execute and carry a lot of logistical elements to consider in today's world when it comes to health and safety.
Online events truly open the world up. People who couldn't attend in-person for geographical or logistical reasons are able to attend online events, which creates a pool of potential team members, community partners, and customers! However, it's a lot harder to trust people and/or feel the desire to buy through a screen
Where online events benefit from no geographical boundaries, they are limited when it comes to monetizing.
"In-person events are so powerful as we know for so many reasons: relationships and commerce! For so many companies, the hardest part has been putting the commerce element online." @meganpowers (click to tweet)
Online events allow us to connect with people across the globe but they don't allow us to test products. This is a huge reason why so many events, especially trade shows, are coming back and they are coming back stronger than ever.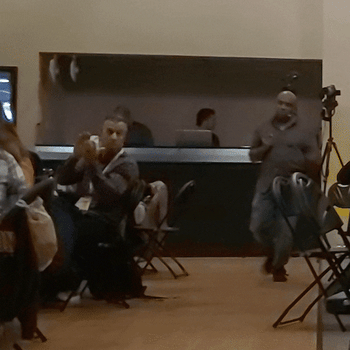 People attending events right now really want to be there!
Event attendees and speakers are bringing their energy and are acting with intentionality about how to be safe and make the most of the experience.
We definitely saw that first-hand at Social Media Week Lima 2021; we had all been craving that in-person element.
"Nothing can replace face-to-face networking and deep connection, but there's so much we learn from online events: who was there, how much time they spent in each session, but like most data, it's not worth anything if you don't use it." @meganpowers (click to tweet)
Events are huge drivers of connection, information, and education when executed with intentionality. Being intentional about every step of the process is what gives events their power.
"All events, even online, are live, so you have to remember that someone is showing up and giving their time." @jessikaphillips (click to tweet)
By keeping our focus on the attendee, we have the ability to create exceptional experiences through our events regardless of whether they are hosted in-person or online.
Creating Exceptional Events:
Every event organizer wants their event to be memorable but in order to do that, it requires going above and beyond to out-care and create an exceptional experience.
"An experience, which is what events are for, is a verb. It's about how we're making people FEEL, so we need to think about what it is that people are exchanging their time for." @jessikaphillips (click to tweet)
The respect we have for people's time and participation at events can be seen and felt through the entire experience from how on-time things run, to the speakers, to the swag bag and social media content surrounding the event.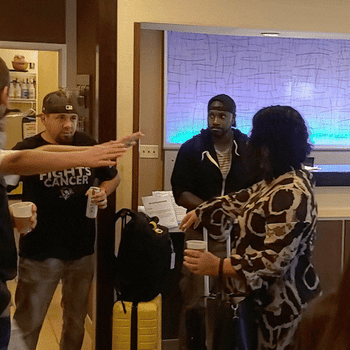 It's this exact reason why we were intentional about not having an online element to Social Media Week Lima 2021.
So many people asked for an online version but we knew that the energy of the conference wouldn't translate through video and that is truly what makes our conference the special event that it is! You had to be in the room to understand how epic #SMWL21 was.
Understanding your goal and purpose for which you're creating an event is key to making it exceptional.
Thanks to technology, events can look different depending on their goal and purpose. For instance, you could execute cooking demonstrations for your community; we would totally consider that an event because you're creating an experience for people that they are tuning into.
"Events continue to change and it's very much a learning space. There's a lot of experimentation happening right now." @mike_gingerich (click to tweet)
We have more opportunities now than ever to create experiences that will educate, entertain and/or inspire our community!
How To Host An Event:
Regardless of whether your event is in-person or online, you always want to be the best host possible. That's why we're all about planning ahead of time and acting with intention.
Our best advice for hosting an online event. >> Research your platform options.
Take time before you select the platform/software you want to use to host your event. There are so many options out there now, so we recommend attending other online events to see which platforms you like!
Megan recommends Hopin, as it has a power networking functionality that lets you easily connect to people AND extend the conversation! If you want to keep talking with someone you've met during a speed networking portion of the event, you can extend your time with them instead of being randomly matched with another event attendee.
Features like that show that the platform is truly built for creating connections and maximizing the experience for attendees.
Our best advice for hosting an in-person event. >> Get help if it's your first time.
Before hosting an event, attend as many events as you can to get a sense of everything that goes into making it successful, because it's probably a lot more than you realize.
Attending events - both online and in-person - will give you a sense of how you'd like to run yours. You will gain insight into how long you want it to run, who are some speakers that you'd like to invite, what platforms you'll use to host it on, how to acquire sponsorship, how to coordinate transportation for in-person events, how to promote and market the event, how to make the experience interactive, the list truly goes on. There's a lot to consider with event organization.
Making The Most Of An Event:
Let's first address the elephant in the room by saying that in-person events are safe.
"In-person events are safe. If you're considering attending an event, get the ticket and go! Be safe, of course, and follow the protocols." @meganpowers (click to tweet)
If you want to make the most of an event, it's all about showing up with your heart and energy.
"Whether in-person or online, you get what you give. If you're really wanting to get something out of an event and maximize your time, immerse yourself in it! The value comes from both the education AND the relationships built." @meganpowers (click to tweet)
The connections that you create are going to be what ends up being the most impactful about the experience.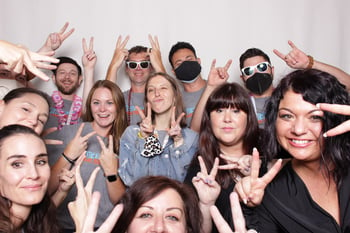 Think beforehand about how you can build rapport with people and then extend those relationships beyond the event itself.
Our best tips for making the most of an event as an attendee:
Have a goal: Be mindful of what you want to get out of the event. Some ideas for goals include: connect to like-minded people, attend as many sessions as possible and/or get feedback about a project you're working on from someone in your industry.
Make a list of people to connect with: Write down the names of any specific people you want to be sure to carve out quality time with at the event so that you can be intentional about making a plan to do it!
Write down notes: When you meet someone awesome, write down a few notes about your interaction with that specific person. This will be hugely helpful in personalizing the interaction as part of your follow-up! Adding in that little touchpoint is what makes all of the difference.
Follow-through: Once you've made a connection, follow through and keep in touch with the people that you've connected with. So many people aren't following up with the leads that they generate at conferences, so follow-up is hugely important! This is how we truly

build relationships

that last way beyond that initial interaction.
"Trading business cards isn't the win. #BuildingRelationships is. When you take the time to have a plan and set up a time to meet and then follow up with people after you meet them, you truly create a connection." @jessikaphillips (click to tweet)
Whether we are hosting or attending an event, the best thing we get out it is the connection and energetic exchange created.
How To Get Started:
Having a goal in mind is always the best place to get started when it comes to event organization.
"Start with what are you trying to accomplish with your event - think about the goal - and then work your way back." @meganpowers (click to tweet)
By knowing our goal, we have the ability to determine whether the event should be in-person or online or hybrid, who the best speakers are, the right attendees, the interactive elements and so much more.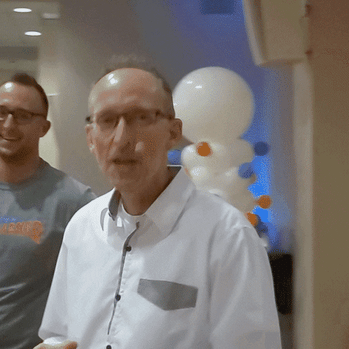 Not to mention, creating goals enable us to be realistic about our planning and organized about our execution.
Some other tips for getting started with creating an event:
Get educated: Follow the gold standard in the event industry:

#EventProfs

. This hashtag will lead you to a wealth of information about the industry and provide resources to continue your education on the topic.
Ask your community: Get feedback from your community on their preferences to help you shape the flow and format of your event! Your community is who is going to show up, so asking them for input will be hugely insightful and beneficial.
Be patient: Understand that planning events takes a lot of time and effort. You might not have a huge audience on your first go.
Ask for help: Don't try to go at it alone, especially if you're a first-timer. It's worth paying a professional to help you with your event.
Allow for connections: Create some element that allows people to connect beyond the event itself. Have a Facebook Group, like we do for Social Media Week Lima! This way when you host the event again, you already have a community of people you know is excited for what you're hosting! It also is a space for people to continue the relationship building after the event!
Regardless of whether it's online or in-person, events are such incredible vehicles for building relationships.
By focusing on creating exceptional experiences that allow people to learn, connect and build relationships, we have the ability to create life-changing events.
Want to learn more about events and their power? >> Go follow Megan on both Twitter and LinkedIn, and tune into her podcast: Making A Marketer!
What's the most memorable event experience you've ever had? We'd love to hear about it!