Youtube just changed how you obtain your custom url for your YouTube Channel and it's freaking people out…..just kidding but there are some extra steps to know. The custom url makes it much easier for users to find you on YouTube and In the past you have been able to obtain your custom URL on the same day you create your channel. That has changed and Youtube is now requiring you to meet some specifications before you get one.
Here is what normal channel url looks like https://www.youtube.com/channel/UCUfNtdfg7whazb3L70C2cFA
Here is a custom channel url https://www.youtube.com/user/nowmarketinggroup
Below I'll discuss the requirements and review some best practices to help your videos get found.
The New Requirements:
500 or more subscribers - Below is where you can look for your number subscribers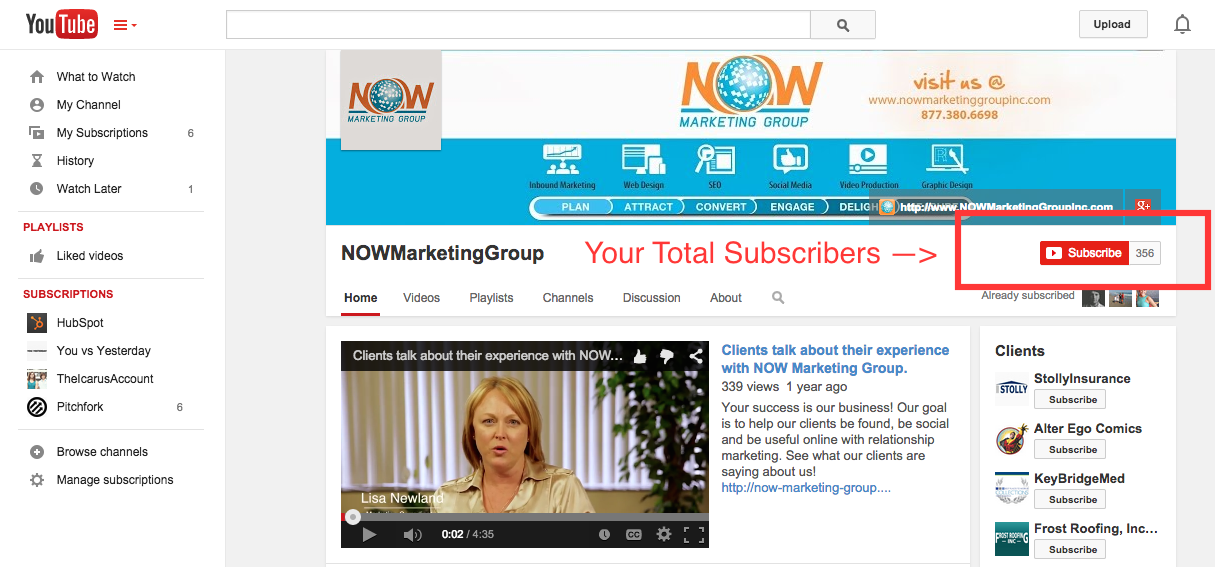 Channels is at least 30 days old

Channel has uploaded a photo for the channel icon

Channel has uploaded channel art

---The image above is an example of having an uploaded channel art image.
You can also qualify for a custom URL by linking and verifying your official webpage with your channel or +Page. If you don't have a Google + page then check out our blog and how Google Plus can affect your SEO https://www.nowmarketinggroup.com/blog/google-and-your-seo.
Once you've qualified for a custom URL, you'll receive an email notification and a notification on your Creator Studio dashboard. Remember though once you agree to your new custom URL you can never change it.
So if you can't get have your custom url yet, no worries, here are some best practices so that viewers can still find your video:
1. Video Title - Seems obvious but a bad title could lead to your potential viewers away from your video. Keep the title around 120 characters or less and use relevant search terms.
2. Video Description - This tells all the search engines what your video is about why people should watch it. Warning though do not stuff this section with keyword or keyword phrases. Yes you will use keywords but they should be used in a normal sentence. Oh, and Youtube allows you to use up to 1,000 characters...so describe away my friend!
3. Video Tags - Video tags are another option to showcase detailed search terms that specifically target the content you're sharing. Include words related to your brand, location, date, category and video topic, and keep the tag under 500 characters. Keep your target audience in mind and create tags based on what they might enter into a search box.
4. Share, Share, Share - It's start with brand advocacy. Once you hit that publish button start sharing the video link on other social media sites. You can also embed it on your website, and add it to industry related forums you belong too!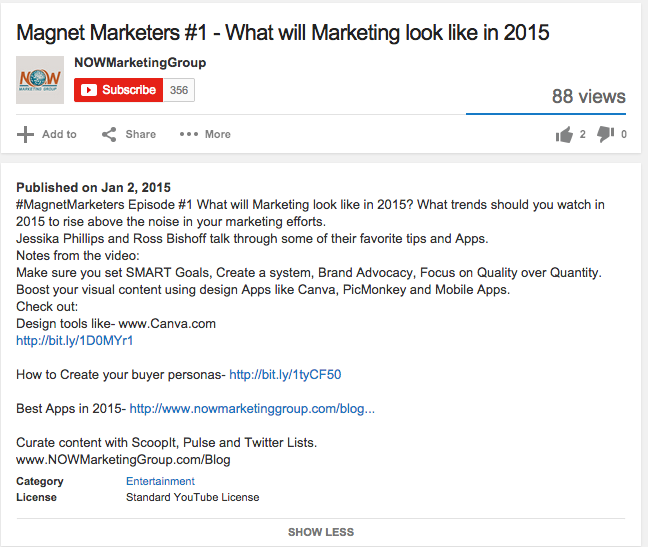 --example of the description within the video.
In Review:
Before you can have a custom URL. Youtube will now require 500 or more subscribers, Channels is at least 30 days old, Channel has uploaded a photo for the channel icon, and Channel has uploaded channel art. You can skip all of that by verifying your business Google Plus page. Also following those best practices with every video will help with the search ability of your videos allowing viewers to find you easier! Still struggling with optimizing your YouTube Channel, and other social media platforms? Check our blog How to Create a Social Media Strategy, or download our Free Ultimate Guide to Hiring an Inbound Marketing Agency.