Do you work for, manage, or own a construction company? You probably heard someone ask "Is your company using social media?" "How is your construction company using social media?" "Why should your construction company use social platforms?"
There are a lot of social media platforms out there… so which ones do you choose? We'll take a look at the top four, then break them down even further in future blogs!
Facebook: Here is where it all began... Although Facebook is now just over 10 years old. It is still a very relevant platform; Facebook can work for your construction company as the relationship builder. It humanizes your brand and allows others to see why you're different from your competitors. It allows people to know, like and trust you, which is the key to any strong business foundation. Facebook can also be used as a referral source. If someone on Facebook has used your company, they can refer to others on Facebook, to do the same. You are most likely to connect with people who know you on this platform. This can be a huge resource if you see someone who is asking for a construction company referral and can be referred directly to your page and/or direct representative of your business.
Data based on companies which acquired customers from Facebook: B2C is 77% and B2B is 43%*, 80% of US social network users prefer to connect to brands through Facebook*. Chances are one or more of your buyer personas are on this platform.
Facebook is also useful for your construction company because you can store album after album of project photos… That means endless #TBTs (Throwback Thursday)! TBT images are typically pictures that are 5 years or older. You could also use the hastag #TransformationTuesday which is (social media's version of a before and after concept) this is all material you can use... plus its your own created content! The fun does not stop there though, you can share bios of teammates, behind the scenes of a project, and or even share helpful tips about construction in general.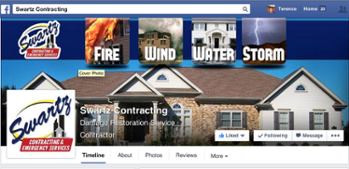 Swartz Contracting
Twitter: The social media platform that never stops talking… Twitter is the platform which helps you build relationships with who you want to know. It allows you to connect with other professionals in your industry, build relationships with businesses and position yourself as the expert in your field. Twitter is also the platform that drives your content and pushes traffic back to your website. Photos also get noticed on Twitter quickly and are shared. Your following on Twitter can act as a marketing army for your brand. Twitter allows you to connect with those in your industry, and even potential customers, by targeting them in tweets using your buyer personas. Tweetchats are very popular among users right now, a tweetchat essentially allows a group of users to follow a conversation using the iconic #hashtag. You can ask questions, respond, and follow the entire tweetchat. It is easy to build relationships within your industry, and potential customers by joining in on tweetchats.
LinkedIn: This platform is essential for your business, it allows you to get past the 'gatekeeper." It's known for attracting Presidents, VP's, and directors of companies in every industry. LinkedIn is all about industry news, company pages, and finding potential employees. As a construction company the most vital of those three things is industry news; rather it's about safety, new equipment, or regulation. LinkedIn will also accelerate go-to-market opportunities, create a targeted online communities, and generate new Leads & fill pipelines. Turner Company has made LinkedIn a success story as part of thier marketing strategy.

Turner Company
Instagram: Pictures... Pictures... Pictures… They say a picture is worth a thousand words right? So let Instagram tell your story. This platform can highlight your brand identity, feature your projects, and tell your business story through short videos and photos. Instagram allows you to pull a public link driving users right into your website, increasing traffic and awareness. You can show day-to-day operations, inspire your customers with projects/ideas, and market your brand using today's top trends. Instagram is where your creativity should flourish, know your buyer personas, and develop them into your instagram strategy. Want to know how your brand is doing on Instagram? There are image analytics tools such as BlitzMetrics and Curalate to show if you are reaching your goals.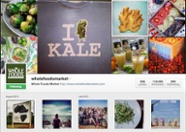 WholeFoods
Pinterest: This platform is probably the most overlooked for businesses, but can provide a huge impact for SEO and visual storytelling. It allows you to organize your services, videos and related topics to your business. Pinterest is the 3rd most traffic driven social platform. It's not just for the ladies! It not only boosts your SEO by linking every pin back to your website, but it also helps with the education for your clients. Showing them simple "how tos" and "fix it" type information.
The key is setting yourself as the expert in your industry and providing value to others around you. That's what gets you noticed. Think of social media as the relationship builder. You are able to promote your business to the world and create a marketing strategy that works as a referral engine.
The key here is knowing your buyer personas and how to create content relevant to them. Stick to your strategy long enough and the ROI will present itself. You profiles will not be overnight success stories, but over time, you will create new relationships on each platform as they grow. Take those new relationships, develop leads, share content, and be engaged.
* via : https://www.hubspot.com/marketing-statistics