More than 86 percent of businesses are utilizing user-generated content (UGC) as a part of their marketing strategy. Business today is based on relationships, and it's all about working with those we know and trust, so it's no surprise to see UGC receive 28 percent more engagement than traditional brand posts. So, how can we increase UGC and use it within authentic storytelling?
We caught up with Mordecai Holtz to get some of his insights on how UGC can be leveraged in marketing.
Holtz is the Chief Strategist of Blue Thread Marketing, a boutique Israeli digital agency working with clients in eight countries. He also serves as the new media director for the city of Jerusalem's tourism division.
Mordecai is an avid blogger and an active contributor to the digital marketing space, including contributions to Fast Company and mentions in Buzzfeed, CMO.com, Forbes & Inc. His articles have been featured on industry-leading sites including Social Media Today Business2Community, Social Media World, Post Planner, and coschedule.
---

User-generated photos
Geofencing is all about mapping out geographic zones and collecting content from those areas. Every social media platform now tracks users locations, and most people willingly share their location every time they post. With geofencing, you set the parameters, whether it's a street, a hotel, or a restaurant, and then anyone who shares content from within that area gets aggregated to the geofencing platform. It doesn't save or store that info, it simply lets you decide what to do with those posts. You could retweet it, you could ask the poster for permission to use it, etc.
To ask permission, typically you'd want to have some pre-written verbiage that you've created with your legal department that includes terms and conditions for the digital use of the image. Need help with this? There's a nifty tool you can use called Tack. It helps you find photos, request permission, and then get the proper documented legal okay from the user. Easy-peasy!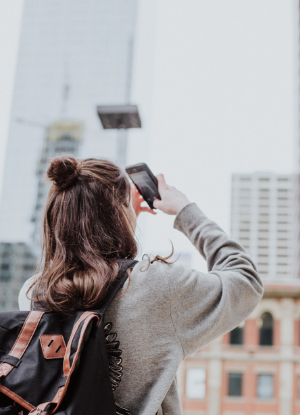 You could also do this through hashtags. Let's use Instagram and vacations as an example. Many people use hashtags to tag the city they are visiting or vacationing in. What you can do is search through these hashtags and find great photos that are relevant to what your needs are. Once you find some that would work, you reach out to the person and ask to share the image.
As the new media director for the city of Jerusalem's tourism division, Holtz shared that this is his way of letting the social media platform be the voice of the people.
"Instead of us having to say, this is a great place here or this is a great restaurant here, we let them take that amazing shot. That's what they're going to do," Holtz said. "Tourists are you greatest ambassadors of a city, no matter what."
The basic principle is to collect the images, organize them, and use them.
Holtz said in their process they find the images they'd like to use, get the proper permissions, download it and store it with tags, then add it into the content calendar. They also collect the user name to tag when the photo is shared and fact-check the story to ensure it's all correct. Tools he uses include HootSuite, AgoraPulse, and Brand24, amongst others.
Unified hashtags
Another thing you can do is create unified hashtags for people to use. Users, collaborators, other like-minded businesses, by taking advantage of hashtags you can have many people creating a stream of content related to what you're doing.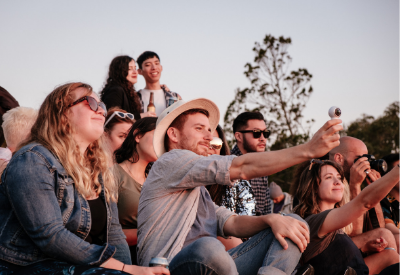 Holtz used an example from his work for the tourism division. They created a unified hashtag for all the relevant industries to use—hotels, restaurants, recreation, and attractions. They also created printed material to place within these locations to get people to use the hashtag. Within restaurants, they designed and placed placements with encouraging people to take photos of the food, tag the business, and use the hashtag.
These things may seem silly, Holtz said, but they're all there to encourage the consumer to do the thing they're already going to do in a way that will benefit you. (Click to Tweet)
People are already going to be taking photos and sharing them on social. Why not use them for your social media pages and share what people are already posting?
What not to do, according to Holtz:
The first one is to never, never, never use an image (or other UGC) without permission. You have to give credit to the original poster/user.
Don't be lazy about your curation. Instead, be methodical. You want to curate images and content for a reason. Not just because.
Don't be afraid to contact people outside your professional network. The best advice often comes from people who are not in the social media marketing world.
Be too scared to take a risk. Instead, take risks. You're a social media person, which means you're probably pretty creative. So don't be afraid to use that creativity and do something with it.
---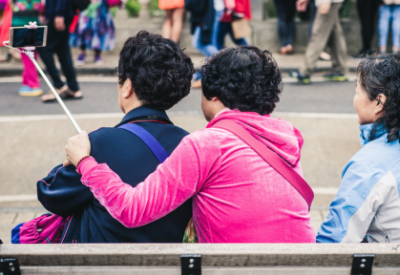 Of course, you don't only have to use images. There are lots of other kinds of user-generated content you can find and share out on your channels. Blogs, reviews, and videos can be great pieces of content to incorporate into your content line-up. Especially if you can connect with some influencers and people who have a good amount of followers themselves.
Have you used UGC in your social media marketing? How did it work out for you? Let us know!